Before Seth Rogen started throwing pottery, it was hard to imagine a stoner making art more complex than the occasional prog rock. However, as American attitudes toward cannabis have shifted, a larger number of artists have come forward with their own marijuana-inspired masterpieces.
Whether you are a stoner looking for something elevated to adorn your smoking den or you merely appreciate the counterculture vibe of cannabis art, here are a few outstanding pieces by both nascent and established artists that are supposed to be reminiscent of weed.
Super Plant
Fred Tomaselli is an American multimedia artist whose paintings tend to feature hypnotizingly intricate patterns. His work "Super Plant" uses cannabis leaves and roots, paint and resin to marry psychedelia with Persian art and a touch of the American folk movement. The work effectively highlights the natural beauty of such a maligned plant and draws parallels to mythological trees of life, demonstrating the spiritual power of pot. Produced in 1994, "Super Plant" looks just as modern and new today thanks to its minimalist style.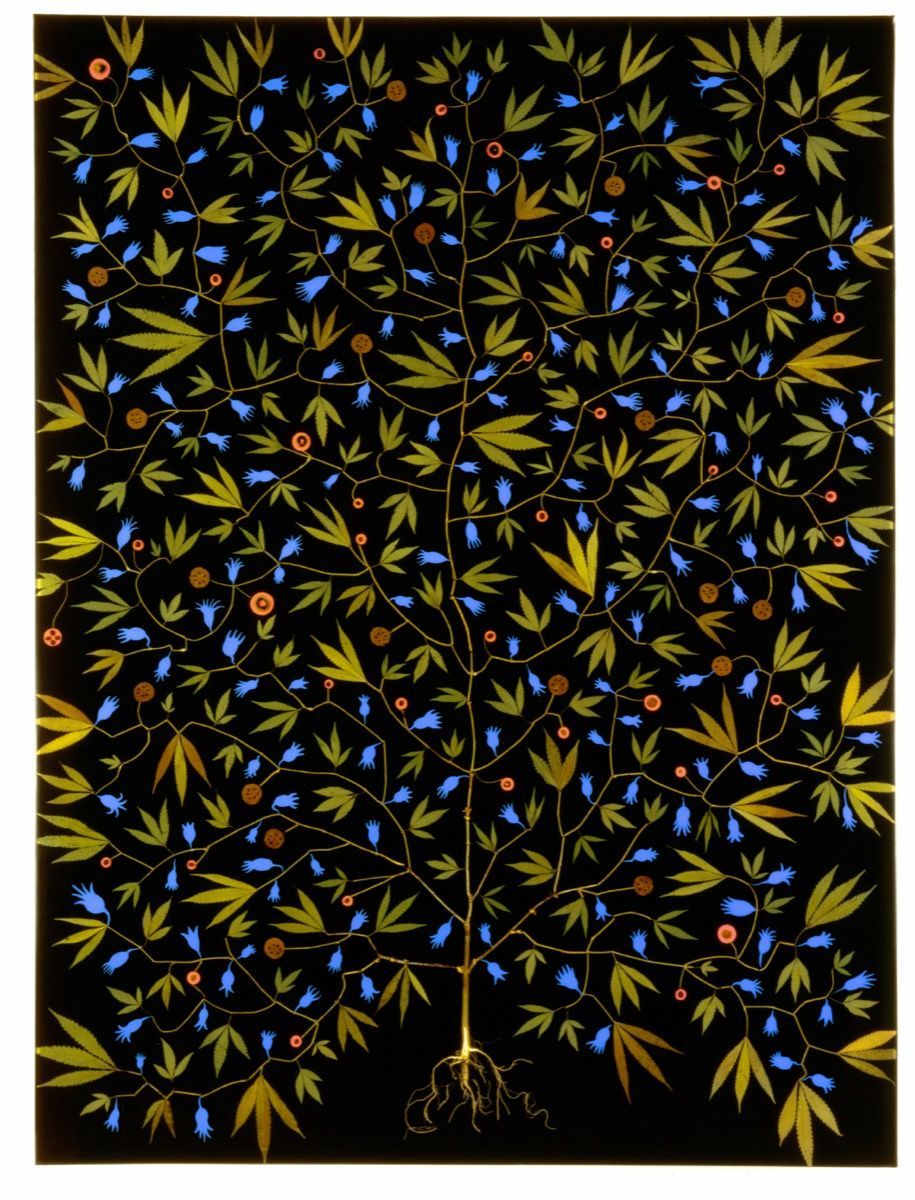 Life Marijuana
An artist out of the early 2000s, Dan Colen was once the party boy of the American art scene. His works tend to vacillate between rigorously technical and unconventionally chaotic as they explore the boundaries of different materials and media. In his 2006 series "Life Marijuana," Colen supersized a Life magazine cover from 1969 that features a half-smoked joint and a pair of lips, hung above four smaller prints of a man lighting and smoking weed. The piece was sold to a private collector for over $47,000 in 2011, proving the timelessness of cannabis imagery.
Coals to Newcastle
Chris Burden was an American artist who dabbled in a bit of everything, from sculpture and installation art to performances, over the course of his four-decade career. While his most famous performance work is undeniably "Shoot," in which his assistant shot him in the arm with a .22 rifle, "Coals to Newcastle" has been memorable given its legal risks. In the piece, Burden loaded model airplanes with joints and flew them from California to Mexico — which in 1978 was an incredibly pointless task, as the name of the work implies.
Joints
Melanie Bernier does a bit of everything — acting, creating music, writing — and her art portfolio demonstrates this. The work perhaps requiring the most skill is Bernier's sculptural series called "Joints," which back in 2017 imagined what cannabis products would look like as legalization progressed. Using wool, vinyl fabric, thread, and wood, Bernier created colorful facsimiles of spliff packs, which are eerily similar to items you might see in a dispensary in Reno today. As with much of Bernier's other works, "Joints" is lighthearted but points to the potential dangers of industrialization.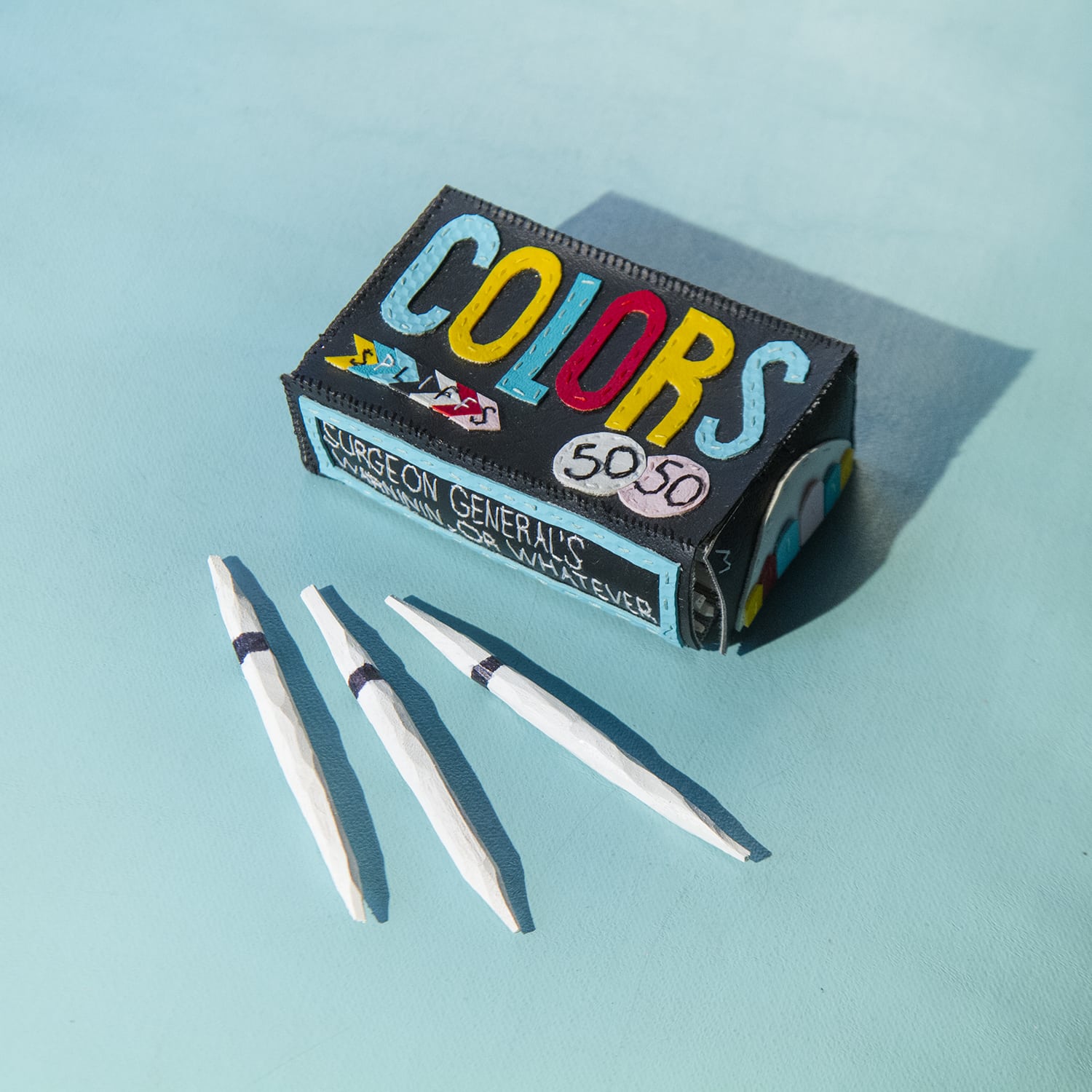 It's Just a Plant
Some of the best children's books are perhaps meant for parents as opposed to their kids, a sentiment exemplified perfectly by Ricardo Cortes's book "Marijuana: It's Just a Plant." The beautifully illustrated story shows a girl learning about weed from all sorts of people: a farmer, a doctor, a police officer, her parents. The book argues that it is important to educate children about cannabis using facts and that parents' fear of having a drugs discussion could cause kids to get the wrong information from the wrong people. Unlike other works of art on this list, you can pick up this book for yourself or a parent you know without breaking the bank.
California Artist
An American sculptor who was born lived worked, and died in California, Robert Arneson used what he knew to create his art. Some of his most famous works showcase busts of aging hippie men, many with large burning blunts clamped between their lips. Unfortunately, Arneson seemed to draw some flack for his works, which led him to create "California Artist," a self-portrait of himself in full hippie style with an open denim jacket, round sunglasses, and a thriving pot plant.
Bongolier
Bentley Meeker is known in the industry as a light installation artist or an artist whose medium isn't painting or cloth but light, color, and space. In Meeker's exhibition entitled 186,282, he showcases 24 sculptures that mix halogen and LED lighting to fantastic effect, but the jaw-dropping centerpiece is a chandelier made entirely from hand-blown glass water pipes — a work Meeker titles "Bongolier." The purpose of the overall installation is to celebrate the light spectrum of halogen bulbs, which the structure of bongs seems to do nicely.