You`ve started a photography business and look for clients to hire you? Or perhaps you are a well-experienced professional photographer seeking to broaden the audience? In both cases, proper marketing of your photography business is what you need.
On the one hand, marketing becomes more effortless and provides more opportunities due to the wide range of tools. While on the other hand, the competition is harsh. Therefore, you should be creative and use every possible effort to build your online presence.
Many photographers make a mistake by letting their marketing strategies slip when they are busy with other tasks. Although you may not immediately perceive the benefits of proper marketing, it is a powerful mechanism that should never stop working.
Here are some actionable marketing tips and ideas that work like crazy even when working on other tasks.
Promote your website through all your channels
Having an appealing website or online portfolio is a top priority for any photographer, as it is an essential part of business marketing. Your photography website matters.
Sharing your works on the website makes you look more professional and directs customers right to your business. Besides, there are numerous easy ways to share your website address and attract new visitors with your email signature generator, social media profiles, and email marketing campaigns.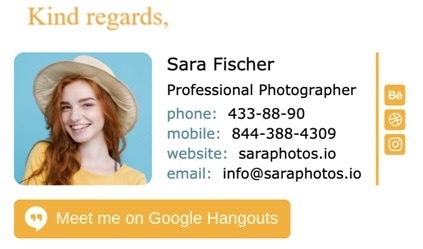 In all your social media profiles
Once you have created some good-looking and informative social media profiles for your photography business, why not use them as the mediums for your website.
Social media profiles showcase your business to potential customers. People see some teasers to your work and continue to your website. Do not waste a chance to drive traffic to your website and boost your brand awareness.
Send emails
Sending a link to your website by email is an easy and effective way to win new subscribers and build relationships with the old ones. A good email copy is an elegant way to remind people about your photography business and encourage a new purchase.
The beauty of the email list is that it contains the addresses of people who like your works. They may like them enough to be interested in your news and updates and even sharing them with other people.
Add it to your email signature
A clickable link added to your email signature is an easy way to drive better conversions from your email communication. Besides, it is a convenient way to redirect your email recipients to other resources.
The trick is after people click your email signature, you can engage them more intensely elsewhere. There exist numerous email signature examples showcasing this trick executed elegantly and almost unnoticeably for the email recipients.
Choose website builders
Before starting a photography website marketing campaign, it is vital to spend some time working on the website itself. The best website builders for photographers allow you to create a website showing off big, beautiful galleries of images online.
Choosing a website builder catering to your specific needs, take into account the following factors:
Ease of use
Availability of templates
Responsive options
Customization options
SEO features
Social share features
Pricing
Customer support availability.
Keep in mind that a website builder should make your life easier and enable you to create a website that functions and looks exactly like you want it to.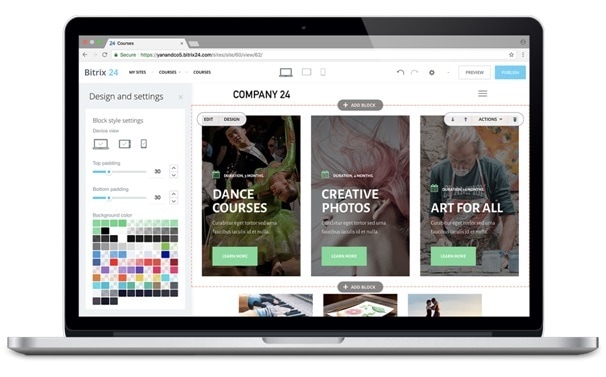 What to include in the photographer's website
Undoubtedly your photography website is your most important tool in the competition for clients. However, you are not alone in this business, and there exist dozens of other websites which also look good and function well.
Countless other photographers also work hard on their websites to outdo the competitors. Here are some tips to make your photography website stand out from the crowd and convince visitors to purchase.
Portfolio
Your portfolio is your best option to demonstrate the best works you have ever made. Show your best works only. Uploading numerous photos can slow down your website, therefore choose only the best high-resolution pieces.
Featuring a single gallery for all the photos is a common mistake in photography websites. However, putting all the pictures into the same category is counter-intuitive unless you work on a specific topic. Instead, break up your portfolio into themes so that people could find exactly what they want.
About me block
The About me block is to show the best of you and add a human touch. People want to hire a photographer they seem to know. Just think of it. It is pretty intimidating to share the best moments of your life with a total stranger.
Use the personal information block to share some insights and speak about yourself as a person, at the same time highlighting your expertise. A short and sweet piece of text supported by appealing photos would work perfectly fine.
Contact information
Including your contact details on your photography website is essential. What is more important, this information should be easily accessible and understandable for a viewer. Make it easy for the visitors to contact you immediately.
Provide all the possible options for them to choose the most convenient. Besides, don`t forget to include your social media profiles on your social media accounts as they are contact details.
Pricing
A photographer's website shows your works and answers the most critical questions. Undoubtedly, pricing is one of these questions.
In case you are not sure about the importance of thof doubts, there some objective reasons to make pricing a separate block of your website:
your potential clients are actually interested in this information
your integrity might be questioned if you are not willing to share this information
pricing information on the website saves time and prequalifies leads.
A photography blog
A photography website crowded with numerous photos and little text is not enough to boost your online presence. Besides, little or no text eliminated the opportunity for search engine optimization.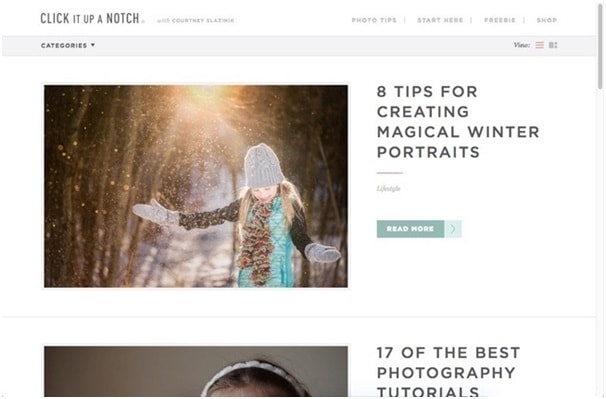 A blog contributes to the website's overall professional and expert authority and makes it more engaging. However, starting your blog, aim for the quality of writing and statements you make rather than quantity.
Conclusion
Being a talented photographer and having an appealing website is not enough for success. Only a proper marketing strategy can bring a desirable effect.
Promoting your photographer`s website may seem a daunting task. However, it is worth the effort. Once you build an ideal website, try to apply some of the tips mentioned above to start the promotion.