Trying to find the perfect location to get married can be a difficult task when you are just looking at local venues to tie the knot. As such, you can imagine the challenge of finding an international destination in Europe where all your friends and family can attend. With options as diverse as country churches, ancient cathedrals, and famous landmarks in major cities, there is somewhere for everyone to get married.
Having a destination wedding in Europe is an excellent way to add a little sophistication, culture, and flair to your special day. Destination weddings transform what is already a memorable event for yourself into a day that all your guests will no doubt cherish the rest of their lives. The following three cities in Europe are ideal locations to hold a destination wedding.
Is there really a better way to show off your love for each other, than by saying, "I Do," in the city of love? It is easily one of the most romantic cities in the world with untold beautiful spots to hold your ceremony. With countless elegant hotels, breathtaking landmarks like the Eiffel Tower or the gardens of Versailles, and glorious churches like La Madeleine, Paris will appeal to even the pickiest bride to be.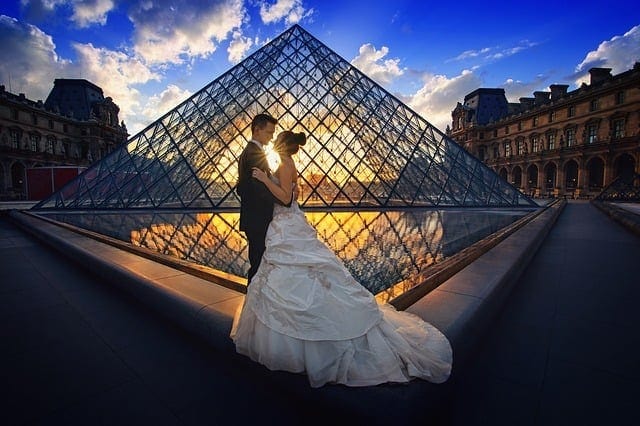 In the days before and after the wedding, you and your guests can shop along the Champs Elysees, visit one of the famous museums like the Louvre, or simply enjoy people watching as you stroll through the arrondissements. After the big event, Paris wedding photography would double as a reminder of a great vacation on top of being a record of your special day. In addition, the French are renown for their cuisine, so you know the wedding feast will be amazing.
One of the most appealing aspects of going to Venice for a destination wedding is that you don't really need to search for somewhere beautiful. The entire city is among the most photogenic cities in the world. From the moment you exit the main train station and catch sight of the Grand Canal, Venetian architecture will transport you back in time to the height of the Renaissance.
Gondoliers serenade their fares while wearing authentic period costumes and will transport you throughout the city. They can act as part tour guides, regaling passengers with the history of this aquatic city-state. And they can act as part chauffeurs, taking visitors shopping on more remote islands like Murano, famous for its glass, or to the lace makers of Burano. It is even possible to get married in venues like the Gallerie dell'Accademia, where you and your guests will be surrounded by classic works from the masters like Titian, Leonardo Da Vinci, and Hieronymus Bosch.
Auld Reekie, or the "Athens of the North" as Edinburgh is affectionately called, is one of the most beautiful cities in Europe, making it perfect for a destination wedding. From lush landscapes like those in the Royal Botanic Gardens to the architectural masterpieces of Edinburgh Castle and Holyroodhouse Palace on either end of the royal mile, Edinburgh has no shortage of splendorous settings to create the perfect backdrop of a truly royal wedding.
Edinburgh is full of stunning wedding venues that are both memorable and awe-inspiring. You and your wedding party can explore the old city, take in all the theatrical shows performed during the annual Fringe Festival in August, or hike up to Arthur's Seat to overlook the entire city.
Picking the right place to hold your wedding is a big decision and choosing a venue in Europe for a destination wedding is even more of a challenge. Despite the difficulties in finding that ideal location, it is well worth it. Europe is full of beautiful locations where you can say, "I Do." No matter the location you choose, rest assured a European destination wedding will not only be remembered by all in attendance but can double as a wonderful vacation as well.