The zigzag profile of this Canadian lake home allows natural light to enter deep into living spaces in skylights while assisting orient solar panels to maximize their efficacy.
Situated beside Ontario's Stoney Lake, the 3,100 square-foot (290 square meters) Sky House nests to a steep site leading to the water. To respond to this condition, the architects stacked two volumes in addition to each other at irregular angles.
"The lower quantity nestles into the landscape, so it is barely visible as one first approach the home," said architects Julia Jamrozik and Coryn Kempster.
On the top floor, the architects laid out all the house's social areas, which are comprised of a longitudinal band. The open-plan kitchen, dining and living area overlooks the lake.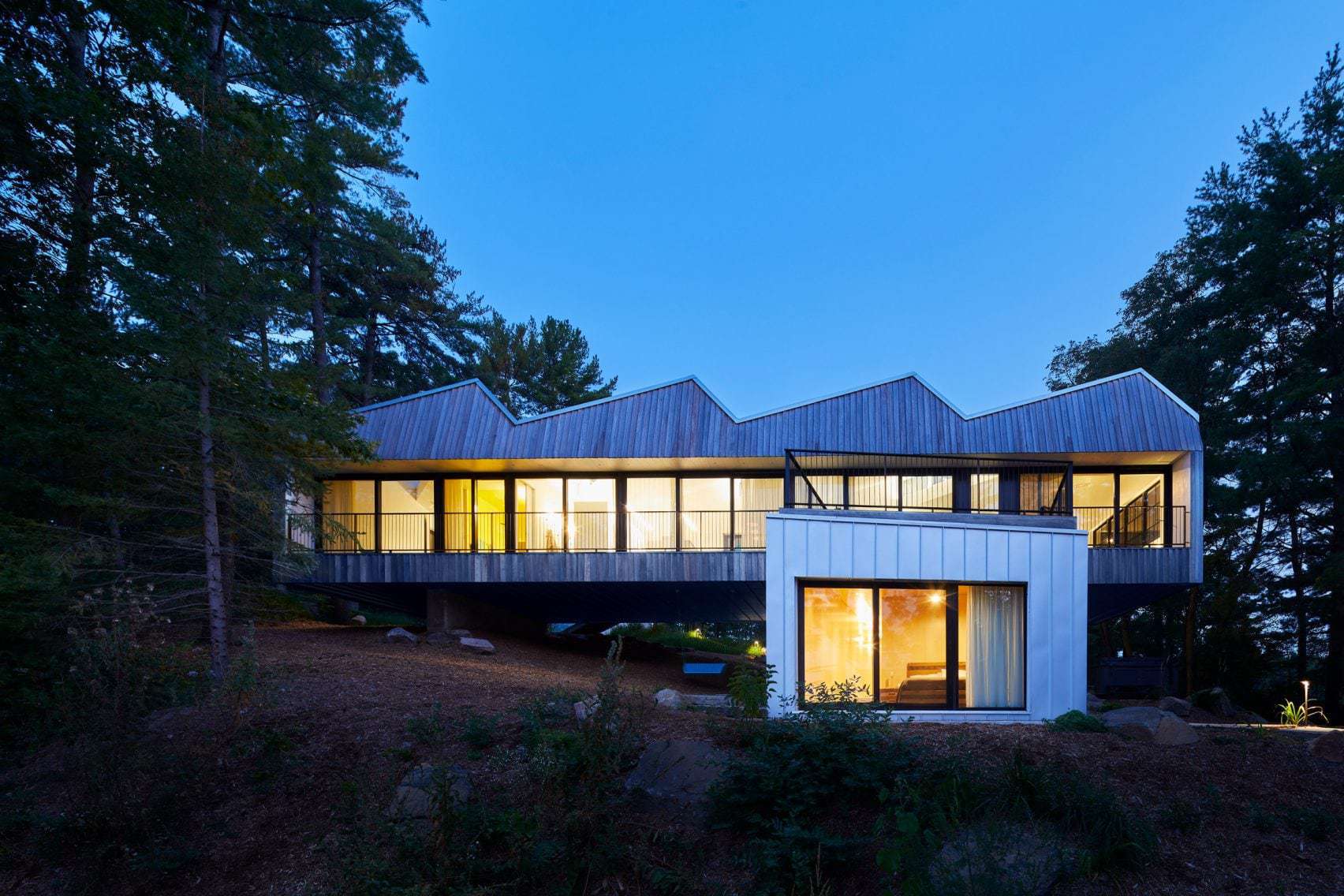 An exterior walkway runs along the south facade of the house, and the reduced level's roof forms a terrace outside the primary living area. "A covered walkway sunglasses the main walls of glass from sunlight while admitting lower sunlight to passively heat the dark-dyed concrete floor," the architects said.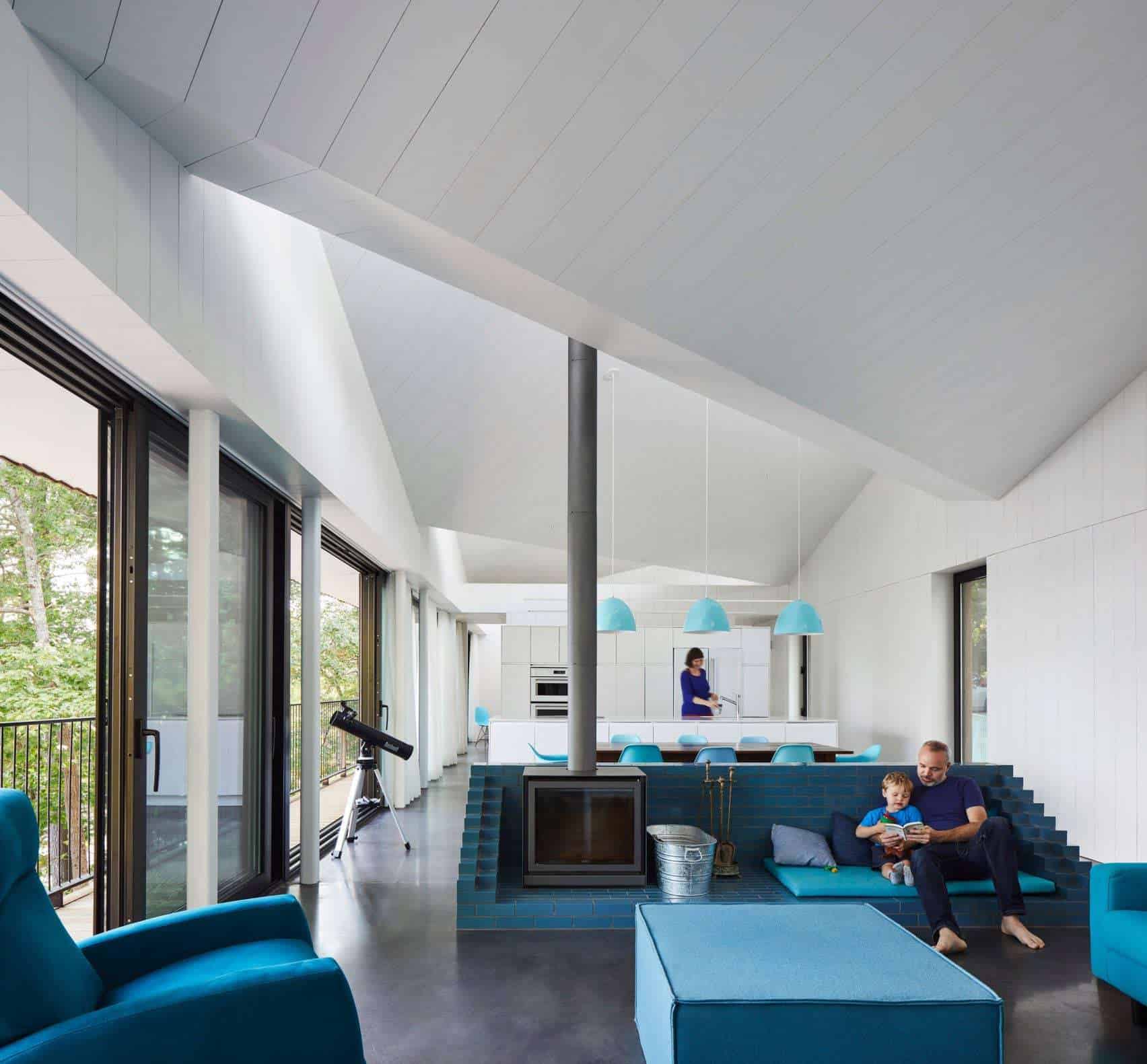 Out of concern for guests in wheelchairs, as well as the occupants' long-term utilization of this construction, the team comprised all the amenities necessary to live exclusively on this ground, including a study, bedroom, along with a commercially available bathroom.
The shape of the sawtooth roof which tops the building has a dual function. "The factory-inspired skylights are rotated to admit north light without heat gain when orienting the solar panels due south so the house can create all of its electricity," Jamrozik and Kempster said.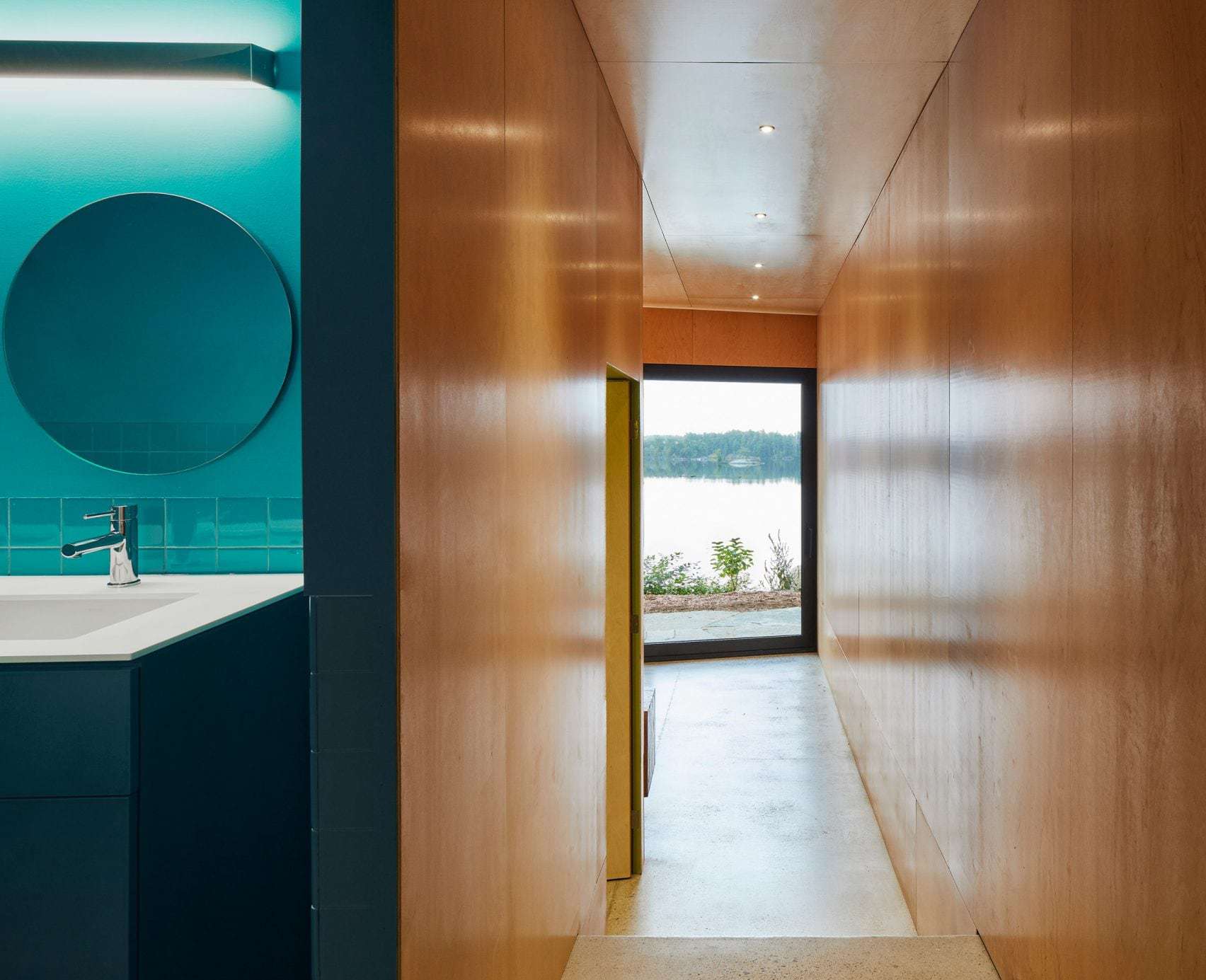 Blue furniture components, such as a built-in brick platform to get a wood-burning stove, a glowing sofa and hanging light fixtures give a playful feeling to the interiors.
The lower level accommodates three extra bedrooms plus a den.
Plywood panels lineup this hallway and also the master bedroom, unlike the upstairs spaces, which can be left in white. A swing set hangs from beneath the upper quantity as it cantilevers in the lower portion.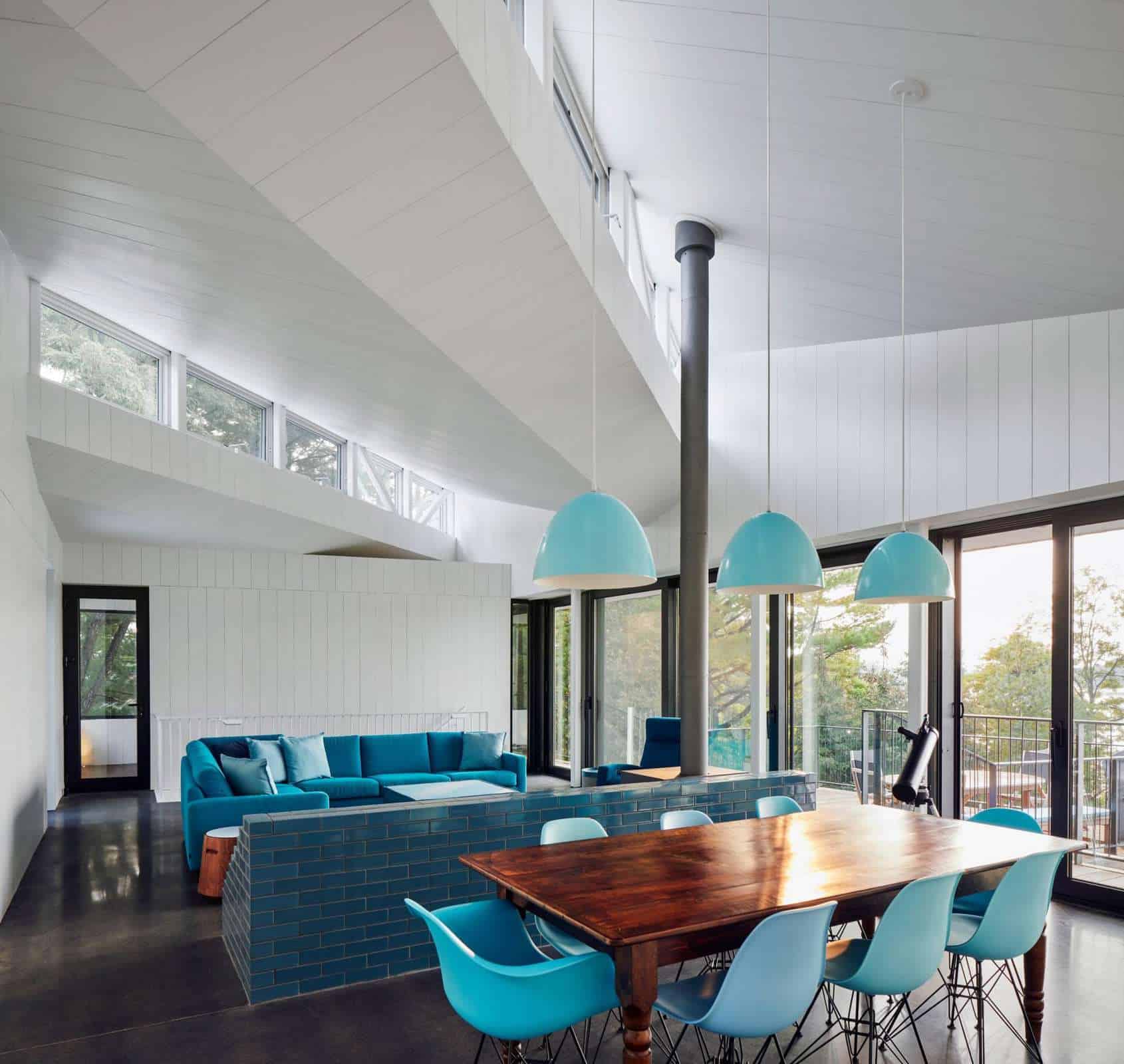 Different substances clad the upper and lower levels of the home. For the base, the architects chose standing-seam metal panels with a reflective end.
The upper level was completed in petrified wood planks, which have enhanced weather resistance. "Simple, low-maintenance, long-life substances are utilized on the facade," said Jamrozik and Kempster.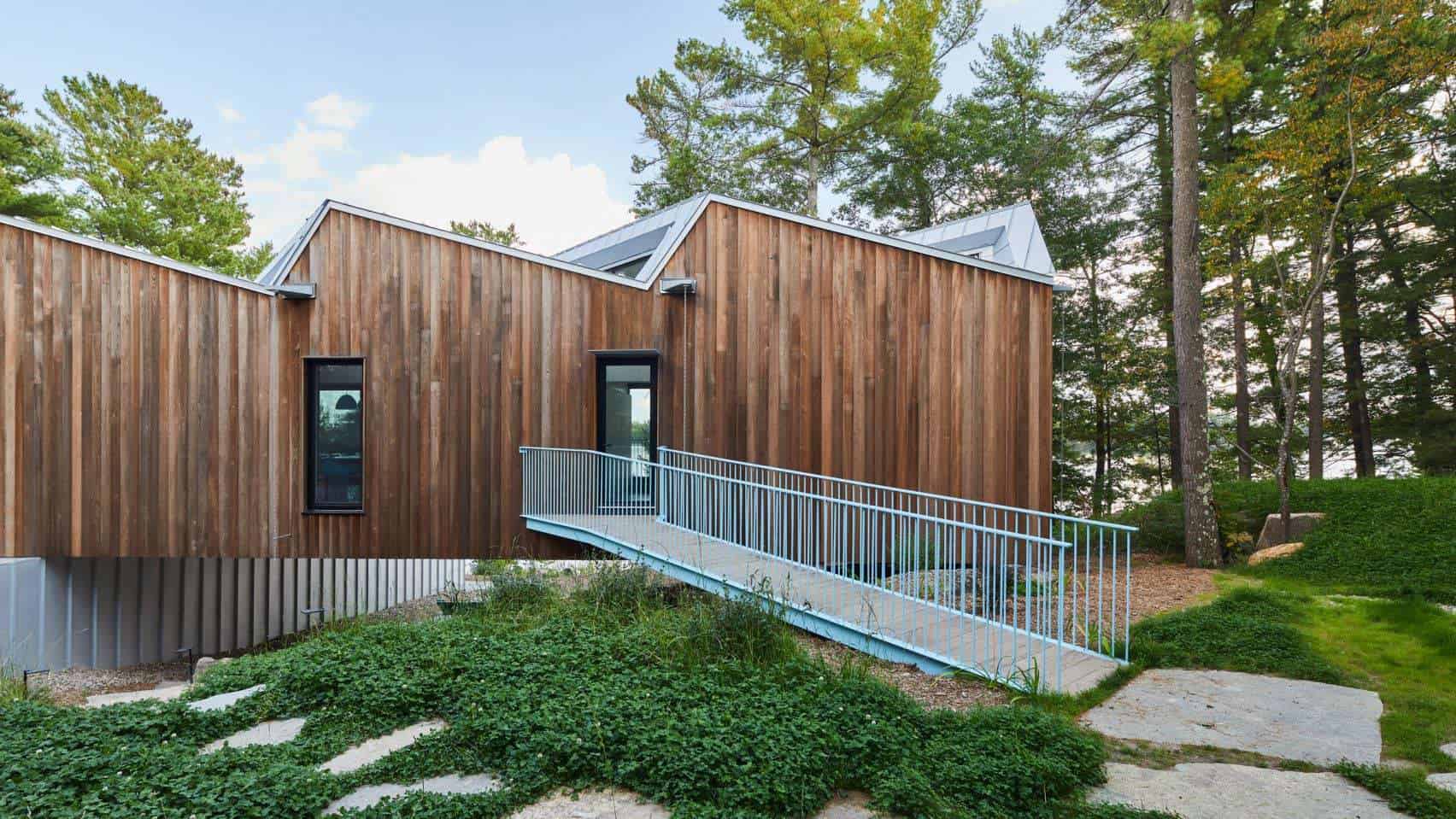 Last summer, the duo finished an installment for the yearly International Garden Festival at Jardins de Métis. Named Vertical Line Garden, the pavilion comprised thousands of vibrant textile strips hanging out of a simple metal framework to offer shade.
Other waterfront houses in Canada include a black cabin with Mu Architecture with a two-story boathouse, and a wooden home by Atelier Pierre Thibault made up of two volumes attached by a bridge.