This group of images is part of a series called "OMBLIGO", originally created inside of a collective project, exploring the concepts of "common ground" and the dialectics between interior/exterior or private/public. The "OMBLIGO" series intends to create an archetype of humanity and at the same time introduces a personal and intimate factor.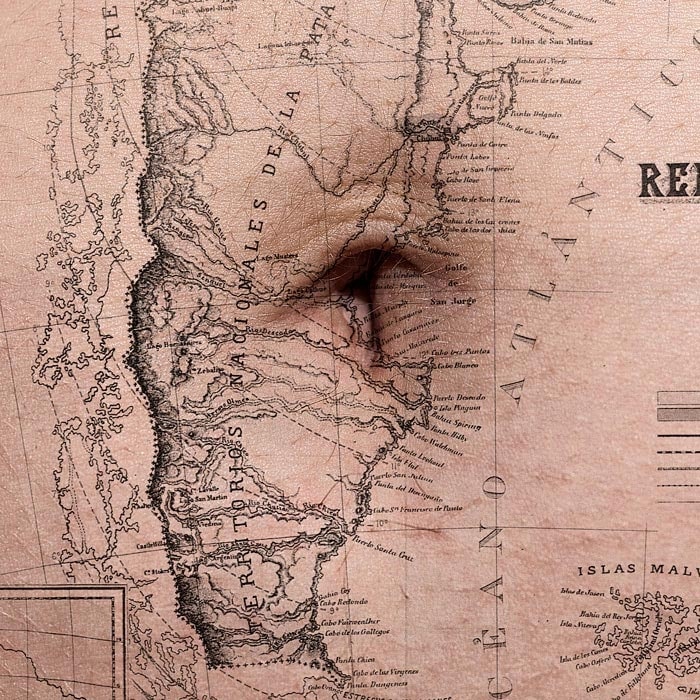 Comodoro Rivadavia, Patagonia Argentina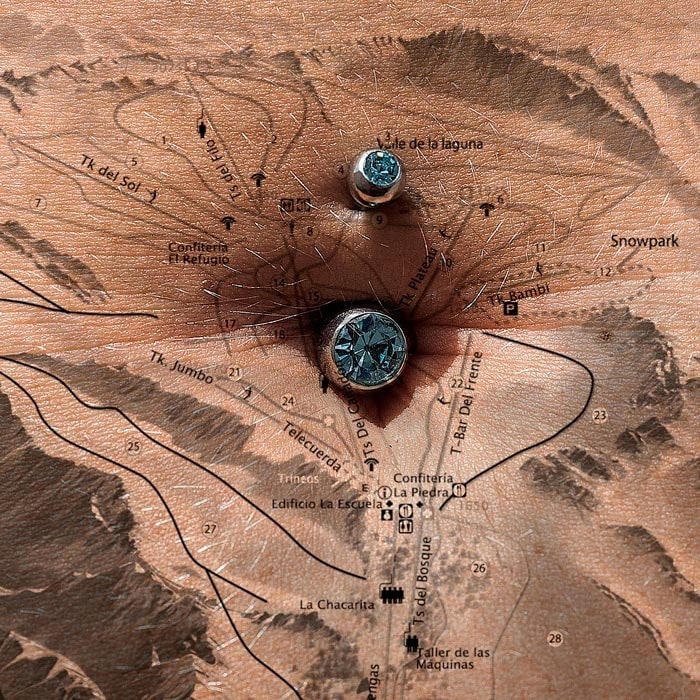 Esquel, Chubut, Argentina
The icon of the belly button, in the center of each image, represents the "human element"; an obvious shared commonality symbolizing birth and life. The maps, layered on top of the navels, represent places the artist has lived in and considered home. The city centers have been placed deep within the navel, with obvious connotations implied. The election of the square format in the series gives the images a presence and solemnity that contributes to a unified solidarity and places a balanced weight on the images. The subjects are therefore contained firmly inside the frame, offering a point of contemplation for the viewer to focus on, diverging from the usual "scanning" through images that are viewed on digital devices.
Sergio Miranda is a South American photographer who was born in Patagonia Argentina in 1981. He studied fine arts in high school, and then traveled to Buenos Aires to study Photography and Cinematography. For more than ten years he assisted fashion and advertising photographers and, at the same time, became an expert in digital retouch, doing post-production for professional studios from South America. He has shown his work in contemporary art galleries from Buenos Aires and the interior of Argentina, in more than 10 exhibitions and has participated on several short films as a Director of Photography. One year ago he moved to Kingdom of Bahrain, a small island in Middle East, to work in advertising, and also to explore a new path of the world. In that first year in the Gulf, he showed his work in a collective exhibition with Gulf Photo Plus Gallery, in Dubai.
For more information on the artist and his work, visit www.sermiranda.com