Getting in plenty of exercise each day can be tricky when you're living your busy life, but it can be a lot easier to do if you make use of a stationary exercise bike. The two most popular brands of bike are Echelon and Peloton, the latter which you've probably heard of. Peloton has even made an appearance in the famous Sex and the City spin off Just Like That…, and then went as far to make an advert with the actor that used it in the show! However, a new star is emerging, and that's the Echelon exercise bike. Often compared to the Peloton, the Echelon is gaining in popularity fairly quickly. So, lets start a showdown of Echelon vs Peloton, and see what the differences really are.
Echelon Features
Echelon bikes tend to be quite compact, and they look and feel like a traditional exercise bike. Not all Echelon bikes come with a built on screen either, so you can have the choice of deciding what type of bike you want. They're constructed from high-strength steel too, so they'll last you a lifetime thanks to its durability. The parts are also very easily replaced as well, helping you to maintain it for years to come. You'll need to set up a subscription service in order to be able to buy the bike and join the online classes. However, Echelon bikes are on the lower end of the price spectrum, and can be cheaper than other brands.
The Echelon app is designed to work with a number of different fitness trackers like an Apple Watch or a Fitbit, so you can easily keep track of your workouts no matter what device you use. The bike itself is also extremely comfortable, and it can be adjusted to suit your body and needs. Echelon bikes are very similar to spin bikes, with the fact that they use a fly wheel system to work. This type of riding might be preferable to a lot of people, as the type of resistance can feel better on your body. So, as you can see, the Echelon has lots of fantastic features that really help you to bring the gym into your own home at an affordable price.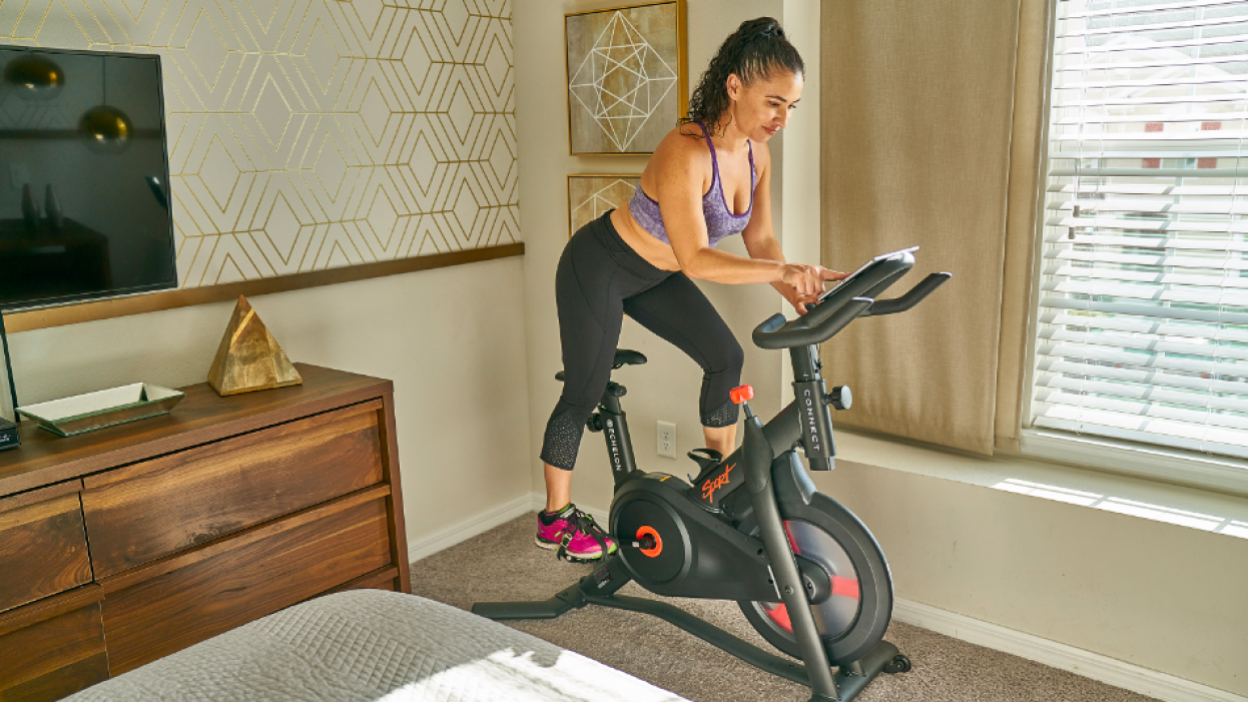 Peloton Features
Peloton bikes are quite different from Echelon ones, and it's not just that they're more expensive either. Peloton bikes are made from aluminium alloy, which is extremely easy to work with and pretty lightweight. However, this material isn't exactly the best when they need repairing or if you wanted to customise the bike yourself. So, if you're wanting to add some accessories to the Peloton yourself, you may struggle a bit. The frame of a Peloton is slightly larger than an Echelon, but it's got a very modern design that makes it stand out from the rest. The resistance on a Peloton bike is exactly the same as if you were riding outdoors, so it really works your leg and core muscles. Some people might gravitate towards this type of riding, as it's what's most familiar to them already.
Every Peloton bike comes with a built in LCD touchscreen so that you can stream their live and on-demand classes for your workouts. There are also built in speakers, so even if you don't fancy doing one of the classes, you can pop your own music on through it and get riding. It's worth noting that the Peloton app is only available to use on IOS, so if you don't have an Apple Watch or phone, you won't be able to use it. One really cool feature of the Peloton that other exercise bikes don't have, is the automatic resistance adjuster that works with the heart rate monitor. This means that when your heart rate shows signs of distress, the intensity will be automatically lowered, or if it's showing that you need to work a little harder, then it will automatically increase. This takes a lot of the guess work out of your exercising, and really tailors the experience to your body.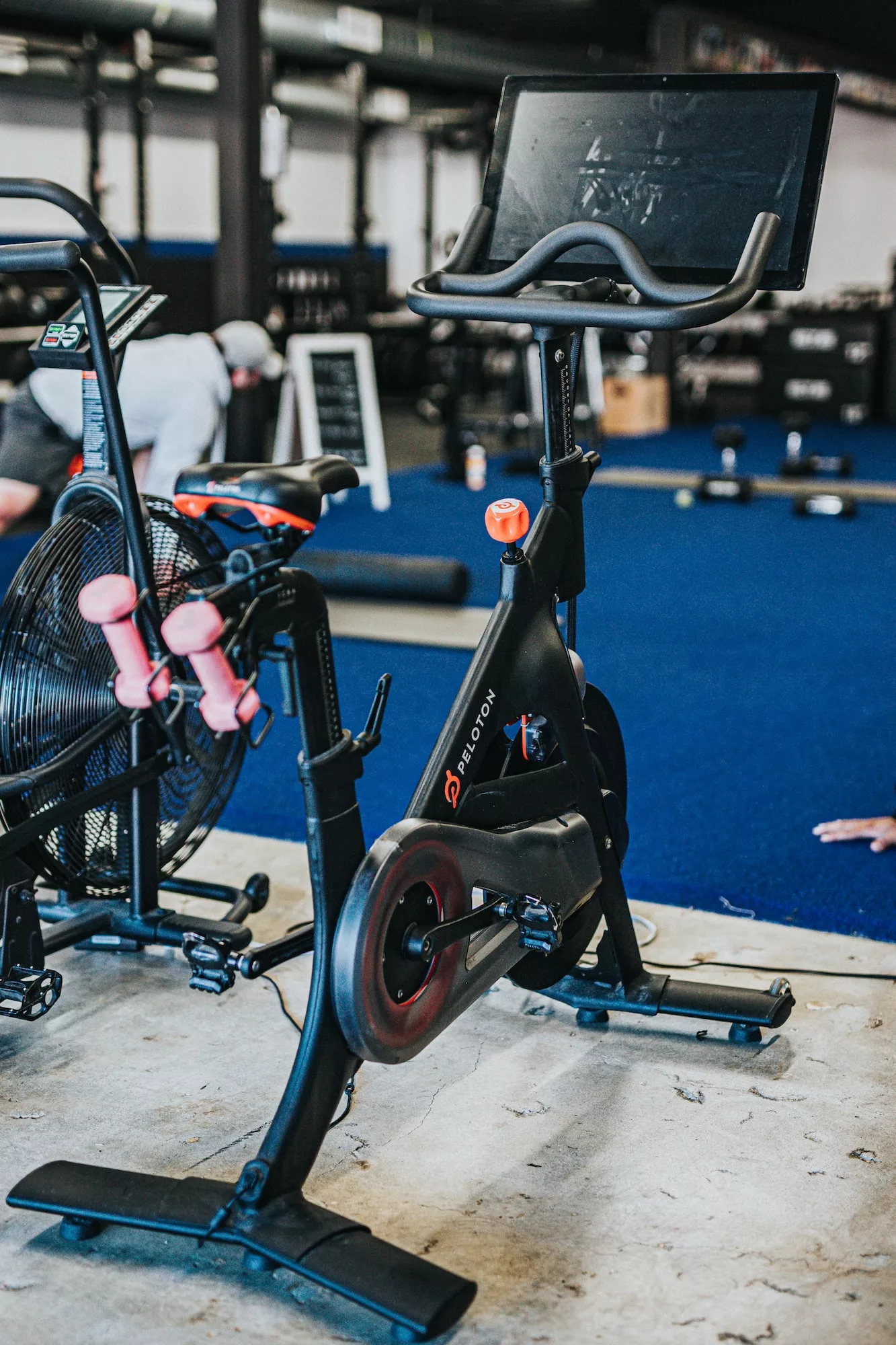 Financial Comparison
No matter which way you look at it, Echelon is going to be cheaper. Think of Peloton as the luxury version of an exercise bike, so there's no way that you'll find one at a lower cost than an Echelon. You can sometimes even be looking at paying nearly twice as much for a Peloton, so they're definitely for those with a higher budget to spend. So, don't expect to be able to pick up a Peloton for the same price as an Echelon, because it probably just won't happen. However, with this being said, Peloton throw everything in with the price of the bike. This means that you get your accessories and bike for one price, which arguably makes the higher price much more understandable. With Echelon, you have to have a subscription service to be able to purchase the bike, and then you have to pay for your accessories separately too. So, the cheaper price you're paying for just the bike, isn't all you have to pay. Both companies do offer financing options for their bikes, so even if you can't pay for a Peloton outright, you could pay for it over a certain number of months, making the payments much easier to swallow.
Which Is Better?
When it comes to which bike is better, it all depends on what you want from them. If you definitely don't want to spend the money on a Peloton bike, then an Echelon is a great alternative. However, this doesn't mean that an Echelon should always be the second choice. Peloton is slightly more advanced, having automatic resistance adjustments based on your heart rate and built in touchscreen displays, but you can get some Echelon models that have similar features. It also depends on what type of resistance you like too. If you love the speed of a spin class, then Echelon is perfect for you. But if you enjoy the strength training of riding outdoors, then perhaps a Peloton will work better.
Both bikes can be great home gym additions, and both can give you a fantastic work out. When it comes down to the nitty gritty, it will depend on you as to which one you choose, as every person will have different needs. If you want a top of the range exercise bike with a huge display and fancy technology, then Peloton can be just what you're looking for. But if you're after something a little less expensive and perhaps not so technology inclined, then Echelon might be right for you. Both bikes have some amazing features that aren't on the other, so there are benefits to owning either. Whichever bike you decide, you'll definitely enjoy the workout they give!