Everyone has that one fascination of having an ideal kitchen space that puts a smile on your face whenever you walk into it. There is nothing more depressing than a cluttered and unorganized cooking area. After all, every minor detail contributes to the overall integrity of the food you put out.
Kitchen, therefore, needs to be a happy and pleasant place. However, having a limited kitchen space comes with its fair share of problems. It doesn't matter how good of imaginative and unique your kitchen plans are. You will have to settle for less ultimately, and that is clearly something you wouldn't want to do with your kitchen.
Hence, these are 6 unique and awesome ideas for your limited kitchen space.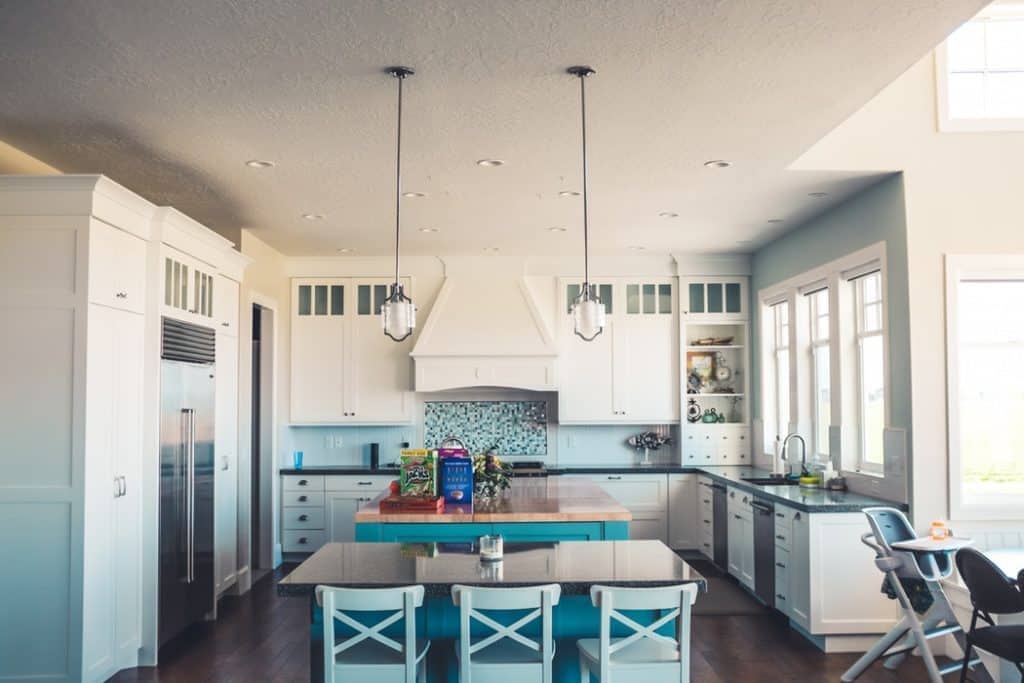 Install a counter bar
For small kitchens, one of the most obvious limitations comes in the form of limited equipment. One of the most crucial and necessary pieces of equipment in a kitchen is a breakfast/ dining table. However, that may not be a logical addition to your small space. Counter Bars, on the other hand, can be utilized in a multitude of ways. You can install them in the center or even on the side walls small where your children can sit and enjoy their breakfast.
You can complete that up with some colorful chairs and a patterned rug to enhance its aesthetic feature.
Make optimal use of storage space
Storage management is, by far the most irritating aspect of having a small kitchen. Even people with generous kitchen space can have difficulties utilizing their storage space's full efficiency.
Minor spaces between your kitchen cabinet and the ceiling can be an ideal place to store up your kitchen's accessories. However, don't make it look all cluttered. Instead, you can use bigger baskets to store up the lesser used kitchen equipment and tuck it away for sporadic usage. For decorative pieces like your unique vases or your favorite kitchenware such as a tea set made of glass or a ceramic pitcher, consider arranging them in a way that is both aesthetically pleasing and functional. For example, you may want to group them by color or type to make sure your counter bar is both stylish and inviting.
Cut down to the minimal required equipment
Often times, the majority of the kitchen space ends up being utilized by things you practically don't require, or just something basic, but excess in number. For example: do you really require 10 extra mugs or 2 dozens of extra bowls and plates? As long as you don't require that much amount on a daily basis, it is more logical to store them away and take them out only if you require such quantities.
Upgrade the lighting system
The significance of installing an effective and pleasant lighting system in the kitchen is often underestimated. How often have you walked into a café and adored the unique and adorable lighting system hanging above? Instead of utilizing the same old lighting system, you can implement the hanging pendant lighting design to enhance your kitchen's aesthetic feature. Also, with an adorable piece of lighting décor, nobody is going to care too much about the limited space.
Making the kitchen Green
Yes, you can paint your kitchen walls green and accomplish the literal meaning. However, the green kitchen is about a more practical approach. Bringing in fresh plants from your garden and hanging it around the kitchen at strategic points can make a great difference. You can choose plants that can be easily maintained or something you can actually use practically, such as herbal plants.
Create your own floating shelves
Limitation of space obviously means you have to utilize every minute part of free space around the kitchen. However, one place where you can always find an abundance of space is the walls. Unless your kitchen tools can magically stick to the walls, all that space ends up getting wasted. Making a floating shelf or storage nooks on the walls can help you store away any kitchen equipment without compromising the space.
All these are some of the most basic and unique ways of making your small kitchen a cluster phobic-free space. You can also hire a professional Sydney kitchen design if you want to know more about implementing the most efficient way of making optimal use of your limited kitchen area.