Last month, a one-of-a-kind art exhibit was organized in Saudi Arabia. Desert X AlUla is located in the Arabian Peninsula's ancient desert region and is inspired by nature only. The theme of this year's exhibition, Sarab, is a mystery that represents ideas around deception and paradise. It will showcase works by 15 international artists.
The unique outdoor show, curated by Reem Fadda, Raneem Farsi, and Neville Wakefield, is again free and open to all and gives us a distinctive look into desert history and culture. The Al Mutadil Valley, the site of this year's Exposition, has been the backdrop for new work by participating artists that have responded to the theme of dreams, camouflage, fiction, disappearance, extraction, illusion, and mythology.
The Royal Commission for AlUla and Desert X collaborated on the first site-responsive exhibition in Saudi Arabia, known as Desert X AlUla. This initiative aims to bring artists, curators, and international and local communities together in a shared vision that draws upon the harshness of the desert. It continues Desert X's illustrious tradition as the renowned event held each year in California's Coachella Valley.
Dana Awartani's work is inspired by Alula's vernacular architecture, which takes the form of a concave geometric sculpture that resembles the Nabataean tombs and mimics the conditions of surrounding mountains, gorges, caverns, and rock formations. Jim Denevan, a land artist, has created ephemeral drawings with interlocking patterns that "speak to the changes in magnitude and scale that so often influence our experience of the desert and our attempts to position ourselves within the limitless expanse of unrestricted space." Meanwhile, Alicja Kwade's architectural constructions reflect and frame the natural things she observed on the desert floor. She rearranged and amplified to generate changing views that straddle reality and illusion.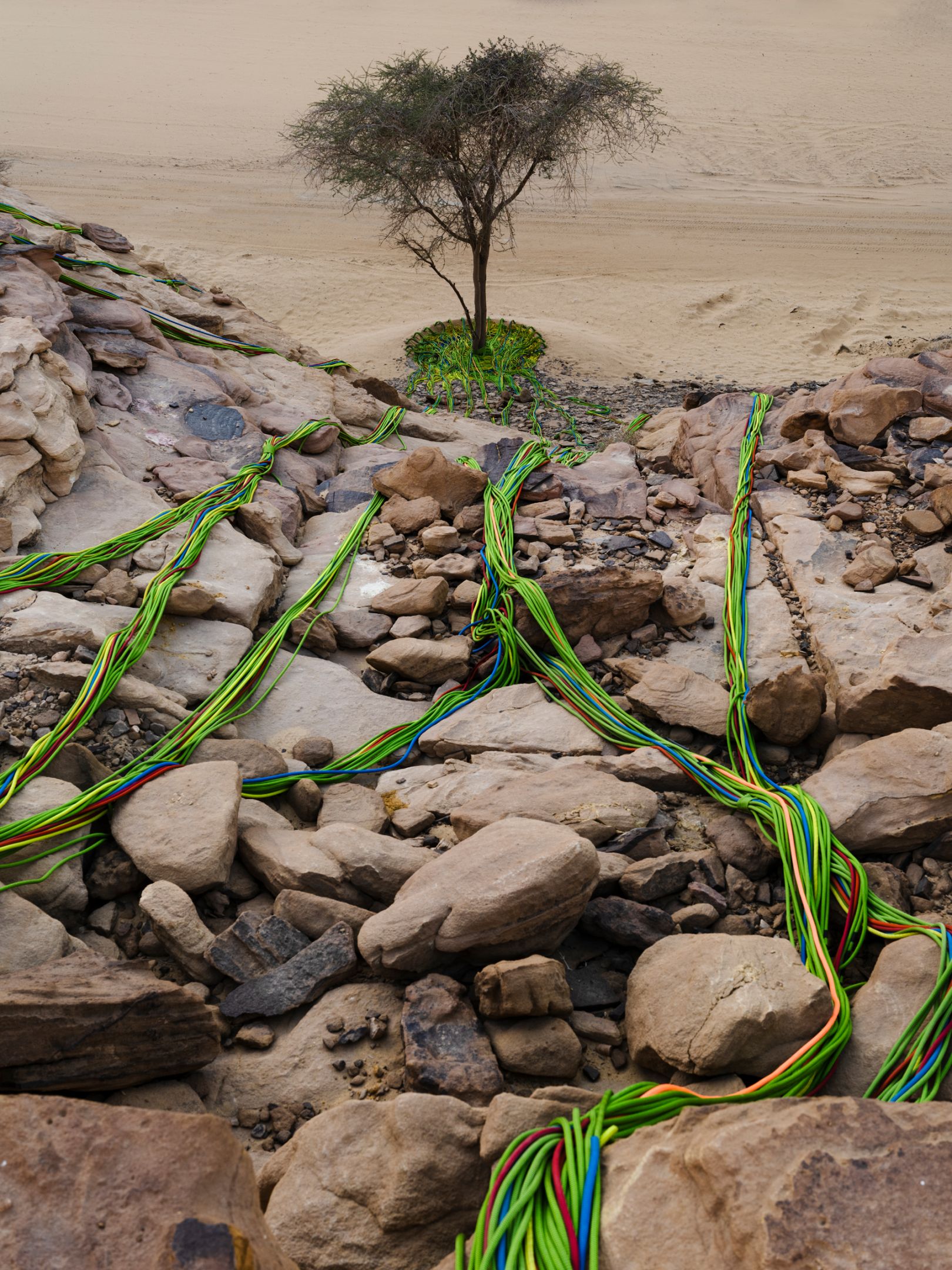 In Claudia Comte's work, in which she generates a rhythmic pattern that corresponds to the sound and surface of the desert, several walls impose their architectural presence on the natural order of the AlUla canyons. The drama is heightened by the orange desert and the brilliant blue sky.
Shezad Dawood's work, for example, explores ideas of deep time and the geo-biological link between the desert floor and the Red Sea through a pair of coral-like forms whose temperature-sensitive surfaces show how climate change and humanity's desire for a sustainable connection with an ever-changing ecosystem affect individuals.
Under the surface, Stephanie Deumer has constructed an underground greenhouse, hinting at the rich wildness of indigenous plants that may be found below. A massive puddle-shaped array of solar panels mounted flush with the desert floor acts as an energy feedback loop where sunlight is gathered, stored, and transformed into growth and transformation via photosynthesis.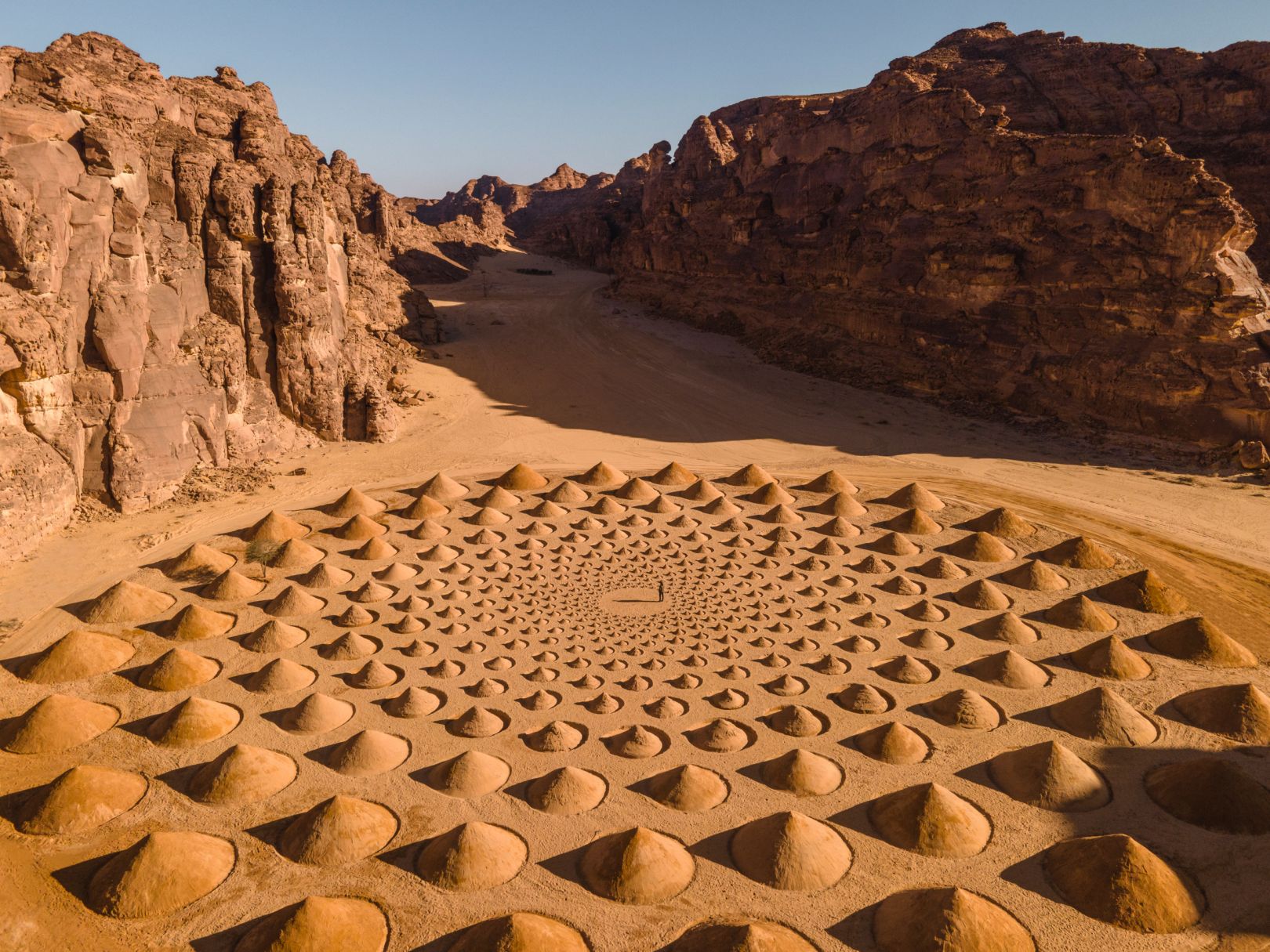 The work of Serge Attukwei Clottey covers the topic of globalization, migration, and water equity. The artist uses carefully constructed tapestries of yellow Kufuor gallons, which are plastic containers used in Ghana to store and carry water, to wrap slabs of rock. The orchards of olive trees that Khalil Rabah has built in the desert are a mirage, which stands as living creatures displaced from their natural territory and "longing to be repatriated, as an exploration of territory, survival, and citizenship."
The unusual soundscape installation enhances the chimes of nature in a rocky cavern by Ayman Zedani, which consists of horizontal sculptural wires and an audio projection of music, voices, and footsteps. The colorful wires serve as roots of a vast tree draped over the hill.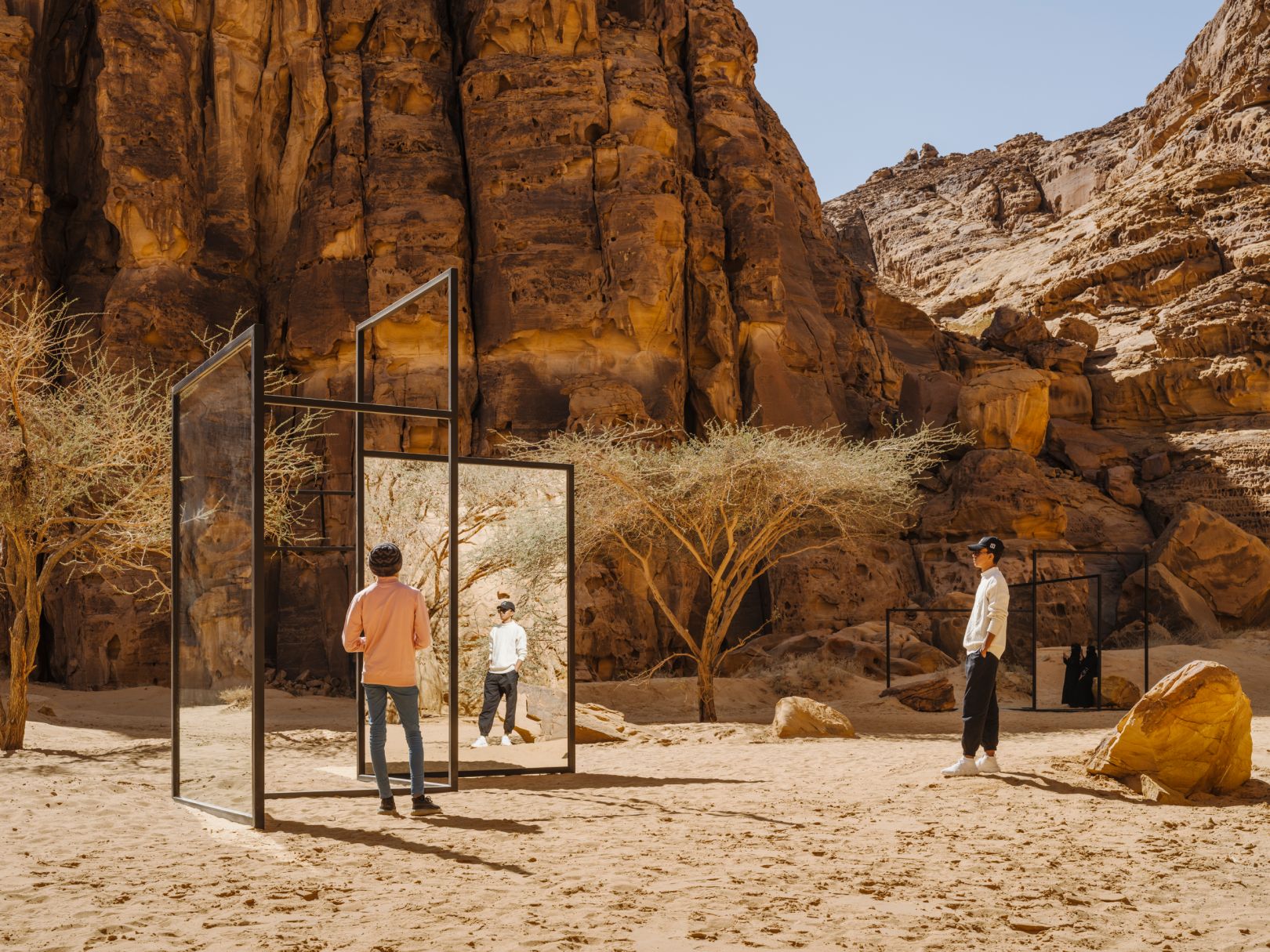 "The idea of mirage and oasis has long been associated with notions of survival, endurance, desire, and wealth in the desert," according to Reem Fadda from the exhibit. "The oasis alludes to the idea of finding wealth or paradise, while the mirage is a common metaphor for the mysteries of belief and reality."
"The desert, for example, is associated with mystery and dread. It's also a metaphor for the inexplicable beauty and wealth of nature in its most deprived state – the wilderness – as well as humans' insatiable hunger to capture and control it. Under the theme of 'Sarab,' the creative artists in the exhibition, all of whom have spent time in AlUla, have produced inventive and boldly innovative, site-specific responses that tackle significant issues emerging from the local situation while also resonating with people all around the world."
The Desert X AlUla event will end on March 30, 2022. For further information, go to desertx.org