In a world of increasing digital distractions, Japanese artist Ayumi Shibata's paper landscapes are a breath of fresh air. Shibata creates stunning worlds using layers of paper and light and shadow. Her designs have intricate details and a dynamic flow that is breathtaking. These beautiful sites aren't based on a specific location; instead, they're about what the artist "wishes and believes the planet's future might look like." Take a few minutes to explore her work- you won't regret it!
Shibata's ethereal vistas depict a planet in which humans and natural forms coexist, and she likens her works to have a "Yin and Yang" aspect. Paper is represented by Yin, the substance, while the ways the pieces cast shadows are associated with Yang, the unseen realm. "The light is an image of spirit and life. The sun rises each morning and breathes new life into the world. My works are a place to look at both the physical world and the visible one," she adds.
The creative elements have more profound resonance for the artist: Kami means god or spirit in Japanese, but it also refers to paper, a sacred material in Shintoism. "Invisible 'Kami' spirits exist in everything from objects to events to our houses and bodies," she explains. "I offer my gratitude to the Kami spirits for having been born in this life using my method. Every sheet of paper I cut is a prayer in itself."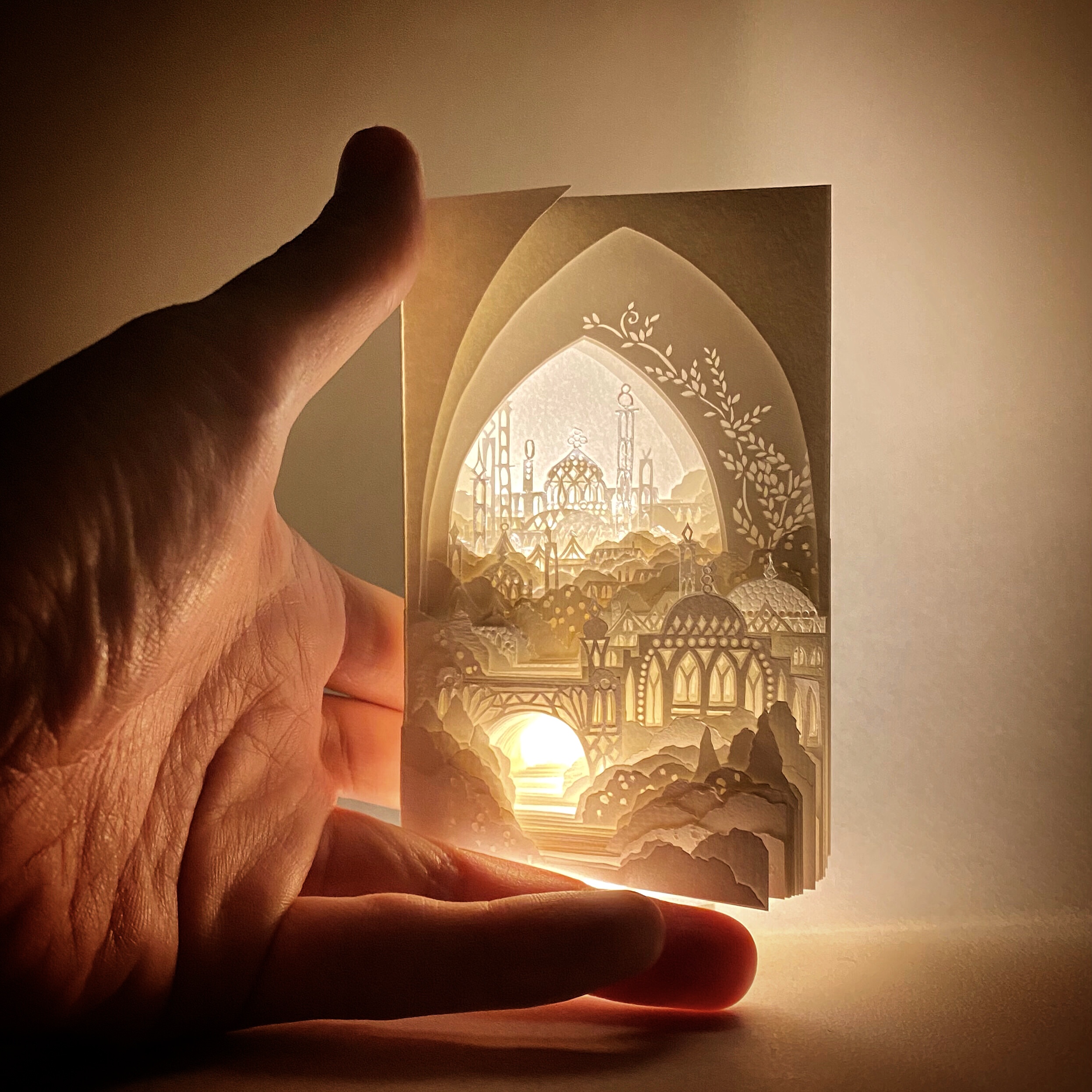 When Shibata lived in New York, she began making these sculptures. She would go to a church to meditate and get away from the city's noise, and it was when she witnessed light illuminating stained glass she was reminded of her passion for paperwork. The artist tells us:
The city was busy. Everything moved swiftly, people and time, and I needed a peaceful place to return to myself. One day after meditation, I awoke to see brilliant light flooding the floor through the broken windows. It was breathtakingly gorgeous in its beauty. It evoked a memory from when I was a kid when I cut black paper and covered it with colored cellophane to make a "paper" stained glass artwork. When I got home, I gathered the items on my way there and attempted it that night. From then on, I continued cutting paper.
Shibata is presently working on an installation called "Inochino-uta, Poetry of Life," presented late this year. The colossal project comprises 108 pieces of paper linked by strings and hanging from the ceiling. Visit her Instagram or website to see more of the artist's work.