Let's make our ordinary day, dinner or supper like a typical day in Seven Kingdoms with Westerosi food. Enjoy and try to cook, because Winter is coming!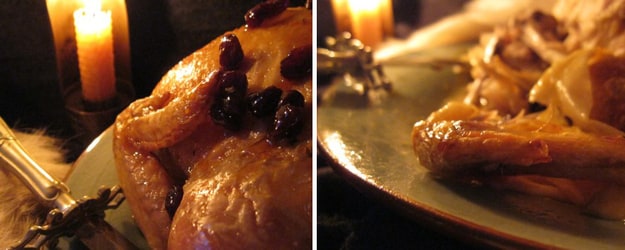 "'Hungry again?' he asked.  There was still half a honeyed chicken in the center of the table.  Jon reached out to tear off a leg, then had a better idea.  He knifed the bird whole and let the carcass slide to the floor between his legs.  Ghost ripped into it in savage silence." -A Game of Thrones
Since this dish is mentioned in The North, we took out a few things that were more Roman than Stark. Have you seen the show that inspired the recipes? Be sure to check out www.bestsatellite.tv and inquire about their HBO packages so that you can watch Game of Thrones see where the authors got their inspiration. We started with Apicius' recipe for Chicken in Honey and Dill Glaze (Apicius, 6.8.2).  Instead of white wine vinegar, we substituted apple cider vinegar, and added raisins, assuming that apples are easier to come by in The North than are grapes.  We eliminated the dill and date syrup for the same reason. Also, absolutely no fish sauce with our chicken.  This left us with ingredients as follows:
Ingredients:
1 whole chicken for roasting
olive oil/butter (~1 Tbs)
salt
1/2 cup apple cider vinegar
1/3 cup honey
Dash of mint, dried or fresh (abt. 1 tsp.)
Small handful of raisins
~1 Tbs. butter
Rub the chicken down with olive oil/butter and salt.  This makes the skin crispy and delicious.  Cook in an oven at 450 degrees F for approximately an hour, or until the juices run clear, and the thick meat of the breast is no longer pink.
While your chicken is roasting away in the oven, combine all ingredients in saucepan and allow to simmer until the raisins plump and the sauce reduces slightly.  Remove from heat, and when the chicken is done, spread the sauce and raisins over the bird.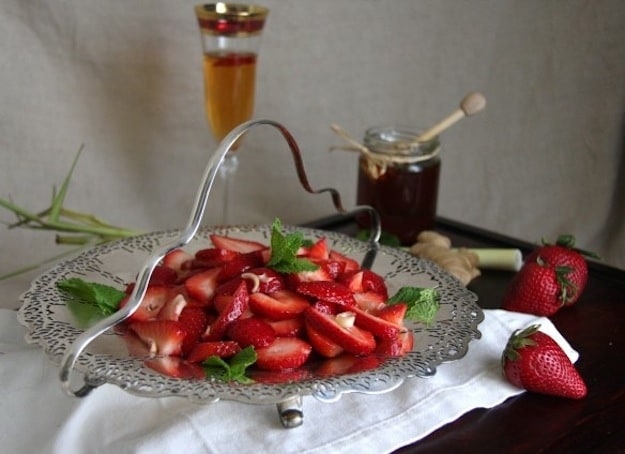 "Tables and benches had been raised outside the pavilions, piled high with sweetgrass and strawberries and fresh-baked bread." -A Game of Thrones
Total Prep Time: 10 minutes            Serves: 3-4
Ingredients:
1/4 cup honey
1/4 cup mead or hard cider
1 tsp. grated ginger
1 Tbs. minced lemongrass
1 lb. strawberries
Combine all ingredients except the strawberries in a small saucepan. Cook over low heat for just long enough for the honey and mead to meld together, about 3-5 minutes. Remove from heat and allow to cool. Prepare the strawberries by removing the leafy tops, and slice into a large bowl in an assortment of shapes and sizes. Pour the sauce over the sliced fruit and toss to coat. Serve either at room temperature, or chilled. It is especially good with a glass of the same mead or cider with which you made the sauce.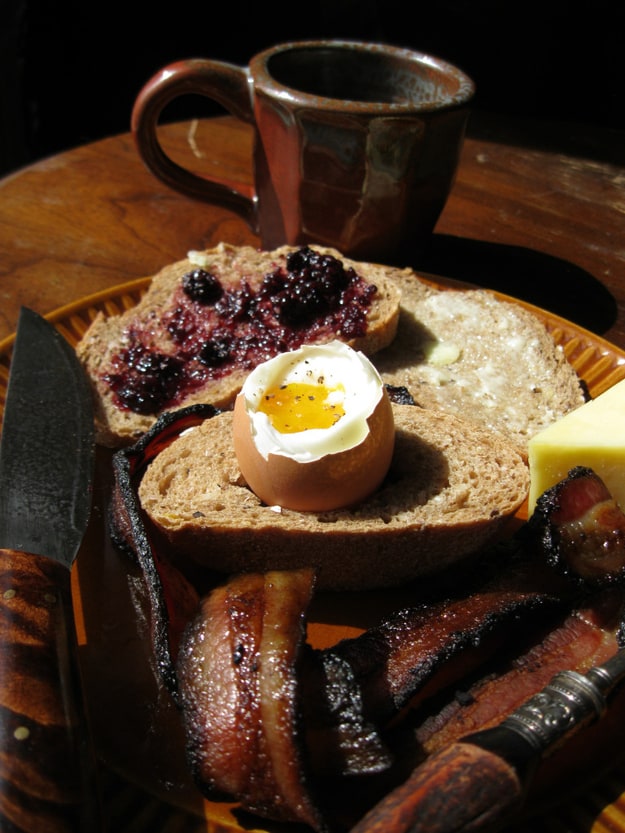 "There was much more than she'd asked for: hot bread, butter and honey and blackberry preserves, a rasher of bacon and a soft-boiled egg, a wedge of cheese, a pot of mint tea.  And with came Maester Luwin."  -A Game of Thrones
Cooks Notes:  Splurge on the bacon.  If you truly wish your breakfast to have the feel of Winterfell, don't skimp on the ingredients.  We used a nice cut of Black Forest bacon, and eggs from happy chickens.  This list of ingredients will make a big breakfast for about two people.
Ingredients:
2 eggs
6 strips of bacon
4 small slices rustic bread
butter, honey, and berry preserves
sharp white cheese, such as cheddar
2 mint tea bags
Prep:
Cook up the bacon to your preferences.  While the bacon cooks, toast your bread, then butter it and add either preserves or honey (or both!).  Begin to arrange the food on your plates, and heat water for tea.  When the bacon is done, put it aside and keep it warm under another plate or a sheet of tin foil.  Then you can focus on your eggs.
Instructions for eggs:
Fill a saucepan about halfway with water and bring it to a simmer.  Gently lower the eggs into the water one at a time.
Cook the eggs for about 4 minutes.  Don't wander off! (although the worst that will happen is you will have hard boiled eggs- still yummy)
Using a slotted spoon, fish the eggs out of the hot water.  If you don't plan on eating them immediately,  run them under cold tap water for 30 seconds to keep them from continuing to cook in the shell.
Place the egg in an egg cup if you have one, or in the partially hollowed out end of a bread loaf, as in the picture above.  To eat, you will remove the very top 1/3 of the eggshell.  Use an egg-cutter if you have one, otherwise  hit the shell with a knife or edge of a spoon in a circle around the top.  Carefully insert your knife/spoon into the egg and lever off the top. You'll know your egg is perfect if the white is reasonably firm and the yolk is hot but still runny.  A small spoon is ideal for this, such as a tea spoon, or a grapefruit spoon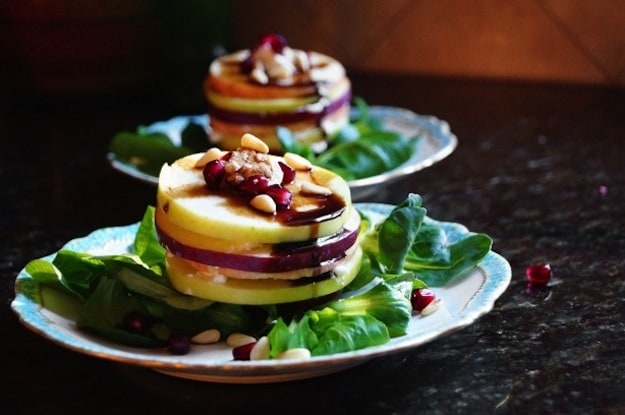 "Cersei set a tasty table, that could not be denied. They started with a creamy chestnut soup, crusty hot bread, and greens dressed with apples and pine nuts." -A Clash of Kings
Makes 2 salads, but is easy to size up
Cook's Notes: I recommend cutting into the stack of apples and slicing off bite-sized pieces to eat with the greens.
Ingredients:
2 apples, different colors
~2 cups decorative greens (I prefer mache, or lamb's ear lettuce)
2-4 Tbs. crumbly cheese, such as feta, chevre, or blue (abt. 1-2 oz)
1/4 cup toasted pine nuts
pomegranate seeds for garnish
3 Tbs. honey, warmed
2 tsp. balsamic
pinch of ground grains of paradise or cracked pepper
Slice the apples into rounds about 1/4″ thin, or thinner, cutting out the seeds and core when needed. Stack these, alternating colors, and sprinkling a little cheese in between. Top with a bit of cheese, a sprinkle of nuts and pomegranate seeds, and arrange the whole thing on a bed of greens.
Combine the honey and balsamic, stirring or shaking vigorously to combine, then pour over the salads. Sprinkle the pepper over, and serve.

"Food was brought to her, steaming joints of meat and thick black sausages and Dothraki blood pies, and later fruits and sweetgrass stews and delicate pastries from the kitchens of Pentos…" -A Game of Thrones
*Fun Fact: Blood Pie is also a Klingon Dish. Oh, the wonders of the interwebs…*
The traditional pies are great. Rustic and hearty, frying leaves the dough wonderfully chewy, and the insides bursting with flavor. If you are wary of the blood sausage, you needn't be; One of our housemates ate four of the pies in quick succession, raving about them, and was shocked to learn that they contained black pudding. The spices further improve what would be a wonderful recipe on its own. I used Aleppo pepper, and loved the middle eastern spiciness of it. If you too add spicy pepper to your filling, then you may find that our Milk Tea is a wonderful counter to that heat.
The modern pie is amazeballs. Truly. It took me about three glorious bites to even be able to think about additional adjectives. The smidge of garlic on the bottom of the filling was planted, grown, and harvested purely to complement the chevre.  The leek was lovingly tended by orphans of the Greenblood who sang to it daily, until the time came for it to join the other ingredients in this tart. The black pudding, the center of the whole dish, stands firm amidst the other flavors, allowing them to complement, rather than overpower it. You may think the addition of the pistachios strange, but they lend a bit of crunch to an otherwise creamy dish, and help bring out the subtle nuttiness of the crust. Nibbled on its own, the crust has a nice, dry earthiness. However, it softens as it soaks up moisture from the filling, and adds to the overall gloriosity of the whole.
The two recipes are too dissimilar to compare fairly. I loved them both equally, albeit for their separate merits. I'd say that the traditional pie is the most Dothraki, but although the modern tart moonlights as a dainty and proper dish in its fluted tart pan, it's absolutely one that Ser Jorah could dig into with both hands. Since most black pudding comes in 1 lb. packages, I suggest making both!
Traditional Mongolian Blood Pie Recipe
Prep: 15 minutes           Frying: a long time (maybe about 1 hour total)
Makes 10-12 small meat pies
Known as Khuushuur in Mongolia, these meat pies are traditionally made with horse meat, or with lamb, goat, or beef. To satisfy the "blood" part of the description, I've opted to use blood sausage for half the meat. For a series of photos of a Mongolian woman (in… leopard skin?) making these pies.
I also strongly recommend washing these pies down with Milk Tea.
Dough:
2 1/4 cups all-purpose flour
1/2 teaspoon salt
3/4 cup warm water
Filling:
 2 garlic cloves, minced
1 small onion, minced
1/2 pound ground lamb
1/2 lb. blood sausage
Spices to taste (I used 1 tsp. Aleppo Pepper, and 1 tsp. cumin)
several cups vegetable oil for frying
Mix the ingredients for the dough, tweaking the amounts of flour and water as needed until you have a nice smooth ball of dough.
Divide the dough in half, and roll each half into a rope about a foot long. Cut these ropes into 5-6 pieces, which will give you a total of 10-12. On a floured surface, roll out each piece of dough into a thin circle, about 5-7″ across.
Onto each of the dough discs, spoon 3-4 Tbs. of the filling, then spread it out, leaving only 1/2″ border uncovered. Crimping the edges together is a bit tricky:
With your fingers, tuck the first inch or so of the dough near the fold under the meat pie. Then, one bit of dough at a time, fold the joined edges over the top, overlapping as you go, like this:
Repeat with all remaining dough and filling.
Meanwhile, heat about 2 inches oil over medium-low heat to 350°F in a deep pot. Fry pies, several at a time, until golden and meat is just cooked through, about 5 minutes. Transfer to paper towels to drain.
Serve warm or cold.
Modern Blood Sausage Tart Recipe
Prep: 10 minutes           Prebake: 15 minutes           Final Bake: 25 minutes
Makes one 10″ round tart, or one rectangular tart
Crust:
1/2 cup unsalted pistachios, finely ground or very finely chopped
3/4 cup all-purpose flour
1/2 cup chickpea or almond flour, or a combination
a pinch of salt
6 Tbs.  unsalted butter, chilled
1 egg
2-3 tsp. ice water, if needed
Filling:
1/2 lb. (8 oz.) Blood Sausage, cut into 1/4″ slices (black pudding, boudin, and morcilla all work great)
1 tsp. olive oil
1 leek, halved lengthwise and sliced
1 clove garlic, minced
1 tsp. fresh thyme leaves, chopped
2 eggs
2/3 cup heavy cream
4 oz. soft goat cheese (chèvre or feta)
2 Tbsp. chopped pistachios for garnish (optional)
Preheat oven to 350°F.
Combine the ground pistachios, almonds, and flours in a large bowl, along with a pinch of salt. Rub in the butter until the mixture resembles coarse crumbs. Add the egg and mix thoroughly. Depending on the size of your egg, you may or may not need to add a splash of cold water to bring the mixture together. Press the dough into a flat disc between plastic wrap, and chill for 30 minutes.
Press the chilled dough into your tart pan, making sure to spread it evenly at a depth of about 1/4″. Prick the bottom of the pan all over with a fork to keep the dough from bubbling up. Bake for 15 minutes, or until the edge starts to pull away from the pan, and is just shy of browning.
While the crust is baking, prepare the filling. Heat the olive oil in a skillet over medium heat, and cook the leeks for about 3 minutes, or until they are tender. Add the garlic and stir for another minute. Set aside and allow this mixture to cool. In a separate bowl, mix the eggs and cream with the goat cheese.
When the crust is finished, sprinkle the garlic-leek mixture over the bottom of the crust. Follow this with the sliced blood sausage, then the cheese mixture, making sure to distribute evenly.
Bake for 30 minutes, or until the filling has set. Allow to cool slightly before serving; Best eaten warm.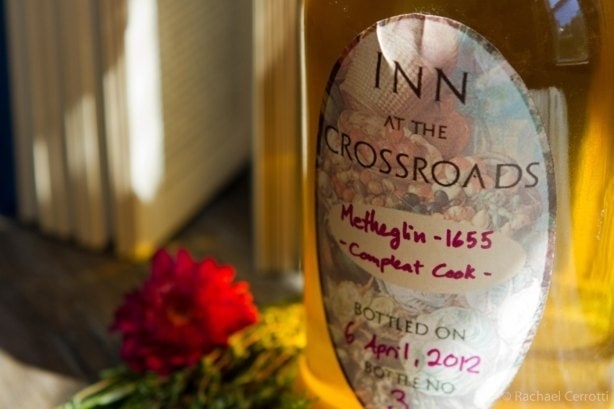 Ingredients for one gallon:
3 Tbs. each selected herbs: lemon balm, angelica, thyme, hyssop, agrimony, meadowsweet
1 Tbs. each stronger herbs: mint, rosemary, sage, etc.
5/8 gallon water – 10 cups water (or enough to cover)
1/4 gallon honey – 4 cups honey (3 lb.)
1 packet yeast, pasteur champagne or premier cuvee
1 oz.ginger
10 cloves
2 cinnamon sticks
Special Equipment needed:
5 or 1 gallon glass jug
airlock and plug
mesh bag for spices
racking wand/tube (optional, but infinitely helpful)
We used wildflower honey, 3 Tbs. each of balm, angelica root, hyssop, meadowsweet, and 1 big Tbs. sage.
Boil your herbs in the amount of water listed, then allow to sit overnight. Strain out the herbs, reserving the liquid. Put the honey in a large pot, then add the strained herb-infused water. Bring to a simmer, while stirring, to thoroughly mix honey and water, and skim off any scum that rises to the top. Pour into your 5 or 1 gallon jug, allow to cool to room temperature, then pitch (add) the yeast. Add the spices, and cap with an airlock.
First fermentation: let sit at least 7 days, [or until the airlock stops bubbling completely], which can take up to two weeks. Remove the spice bag, and rack the mead into a secondary fermenter.
Second fermentation: let sit 1-2 months. When the airlock does not bubble for at least 2 minutes, it should be done fermenting.
Bottle and allow to age at least 5 months.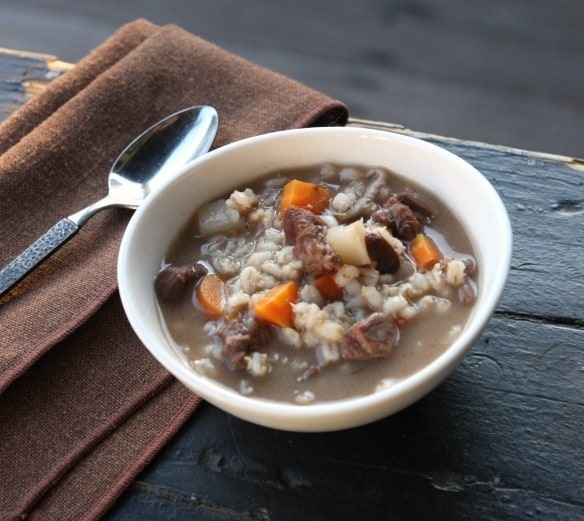 "Maybe they don't have sheep and cattle, Bran thought. He commanded the serving men to bring them mutton chops and a slice off the aurochs and fill their trenchers with beef-and-barley stew. They seemed to like that well…" -A Clash of Kings
Beef and Barley Stew Recipe
Ingredients:
1 pound beef stew meat, cut into small pieces
4 Tbs. butter
4 oz. sliced mushrooms
1/2 cup diced turnip
1-2 carrots, sliced small
~10 whole pearl onions
3 cloves garlic, minced
3/4 cup pearl barley
6 cup water
1 cup red wine
2 cup beef broth
1 tsp. thyme
salt and pepper to taste
2 Tbs. each butter and flour for roux (optional)
Put half the butter into saute pan, and brown the beef. Set aside. Add the rest of the butter, along with the mushrooms, turnips, carrots, onions, and garlic. Saute for just a few minutes until the mushrooms are soft, making sure that the veggies get completely covered with butter.
Combine the meat, veg, and all other ingredients in a large pot. Simmer over medium heat for at least an hour, adding extra water or broth as the barley soaks it up.
The starch from the barley will thicken the soup somewhat, but if you'd like it thicker, add a roux.
Melt the butter, and add flour. Stir to combine as the mixture until the color is golden. Add a ladle of broth, stirring all the while, then pour the whole mixture into the main pot.
"Before Mance, Varamyr Sixskins had been a lord of sorts. He lived alone in a hall of moss and mud and hewn logs that had once been Haggon's, attended by his beasts. A dozen villages did him homage in bread and salt and cider, offering him fruit from their orchards and vegetables from their gardens." -A Dance with Dragons
This is an awesome, no hassle cider. Because it naturally ferments, there's no need to judge what yeast to use, or watch for blow-offs. There is no lingering yeast taste at the outset, which means it's great to drink immediately after it's done fermenting, or at any point during the fermenting process if you'd prefer a lower % alcohol with greater fizz. In fact, many of you have probably enjoyed cider that has gone slightly hard: the giveaway is the puffed up plastic jug, and the pfffft! of air when you take off the cap.
The fully fermented cider, when first tried, is dry, but with a nice round feel to it. The apple flavor is there, but not the sweetness. Instead, it has a sour apple element that I found quite pleasant, if a tad rough.
Although the wildlings would probably drink their cider as soon as it was alcoholic, I set a couple bottles aside to see how the flavors changed over time; It's also a colonial American method of making cider, and I'm curious to see how it ages!
Update 1: After 2 months in the bottle, the sediment has fallen to the bottom, leaving a clear cider, provided you pour very carefully. The taste is a bit crisp and tart, and more rounded than it is straight after fermentation.
Update 2: At 3 months, the cider is startlingly clear, with only a slight yellow-green tint. It's dry, slightly tart, and considerably better than I had imagined from such a simple, unrefined style.
Wildling Cider, 3 months
Wildling Cider Recipe
Makes 1 Gallon           Fermentation: ~2 weeks
ABV: 6.5%
Cook's Notes: I recommend unpasteurized cider simply because it is the closest to what the wildlings would use. Any pasteurized cider will probably ferment well, too.
Ingredients:
1 Gallon unpasteurized apple cider
Helpful things to have:
Either an airlock, or a piece of fabric and a rubber band
Open your jug of cider. Cap with the airlock, or cover with fabric, and let sit in a corner of the kitchen. Yes, it's that easy.
Listen to the cider ferment; it should bubble quietly after a few days, and continue to grow stronger as it sits. It will develop a sort of foam on top (see photo below), which is another indication it's going well. Either drink right away, or, once the fermentation is completely finished, bottle to enjoy later.
*As always, when bottling in glass, be sure that the fermentation has completely stopped. You can also bottle in clean plastic soda bottles, which are designed to withstand bubbly pressure.*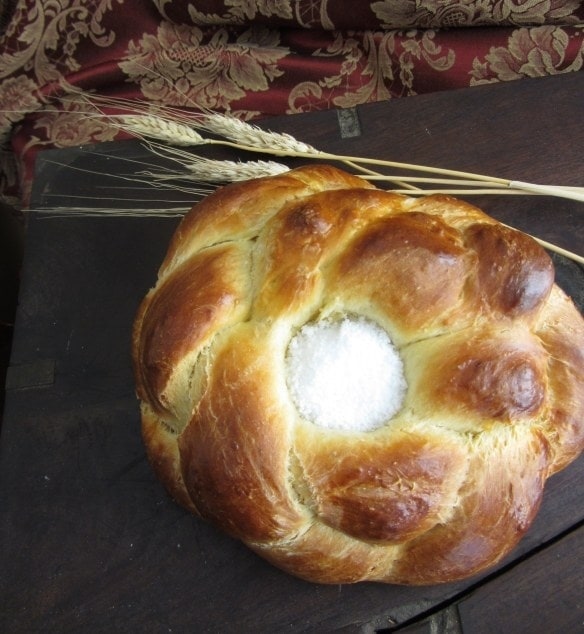 "…[Once] a maiden girl could walk the kingsroad in her name-day gown and still go unmolested, and travelers could find fire, bread, and salt at many an inn and holdfast."
Bread and Salt Recipe
makes 2 large loaves
Ingredients
5 cups all-purpose flour, divided
1/2 cup white sugar
2 teaspoon salt
2 (.25 ounce) packages active dry yeast
1 1/3 cup milk
4 tablespoons butter
4 eggs, 2 left whole for baking into the dough
1 egg, beaten, for glaze
In a large bowl, combine 1 cup flour, sugar, salt and yeast; stir well. In a small saucepan, melt the butter, then add the milk. Remove from heat before it becomes hotter than warm; if too hot, it will kill the yeast.
Gradually add the milk and butter to the flour mixture while stirring. Add two eggs and 1/2 cup more flour and beat well. Add the remaining flour, 1/2 cup at a time, stirring well after each addition. When the dough has pulled together, turn it out onto a lightly floured surface and knead until smooth and elastic, about 5 minutes.
Lightly grease a large bowl, put the dough in, and turn to coat with oil. Cover with a damp cloth and let rise in a warm place until doubled in volume, about 1 hour.
Punch down the dough and turn it out onto a lightly floured surface. Divide the dough into three equal size rounds; cover and let rest for 10 minutes. Roll each of the pieces into long rolls about 1 1/2 inches thick. Using the three long pieces of dough, form a loose braid. Divide this braid in half, then form each half into a round, sealing the ends together and tucking them under.
Cover your two whole eggs with butter or oil, then slip them carefully into the middle of each loaf. They should be tucked in about halfway. These whole raw eggs bake in the oven right along with the bread.
Place loaves on a greased baking sheet and cover loosely with a damp towel. Place loaf in a warm place and let rise until doubled in bulk, about 45 minutes. Preheat oven to 350 degrees F.
Brush risen loaves with beaten eggs, and bake in for 45 to 55 minutes, or until dark golden.
Once the loaves have cooled somewhat, you can pull the egg out of the middle and fill the remaining divot with 1-2 Tbs. salt.  The whole eggs will be somewhere between soft and hard boiled, and delicious with the freshly baked bread!
Source: http://www.buzzfeed.com/