Charles Brooks' "Architecture in Music" photography project takes an unusual approach to capturing the intricate beauty of classical musical instruments. By photographing the tunnels and cavernous spaces inside these instruments, Brooks creates stunning images that are both evocative and thought-provoking. This project is a must-see for anyone interested in classical music or photography!
The project follows Brooks' career as a concert cellist for 20 years before starting his professional photography business, and it is a summation of his life thus far. This "under the hood" view of instruments that he's familiar with allows him to satisfy his interest as a musician while also being creative as a photographer.
"The inside of a cello or violin was something that you only saw when it was being restored. The complicated intricacy of a piano's mechanism was hidden behind thickly lacquered wood. It was always exciting to view the insides of pianos during a rare trip to a luthier," Brooks tells us. "The inner workings of these instruments came easily to me as soon after I was able to acquire the probe lenses required to photograph them without damage."
Brooks unusually used a focus stacking technique to make these little places appear enormous in terms of production. It was pretty tough to do so while maintaining everything sharp. "There are no one-shots in the series," Brooks adds. "It's hard to maintain such sharp focus in a single frame. Instead, I take several dozens to hundreds of pictures from the same vantage point, moving the focus from front to back little by little. The various layers of each frame are then carefully combined to form a wide shot in which everything is visible. The result deceives the brain into thinking it is viewing something enormous or cavernous. I like how the instruments' inner appears to be its concert hall, with the duality."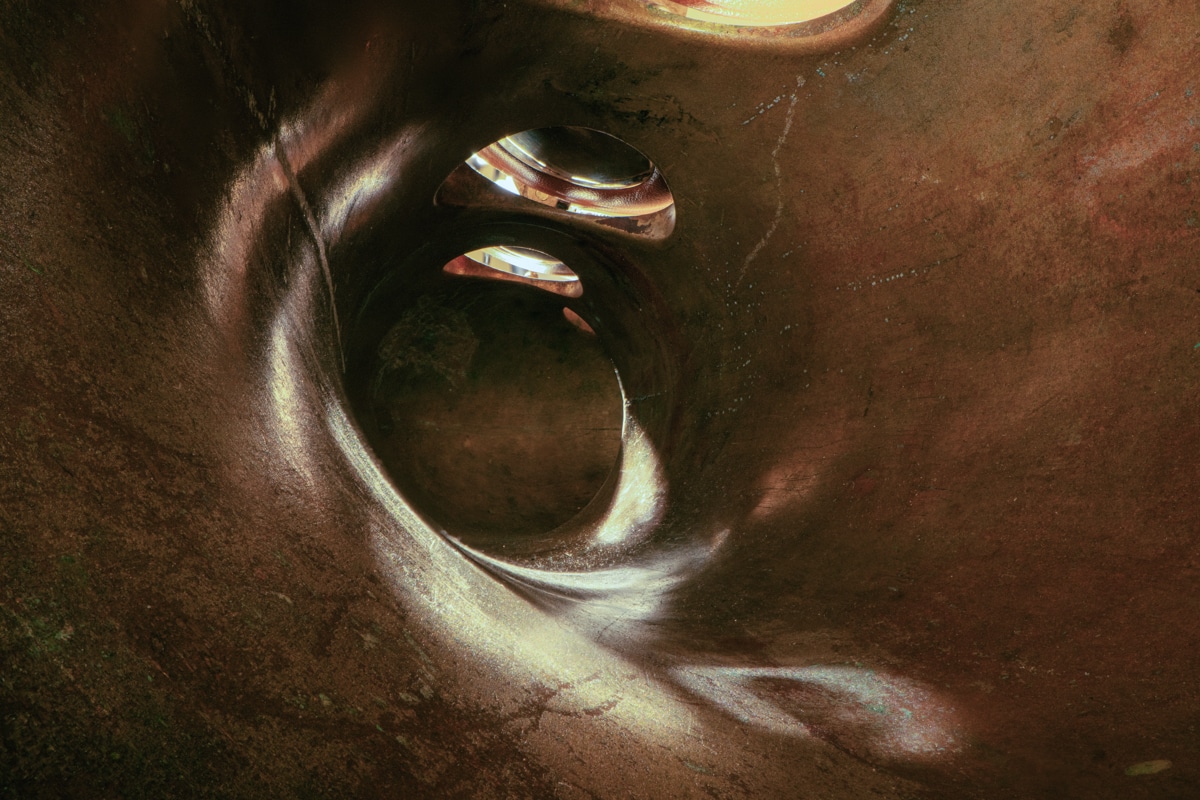 He was startled by what he discovered when he started the series. Each instrument has its tale to tell, with repair and tool marks revealing its history. These musical instruments are unique in their characteristics, ranging from an 18th-century cello to a contemporary saxophone. After looking into them, Brooks developed a new respect for the artisanship and engineering behind the design.
"I anticipated seeing a larger difference between the pianos – Steinway and Fazioli, each of which cost hundreds of thousands of dollars. Even at the macro level, I believe their remarkable resemblance is evidence of the intricacy of a piano action's mechanism. The biggest surprise was the didgeridoo, carved by termites rather than humans. I didn't know that termites rather than people make them! The natural finish is fascinating to me; it's so strange."
Brooks believes that his photos will enable music enthusiasts to develop a new respect for musicians and the many individuals who work their tails off to create such instruments.
Charles Brooks: Website | Facebook | Instagram