Street art, having its growth peak in the 1980s, hasn't always been appreciated by everyone. Over the last 15 years, a lot of street art has been gradually removed by governments trying to clean up the cities. It's often been considered a violation of public spaces, and the youngsters lined up in a queue to buy spray paint at one of the biggest graffiti shops in town have been looked down at and expected to be hooligans.
Luckily, there are a fair bit of organizations in street-art-leading cities worldwide that support and promote this form of visual art. They see it not just as a form of an artistic expression, ranging from graffiti, murals, huge-scale paintings to installations, photography and performance, but as a way of people coming together, discovering their identity and developing their sense of belonging.
Lisbon
There is probably no other such cozy and hilly city like Lisbon with such amazing coastline of the Atlantic, and old town fill of colorful architecture. And that is not only because of the beautiful historical facades but also the top-notch murals, that are a little bit different, than the first thing that pops into your head when you think of a graffiti. Lisbon found a solution to the conflict between street artists and their opponents. The whole street of Calçada da Glória is filled with sheetrock boards, put there for artists to express themselves on. Passerbys have an extraordinary opportunity to admire new works every month, as those boards are regularily changed to give a chance to new artists to show off what they got.
Mexico City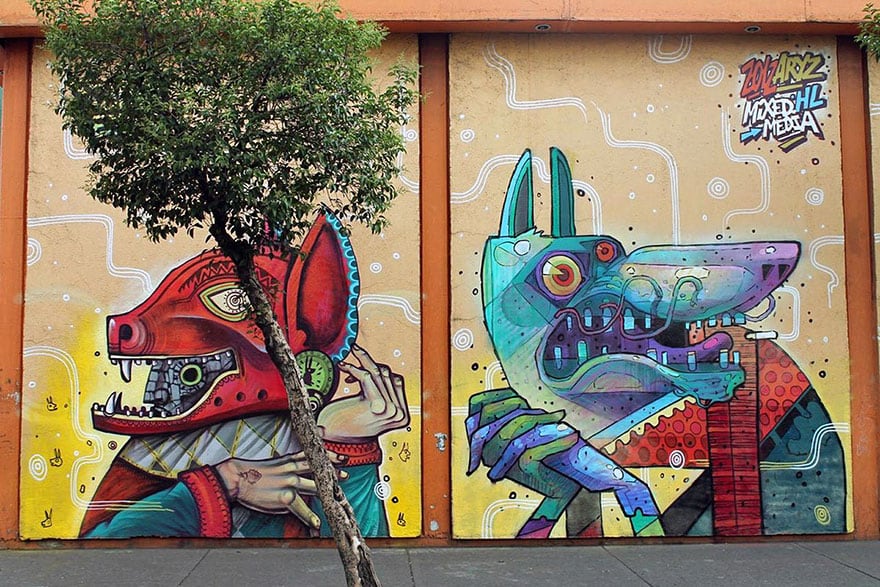 A city that is closest to what Banksy once encouraged everyone to imagine "a city where everybody could draw whatever they liked, a city that felt like a party where everyone was invited", would definitely be Mexico City. That is not only because there are so many square meters of building walls, and fewer restrictions banning painting on them, but also thanks to the fact that it's so free, dynamic and explicit. There is a strong influence of native Mexican art in murals there, often compiled with the modern European touch, that gives it a unique identity.
Berlin
The genius of Berlin's street art speaks for itself. One of the highlights for its mural scene is the Berlin Wall, which, since 1989, became a place for people to express their frustrations, but on the other hand a lot of artists felt obliged to turn it into something prettier, that a symbol of scars left by the war.
Barcelona
One of the most artistic cities in Europe, full of Salvador Dali's works, obviously couldn't be missed, too. This is not the only name deserving a mention here. The breath-taking Aleix Gordo Hostau's large-scale wall paintings took him as far as to the international scene of commercial graphic design. While BTOY dropped out of law school to become the dictator of fresh trends in the street art ecosystem of Barcelona.
Melbourne
Although art, in general, isn't the main reason to go to most cities of Australia, Melbourne's sticker and poster scene earned it to be classified as one of the most interesting street art cities. It wasn't easy, though, as the state is quite strict there. From the 90s onwards a lot of amazing works have been removed, but fortunately since 2007 Victoria introduced a successful program educating high school kids to differentiate between vandalistic graffiti and street art.
Philadelphia
Just like pretty much everything in the US Philadelphia's street art is well-thought and enhanced by the government. The Love Letter program is the only such set of murals in the world, available for tours, where 50 roof tops between 45th and 63th street are covered with outstanding works of art students, artists and self-taught wall painters.
Belgrade
There is much less known about the east than the west world. It doesn't mean that there's less going on there in the world of art, but definitely, it's much less promoted. The streets, walls, bus stop, electricity boxes and benches of Belgrade are full of very touching stories filled with post-war fears, dreams, sorrows and hopes. No matter if they are painted with home-made oil-colour or with spray paint from one of the biggest graffiti shops in the world, they are told by real people with pictures, that express more than words.