Installing new floors is a decision that should not be made recklessly. The whole process can be both money- and time-consuming, especially if not planned properly. However, if done right, your new floors can transform your entire living space. Selecting the right flooring option for your space is an investment that will pay off in the long run.
We have compiled a list of some basic guidelines you should consider if you are on the hunt for new floors.
Choose the Right Material for Your Space
The first step is to choose the right flooring material for your space. Depending on the room, there are many options to choose from. Naturally, there are many factors to consider when selecting flooring options.
If you are on a budget, we suggest you have a look at more affordable options like laminate or vinyl. Laminate panels are made from pressed wood, they are quite affordable, easy to install and clean. They might not be as appealing as hardwood floors but are still a great choice if you want to save money.
Vinyl flooring is another cheap option you can consider. Vinyl floors are extremely easy to clean and are highly durable. They come in various styles and colors that will give you that real-wood look at a low price.
If, however, you want floors made of high-quality materials that will last you a lifetime, hardwood floors and bamboo flooring are the way to go. Bamboo hardwood floors come in various colors and styles, so you will easily find a fit for your space.
If you opt for bamboo, you will get floors that are:
Extremely durable
Affordable but of excellent quality
Easy to clean and maintain.
Pick a style you love and enjoy your new high-quality floors!
Clear Out Your Space
Once you have selected an adequate flooring option for your home, it's time to clear out your space. Remove all the furniture, carpets or any other possible obstacles. Think of it as preparing a blank canvas that will soon become a masterpiece. 
Furthermore, make sure you measure all the rooms where new floors will be installed so you know how much material to order. One extra tip from us: always order a bit extra, just in case. This way, you will have a back-up ready to cover up any mistakes.
Remove Old Flooring
Our next step is probably the most difficult and frustrating one. Arm yourselves with patience because removing old flooring can be exhausting, especially if you have no idea what lies underneath.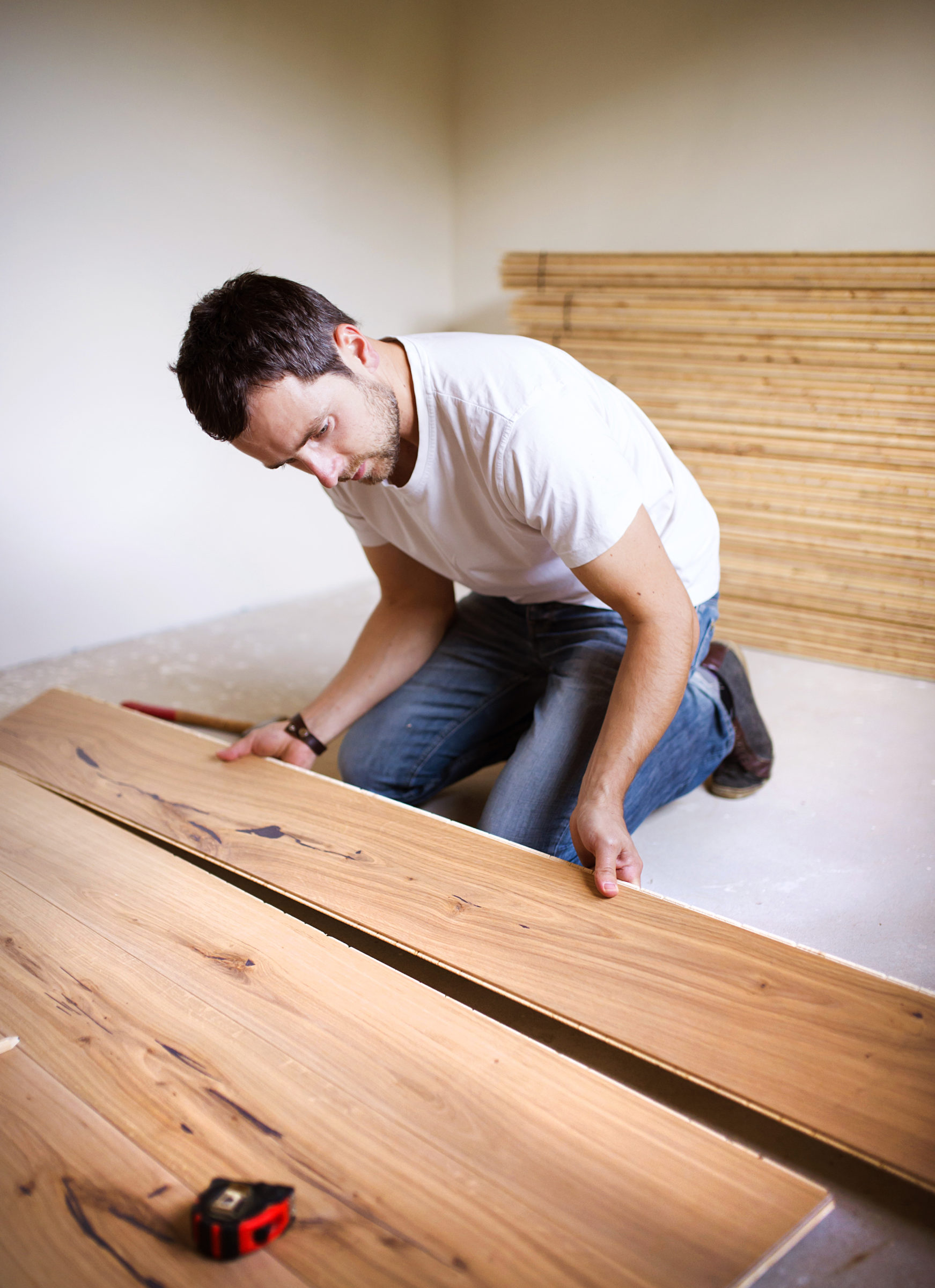 It's important to be thorough and remove every layer that lies underneath. By doing this, you will create a perfect base for your new floors.
Don't Forget the Subfloor
Many people seem to disregard subfloors, which is a rookie mistake. If you think they are just going to be covered up by your new floors, think twice. Any indentation or unevenness will consequently affect your new floors. To avoid any further complications, make sure your subfloor is clean, dry and flat. 
What's more, depending on the subfloor, you may have to buy underlayment — some kind of thin material like rubber or felt that will cushion your floor and prevent any further damage.
Install the Flooring
Finally, your space is ready and your floors can now be installed. Before doing anything else, let your new floors acclimate to your space. Each room has a specific level of humidity and temperature, so it is important not to skip this step.
Some flooring options are quite DIY-friendly, which means you can install them on your own and, in turn, save some money. On the other hand, if you are not that confident in your home renovation abilities, you might want to leave this one to the professionals.
Final Thoughts
Now that your floors are ready, it's time to bring all the furniture back inside. It's time to unleash your inner designer and create a space you only see in magazines. Be creative, incorporate different colors, fabrics and textures to add a personal touch to your space.
After all that hard work, it's time to take a deep breath and relax. Gather your loved ones and enjoy the beauty of your new floors together!