Some people take their interior décor seriously. For some, each room must have a specific design and layout while other areas of the home such as the bathroom may look plain. How important do you find your bathroom look? If you want to be different and have a unique bathroom then perhaps you'll find today's article helpful. There are some unusual bathrooms in restaurants and hotel rooms located around the world that are somewhat famous.
If you want to create your own unique bathroom with customized fixtures you may want to phone a plumber Melbourne residents use regularly to assist you. In the meantime, let's talk about the unique bathroom designs around the globe. These eight bathrooms may give you some inspiration.
The Aquarium Bathroom in Japan
The Hipopo Papa Café in Japan is one of the strangest bathrooms in the world because it's surrounded by a giant aquarium. It's been around for 12 years now and many people from around the world visit the café to see its unique bathroom. You get to see exotic fish in the aquarium. There's also a giant sea turtle swimming around the tank.
This bathroom cost about $270,000 to build and it's only for the ladies. However, if the café isn't busy and there are no people in the restroom, male customers are allowed to have a look inside.
The lighting in this bathroom is magnificent and the colours and aesthetics give you the feeling of being inside the ocean.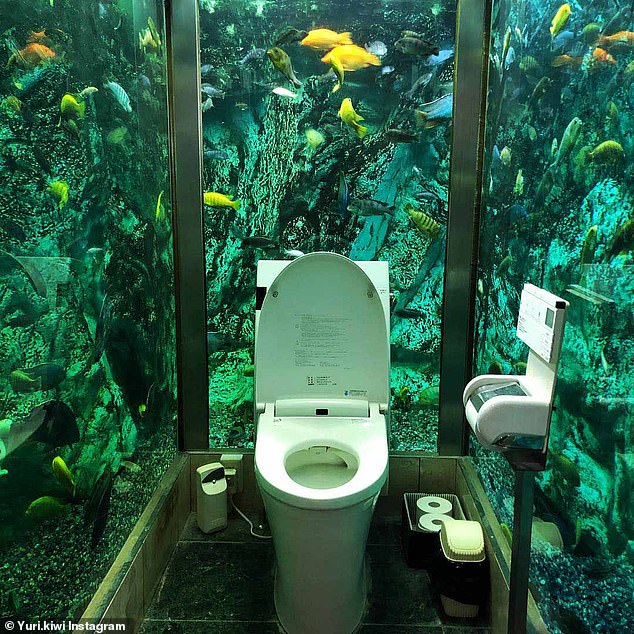 World's Largest Bathroom in China
Did you know that there is a bathroom in China that holds the record of being the largest restroom in the world? This bathroom is four stories high and it has 1000 toilets. This bathroom has an Egyptian theme so some urinals are shaped like snapping crocodiles.
When you visit this giant restroom you'll hear calming music and there are even TVs on the walls so you can watch whatever is showing on the screens. The bathroom was built in the hopes of making it a famous tourist attraction.
Dolce and Gabbana's Gold Rest Room – Italy
This bathroom is part of an A-list restaurant where celebrities visit regularly, including Paris Hilton and Kylie Minogue. The restaurant's name is Gold and when you enter the restroom all you'll see is golden coloured walls, lighting and accents.
There's golden bamboo lining the walls and golden flecks inside the marble countertops. The design corresponds to the glamour and elegance that is Dolce and Gabbana.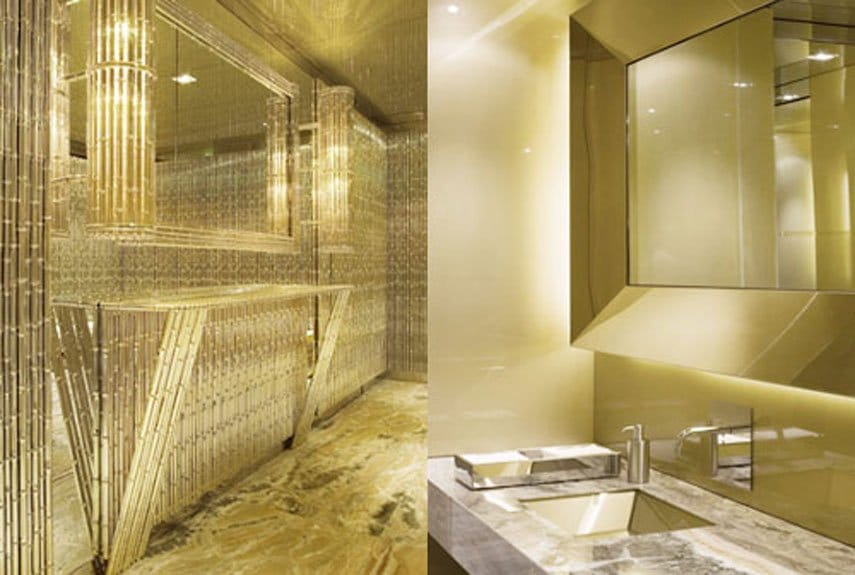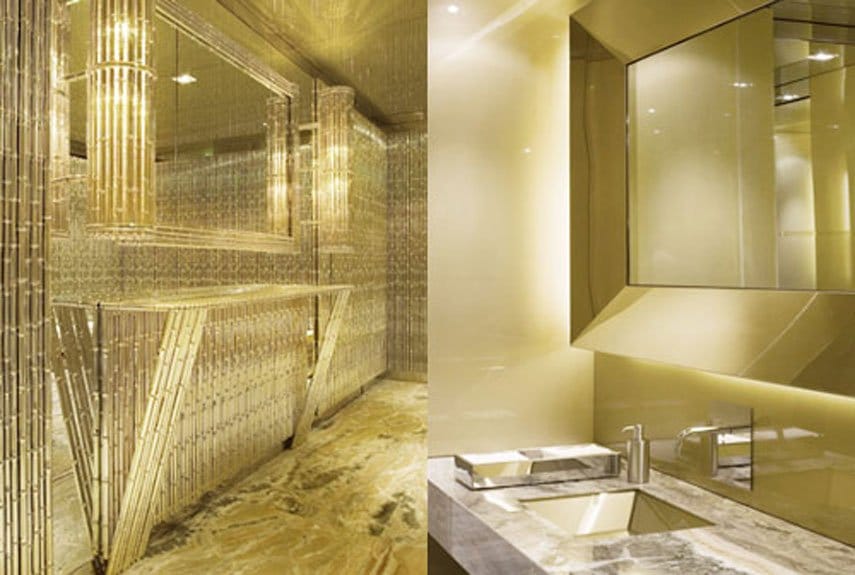 New York City's Bar 89
New York has many bars and restaurants but none have restrooms quite like Bar 89. The restroom doors are made with liquid crystal that turns opaque when someone enters a stall. This type of crystal is called privacy or smart glass and it's see-through when exposed to bright light and turns opaque when lights go dim.
The doors are all decorated in funky colours that complement the unique energetic aesthetic of the restroom.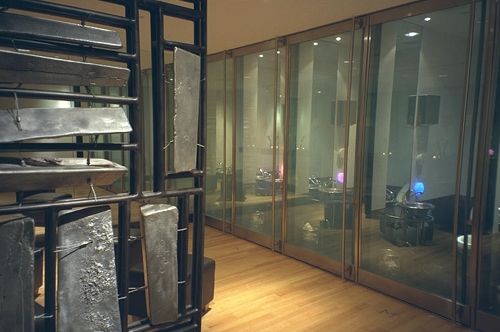 The See-Through Bathroom in Switzerland
The see-through bathroom in Switzerland is made with one-way mirrors. So people can't see into the bathroom from the outside of it. But you can see the outside world when you're inside the bathroom.
It can be a strange experience using this bathroom because seeing people walk by gives you the sense they might be able to see inside. But you can rest assured that you have complete privacy when using the see-through bathroom.
Bathtub in the Centre – South Africa
There are some houses located in South Africa that have the most unusual bathroom settings. You may be able to take some inspiration from these types of bathrooms. One particular house located in Midrand has a clean crisp bathroom with a standalone bathtub that's on a raised platform.
The platform is lit up by LED lights to create a focal point in the large bathroom. If you want a bathtub in the centre of your bathroom you'll need a certified plumber to complete the job for you.
Ultra Contemporary Bathroom – France
The French are innovators of fashion and architecture. There are houses located in Cannes, France with bathrooms that have ceiling to floor windows with marbled walls and bathtubs. Floating sinks are a popular aesthetic in ultra-contemporary bathrooms, as well as straight-lined rectangular tubs.
Jungle Jim's Bathroom – Fairfield, Ohio
When you look at the outside of Jungle Jim's bathroom it looks like an outhouse. But when you open the door you'll see a long corridor that leads into a large bathroom. Even though this looks like a port-a-potty on the outside the bathroom inside is clean and surprisingly elegant.
This bathroom makes a unique statement and people love it. If you create something that's over the top it's going to get attention from a lot of people.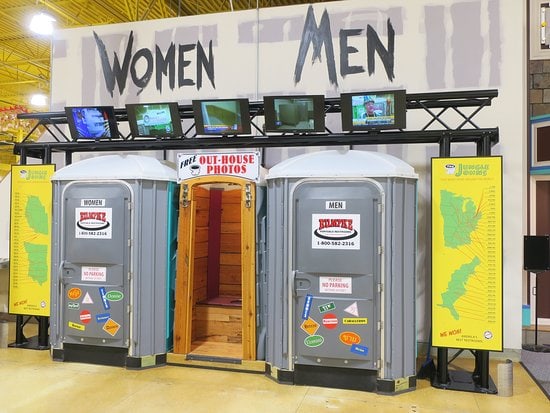 Final Thoughts
Did you find inspiration from the unique bathrooms mentioned in today's article? If you want to create your own unique bathroom there are many themes that will work well. But make sure that you have certified plumbing services Melbourne locals use regularly so that all your installations meet Australian standards.