English contemporary artist Mat Collishaw has created an incredibly spectacular Zoetrope (the device to demonstrate the motion pictures based on the inertia of the human eye) printed the 3D-printer. Zoetrope is based on the story of the painting by Peter Paul Rubens' "Massacre of the Innocents" and consists of 350 pieces.
"The Massacre of the Innocents paintings thrive on the repetition of characters spread across the canvas. They are designed to excite our emotions and to keep our eyes moving around the surface in an agitated manner without intimacy and with no focal point. The zoetrope capitalizes on this, literally repeating characters to create an overwhelming orgy of violence that is simultaneously appalling and compelling."
Collishaw graduated from Goldsmith College, London, in 1989 and began his career with the creation of an acclaimed work, Bullet Hole, and followed that up with a pair of exhibits curated by his friend, Damien Hirst.
"I redesigned a scene of the Massacre of the Innocents, using drawings, cardboard models and eventually CAD diagrams," Collishaw said. "These files were then 3D printed, and the entire scene was assembled. The Temple incorporating the characters I'd designed were programmed to spin at 60 rotations per minute while a synchronized LED light flashed 18 times every second. This results is the illusion of movement, roughly based on the Victorian optical toy, the zoetrope."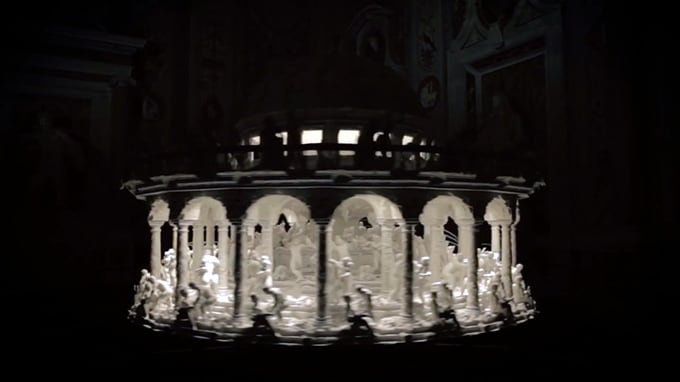 'All Things Fall' was created over six months, and featured at Collishaw's solo exhibition Black Mirror at Rome's Galleria Borghese earlier this year. He created the piece along with 3D modeller and animator Sebastian Burdon who shot the video above.