To open the new year The Skirt at Ortega Y Gasset Projects is thrilled to present Suspended in my Masquerade a solo exhibition of new work by multi-disciplinary artist Rachel Klinghoffer. Melding personal ephemera; used lingerie and designer footwear, costume jewelry, religious relics and Hanukkah decorations with old paint brushes, children's toys, souvenirs and studio refuse, she creates prismatic, self-narrative vessels investigating nostalgia, ritual, memory, and the act of remembering.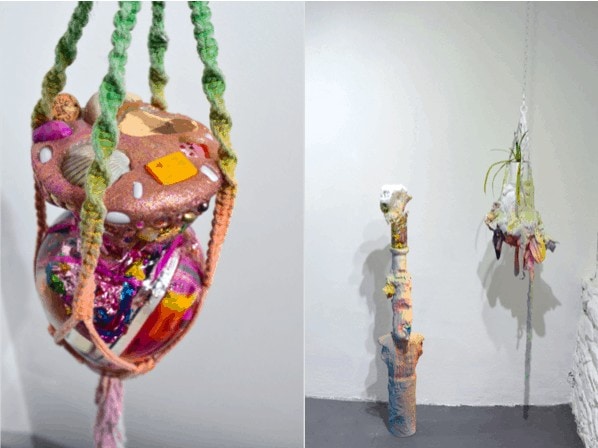 Suspended in my Masquerade, referencing a lyric from Springsteen's Growin' Up, investigates the complex rituals surrounding memory and sentimental objects. Driven by a strong emotional connection to her family, friends and community, Klinghoffer pays homage to the past by literally suspending those personal items in time and space, imploring viewers to excavate. Simultaneously organic and alien-like, her sculptural forms are covered, surface textures obliterated and then exquisitely adorned with small embedded objects of personal significance. Surface colors reference the Romantics, particularly the Hudson River School with its emphasis on the subtleties and range of light. Her laboriously manipulated sculptural shapes hint at everyday objects including pre-loved sneakers, repurposed precious and semiprecious stones including rubies, sapphires, emeralds, even diamonds. Closer inspection allows for explanation of the greater meanings designated to each item. Materials lists read like memories, items like "one of the vintage boots I wore all through undergrad", and "coral necklace from uncle".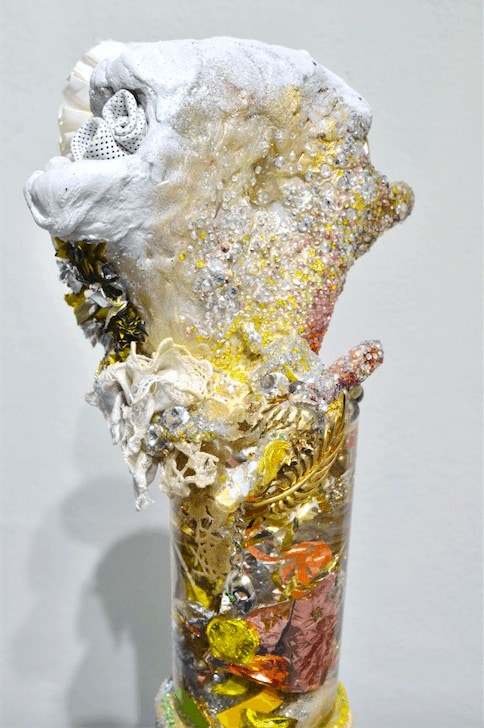 This new series of work incorporates the craft of memory glass-making into the sculptures, a popular activity for girls during the time of Klinghoffer's own bat mitzvah celebrations. Titles of the works are pulled from the lyrics of her playlists. As with her work, she pulls from what already exists in the world. Individual pieces take their names from The Grateful Dead, Talking Heads, Beatles, Tom Petty, Drake, Paul Simon, Phish, TV on the Radio, and so on. By repurposing materials, making and remaking them into paintings and sculptures, she prompts a reimagining of uses for these relic-like objects. Articles reflect the artist's personal connection to femininity, craft-making, Judaism, romance, pushing the definition of painting. Through time, the items become specimens, icons. They are poked, prodded, stained, sprayed, stroked, rubbed, dipped, then pulled, torn, cracked open and broken apart making up and becoming the new work.
Rachel Klinghoffer lives and works in South Orange NJ. She received her MFA in Painting with honors from Rhode Island School of Design (RISD) and a BFA in Painting, Visual and Critical Studies from the School of the Art Institute of Chicago.
Her show at Ortega Y Gassett Projects Jan 25, 2020 – March 29, 2020. Join us for a reception for the artist Jan 25 from 6-9PM at 363 3RD AVENUE, BROOKLYN NY 11215.