For some people, working from a home office has always been the norm, but for the rest of us, we've had to get used to working from home over the past year, due to the ongoing pandemic. But, of course, that's no reason to let standards slip. We're constantly looking for new ways to keep things fresh at home, whether that be in a separate home office or a neat corner of the living, dining, or bedroom.
Whilst buying a new plant or finally hanging up that one painting that's been waiting for its debut is sure to help brighten things up, there's nothing like a fresh lick of paint or roll of Designers Guild Luxury Wallpaper to truly keep you inspired when you work from home. If you're interested in brightening up your work area or creating the illusion of more space, then the following tips might just be what you're looking for:
Colour
A big contributor to how a room makes us feel is undoubtedly the colour. If you're unsure of what might be the latest "in" shade, Pantone's Colour of the Year is always a great source of information. For 2021, Pantone have revealed a mash up of two complementary colours – PANTONE 17-5104 Ultimate Gray and PANTONE 13-0647 Illuminating. The grey shade promotes practicality, whilst the latter is a bright yellow, which brings with it a sense of warmth and optimism.
A patterned wallpaper which features a marriage of both of these colours is guaranteed to help you stay on track whilst remaining positive in your work day. We recommend utilising these colours into a feature wall behind your desk so that you're facing the duo whilst you work and receive the full benefits of that much-needed pop of influential colour(s).
Honourable colourful mentions also include:
· White for a spacious and brightening effect
· Red to increase stimulation and energy
· Blue for stress relief and calming effects
· Green for a more relaxing environment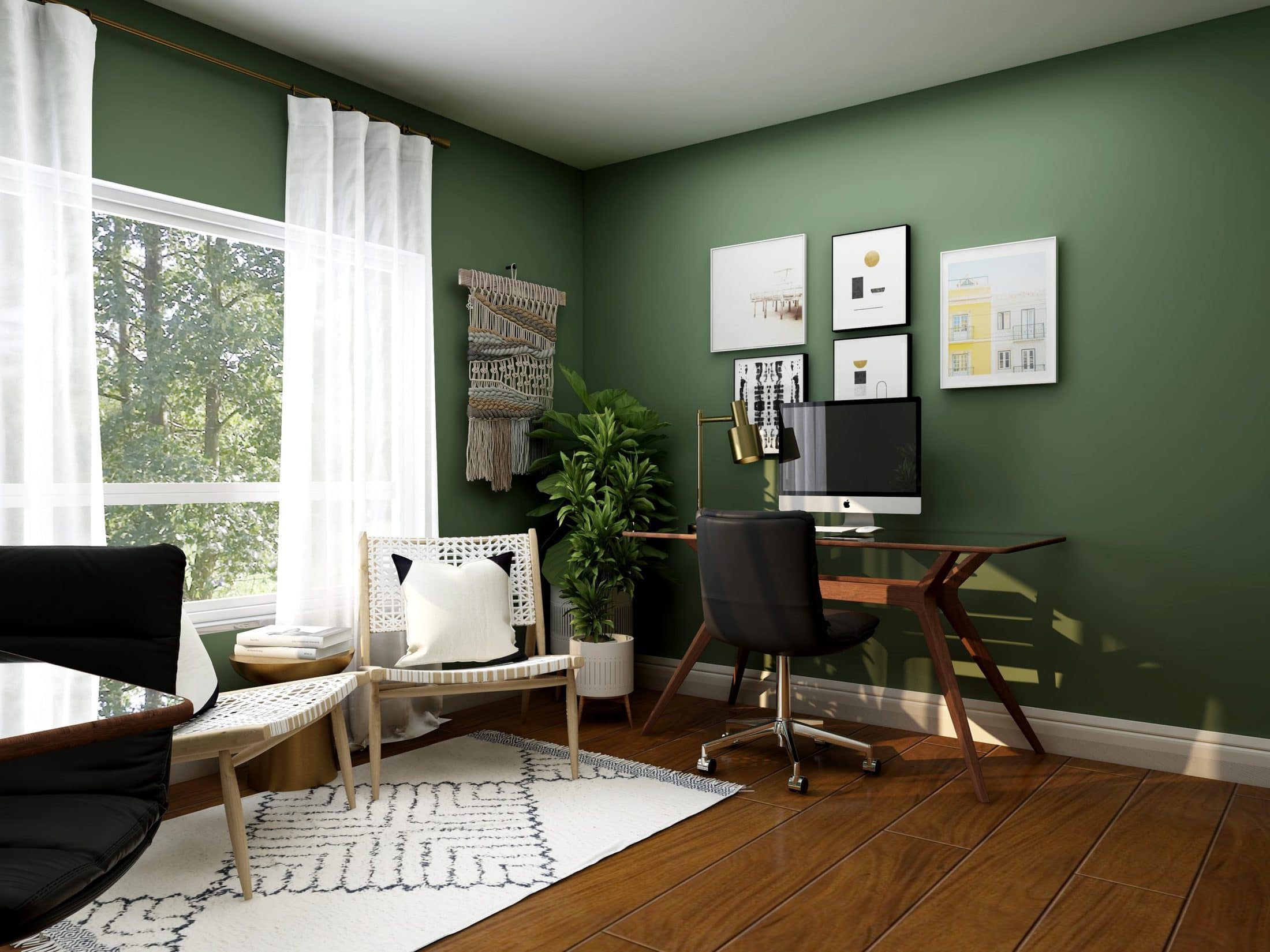 Patterns
As we have already mentioned, a patterned wallpaper which presents an amalgamation of the top two Pantone colours for 2021 is a great way to liven up any work space, but that's not all. Away from the colour scheme, your chosen pattern can have an effect of its own.
Be careful not to choose a pattern that's too busy, as small details spanning across a large wall space can become overwhelming to the eye. However, if your work space is small, or perhaps contained in just the corner of an already functioning living space, intricate patterns can add depth and interest.
When it comes to larger spaces, a big scale pattern can be ideal, creating a focal point for the room. If your home office is bigger than a box room, and feels a little empty, using a wallpaper with a big and bold pattern to create at least a feature wall could be the perfect choice.
If you find that you're having trouble focussing when working from home, it's a good idea not to implement a pattern that's too intricate as it may result in causing distractions. Nevertheless, the right level of pattern and interest on the focal wall could be just what you need to keep your creative juices flowing.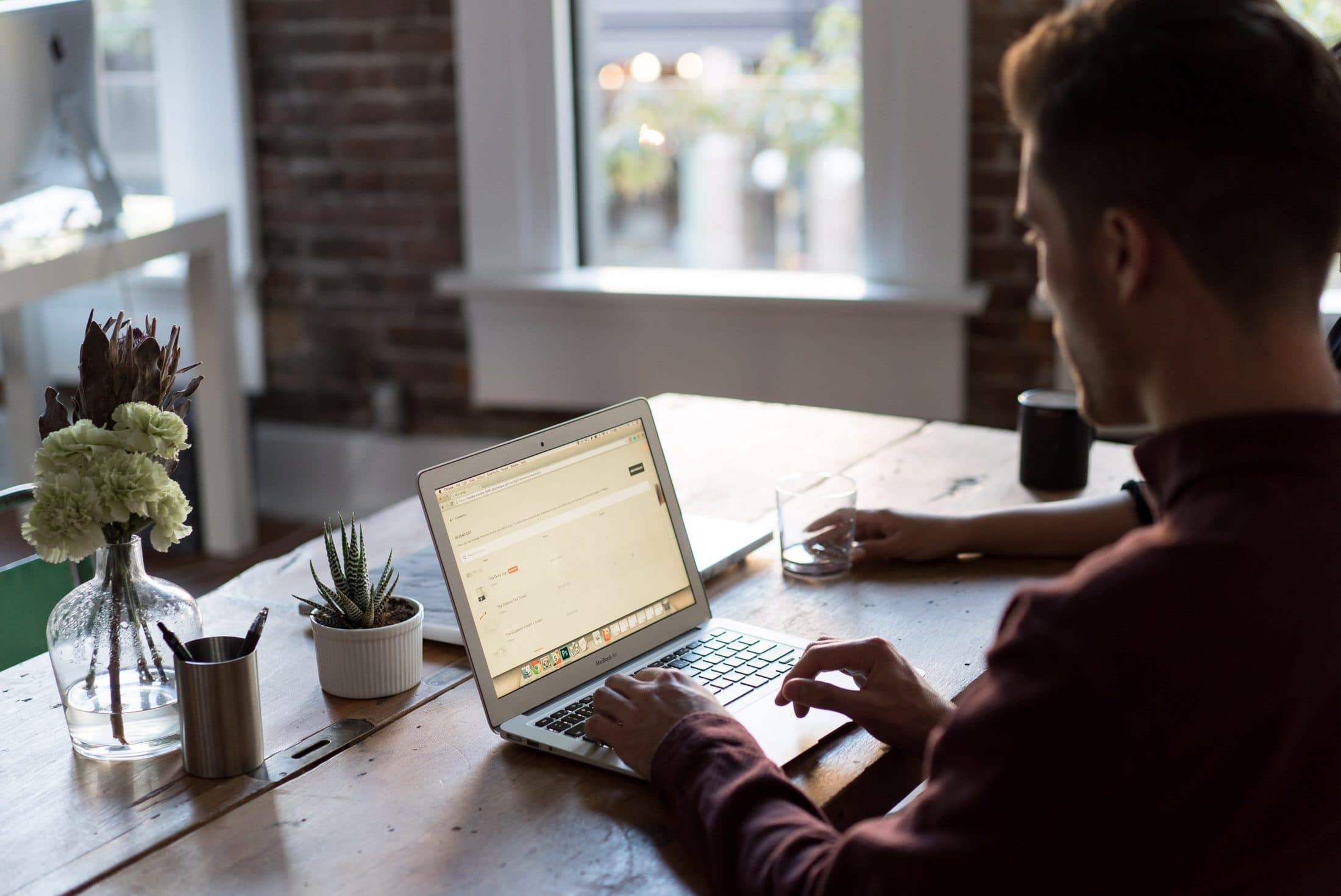 Space-Saving furniture
Now, let's move away from the décor. If you're finding that your work space is more of a nook, you might find the lack of space distracting or overwhelming. With a lot of households feeling overcrowded after being instructed to stay at home for so many months, it's important to utilise every scrap of space you can find.
A great way to create the illusion of more space in your work area is to opt for a multi-use desk. Installing this kind of thoughtful furniture will, in turn, reduce the amount of furniture you'll end up needing altogether. For example, choosing a desk with built in shelves will not only give you place to work but also somewhere to store any reading or writing materials that you may otherwise need a separate book shelf for.
Small changes or considerate purchases like these will give you more room to move around, creating a light and brighter working environment. As a result, you mind may feel clearer and you'll be more able to focus on the task at hand.