Every house needs ceiling fans. They can create a nice cooling breeze in the summer, and keep warm air from rising to your ceiling in the winter. They can help you save on heating and cooling costs besides. It's much cheaper to operate a ceiling fan than an air conditioner, and you won't have to use the air conditioning or heating as much if you're properly managing airflow in your home.
But what ceiling fan should you buy? It depends on the size of the room where you're going to hang the fan, what features you need, and how the fan looks in your space. These tips can help you choose the right ceiling fan for your needs.
Consider the Size of Your Room
Ceiling fans come in all different sizes, ranging from 29 inches wide to 60 inches or more. You should choose a fan that's sized appropriately for the room in which it will hang. A large fan in a small room will overpower the room and create too stiff of a breeze, while a small fan in a large room will barely make a difference.
Sizing a fan properly also involves getting the right downrod length. The downrod is the rod that the fan hangs on – it should lower the fan to seven or eight feet from the floor. If your ceilings are low, you can buy Hunter Fans ceiling fans without downrods. If you have a high ceiling, you can use a longer downrod to lower your fan to the right height. If you want to hang a fan from a vaulted ceiling, you can use a downrod to lower it so that it has enough clearance from the sides of the ceiling.
For rooms smaller than 75 square feet, you should choose a fan smaller than 36 inches. For rooms 75 to 144 square feet, you should choose a fan that is 36 to 42 inches. For rooms 145 to 225 square feet, you should choose a 44 to 50 inch fan. For rooms 226 to 400 square feet, choose a 50 to 56 inch fan. For even larger rooms, you can choose an even larger fan, or you can hang multiple fans.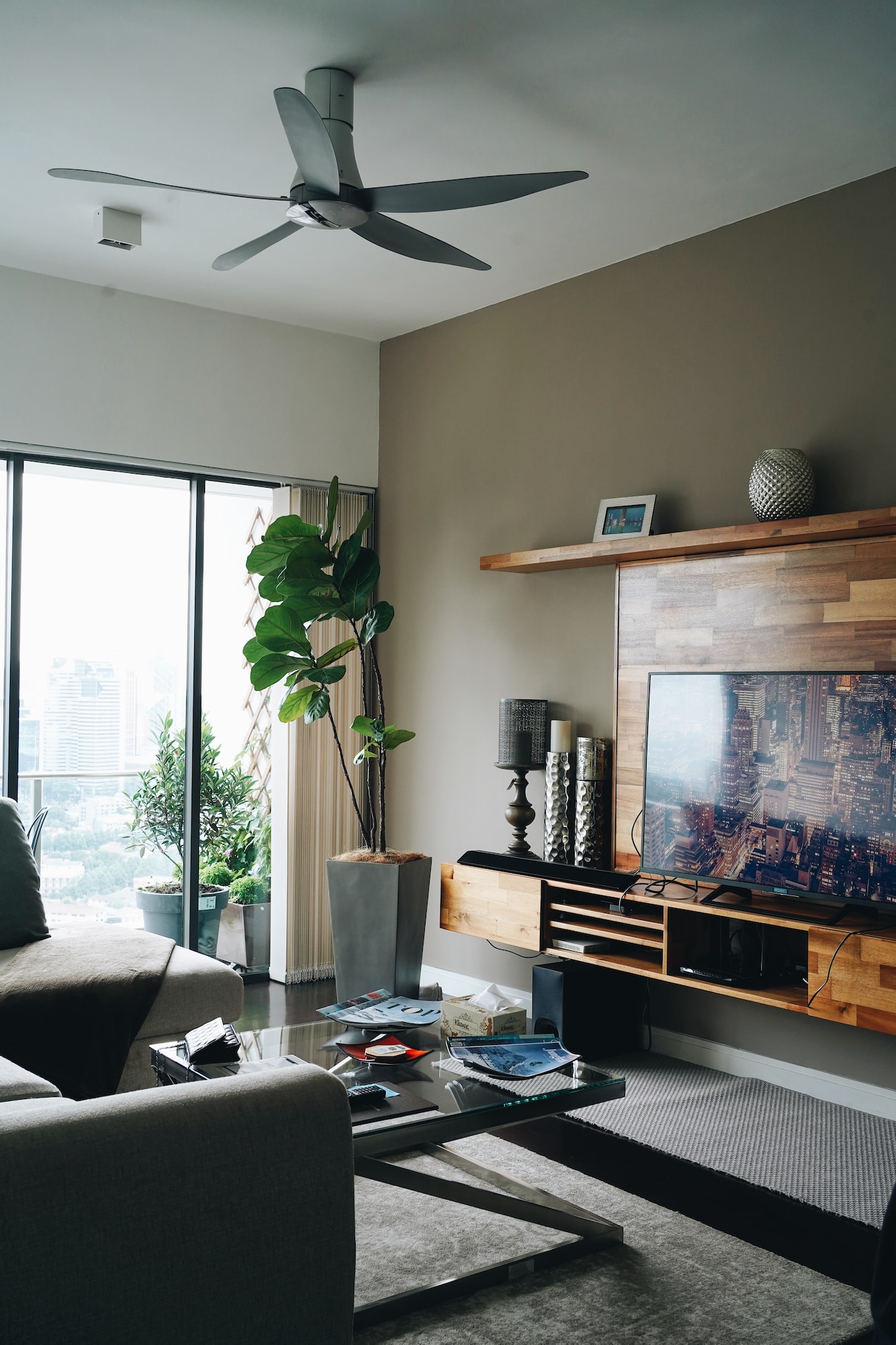 Choose the Right Type of Fan for Your Needs
There are several fan types that you might choose from. Damp- and wet-rated fans are meant for use outdoors or in rooms where there's a lot of water, like bathrooms and kitchens. Flush-mount fans have no downrod and are ideal for low-ceilinged rooms. Standard fans drop from the ceiling on a downrod. Vertical fans are ideal for narrow spaces. These days, you can find many multi-head fans, too – these fixtures have several smaller fan heads that may even rotate independently from the rest of the fixture.
Make Sure You Check the Wet/Damp Rating
It's very important that if you're going to hang a fan in a location that gets water or is at all exposed to the elements, that you make sure it's properly wet- or damp-rated. A damp-rated fan is appropriate in bathrooms and kitchens. It won't get rusty or mildewy and the blades won't start sagging from the humidity, as would happen with a dry-rated fan. Outdoors, even on covered porches and patios, you need a wet-rated fan. These are waterproof and can stand up to the moisture they will encounter in an outdoor setting.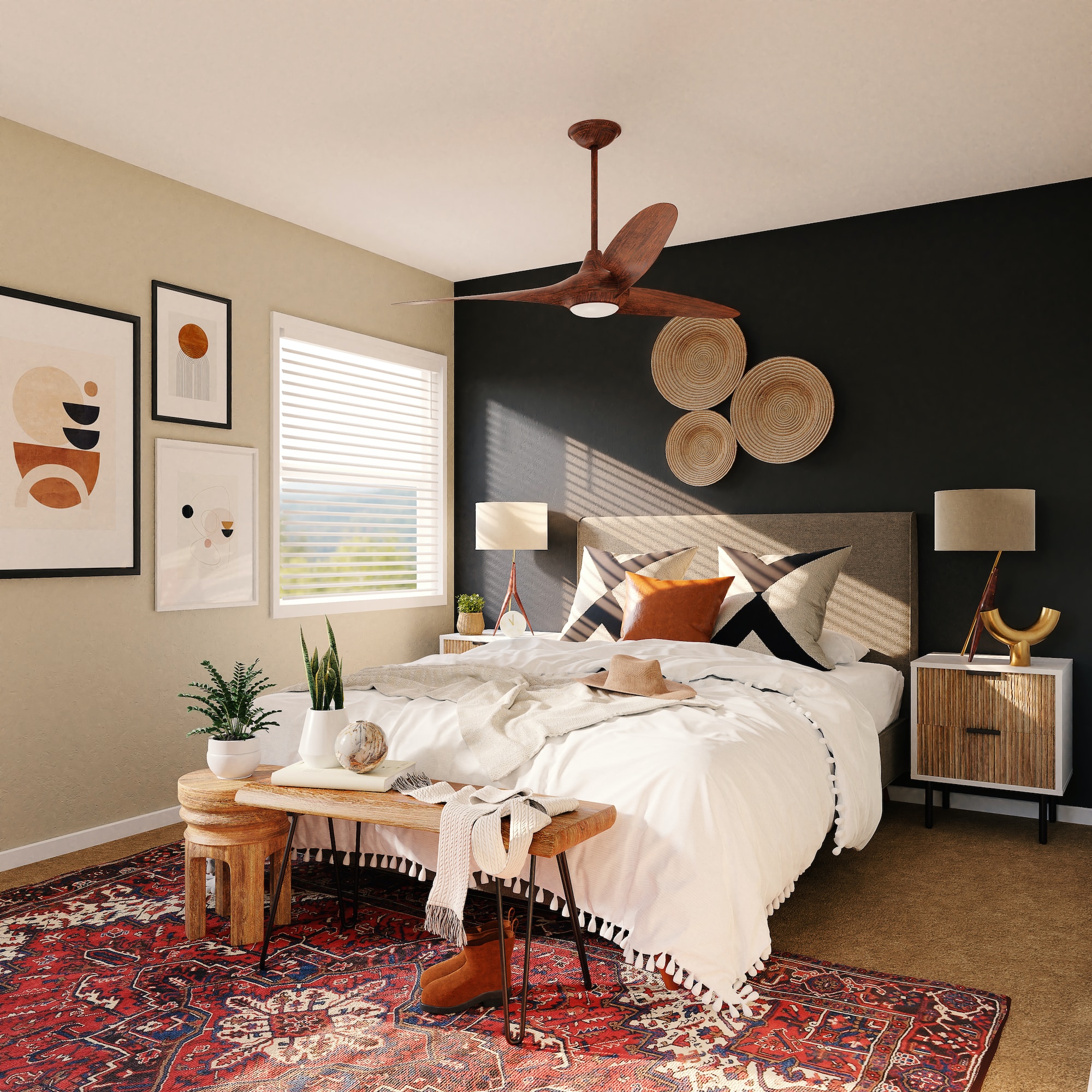 Choose a Style The Complements Your Decor
With so many fan designs on the market today, it's not going to be hard to find a fan that matches your decorating aesthetic. You can buy an industrial multi-head fan to fit your steampunk style, or a palm-leaf fan to suit your beachy vibe. It's all up to you.
Get Those Fancy Features
Modern ceiling fans have gotten complicated. Fans have smart features so you can control them with your phone. You can also get a fan with a remote control or a wireless wall control so you can control it with a wall switch without doing any additional wiring. Consider the features you'll need in your fan – will it be enough to turn it on and off with a pull chain or do you need a remote? Get the right features so you can make the most of your new fixture.
Buying a ceiling fan is a big decision. You need to put some thought into what you want out of a ceiling fan, so you can optimize the energy- and money-saving potential of your new household appliance.