Art and fashion have been feeding off each other's creativity for centuries. But it wasn't until the 1950s that fashion took a sharp turn, thanks to the Pop Art movement. It was the golden era that acknowledged ordinary mass-produced items as having artistic value.
The Pop Art movement was also taking a jab at European high art snobs at the time. But it wasn't the only movement shaping the fashion industry.
Hundreds of art movements all over the world have and continue influencing fashion designers. Popular works of art and even concepts of art have been transformed into wearable arts.
The resulting dresses, hats, jewelry, shoes, and other fashion items are relatable to the masses, and some have risen much higher in value.
In this article, we will take a look at five iconic fashion pieces inspired by various art movements. They have also successfully claimed permanent spots in fashion history.
1. The Mondrian Dress
Pieter Mondrian was one of the pioneers of abstract painting in the 20th century. Born in the Netherlands in 1872, he started an art movement called De Stijl to bridge modern art and life.
The abstract style was achieved by applying geometric principles and primary colors, such as red, blue, and yellow with black, gray, and white.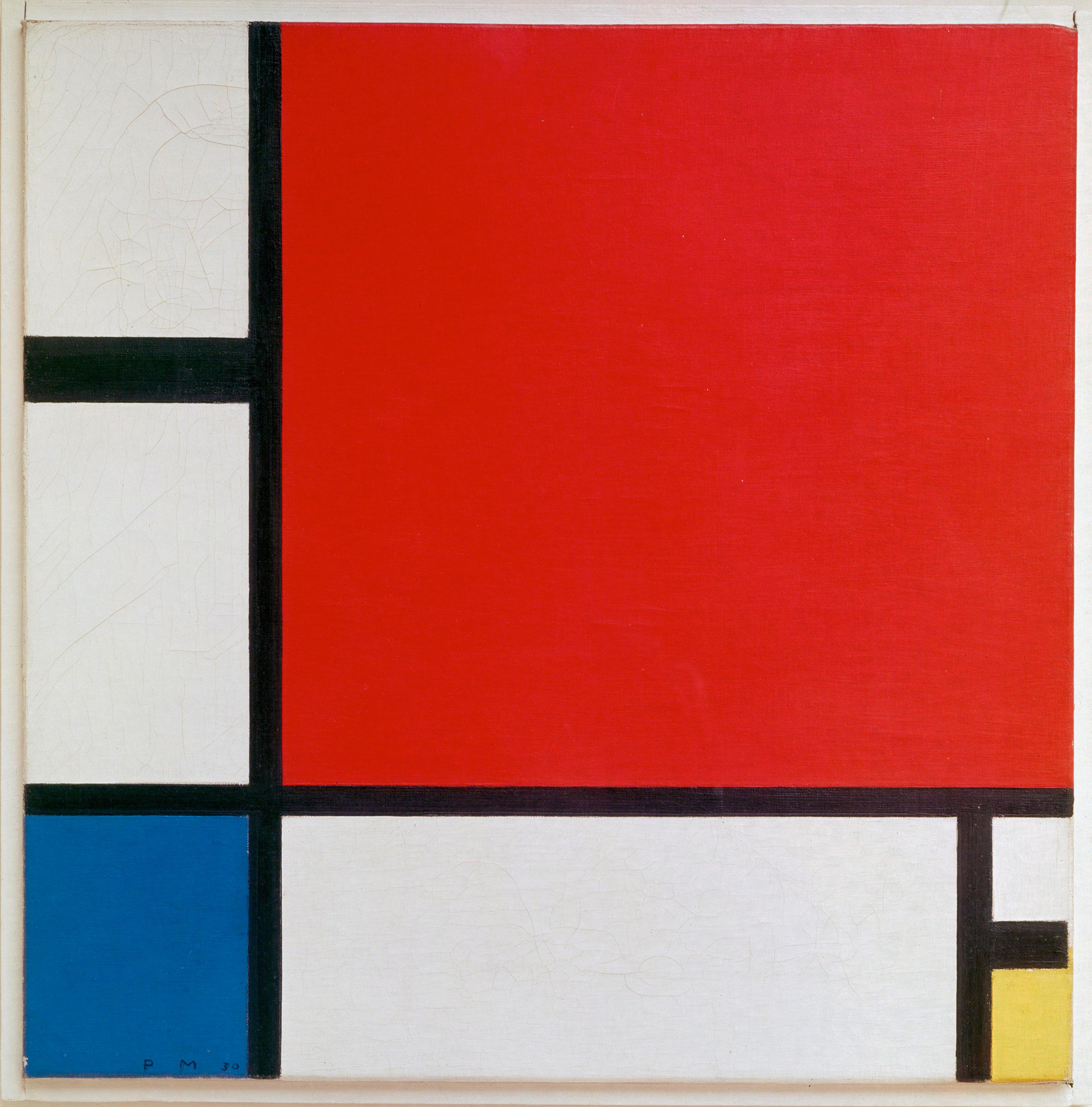 Composition in Red, Blue, and Yellow by Pieter Mondrian
The bold colors and geometric patterns against a backdrop of minimalism inspired many fashion designers, including Yves Saint Laurent who himself was passionate about art.
While reading a book on Mondrian's life that Saint Laurent's mother had given him for Christmas, the famous designer contemplated combining art and fashion. Just as Mondrian had once combined modern art and life.
In August 1965, Saint Laurent finally revealed his fall/winter haute couture collection. It was quintessentially sixties but clearly inspired by Mondrian's paintings. The Mondrian collection consisted of six cocktail dresses, designed as a tribute to the Dutch painter.
Each dress had a slightly different design but they were all sleeveless, knee-length, and had a simple A-line cut that complimented every body type. And of course, captured the attention of millions of young women.
2. Prada Poster Girl T-shirt
If abstract paintings and geometric patterns seem too benign, this pulp fiction and femme fatale inspired Prada t-shirt speaks to the free spirits.
In 2017, Miuccia Prada commissioned Robert McGinnis, the renowned illustrator behind blockbuster movie posters such as Breakfast at Tiffany's, and paperback covers for James Bond classics such as Diamonds Are Forever.
McGinnis illustrated a series of prints from paperback novels of the '60s for Prada and they appeared on a variety of skirts, T-shirts, and sweaters.
The T-shirts were practical. And universally appealing for the millennials as they became important conversation starters for topics such as female sexuality, girl power, and equality.
It challenged archaic views by making a bold statement that a woman can be intelligent and seductive at the same time.
3. Monogram Multicolore Speedy City Bag
This was probably one of the most successful art and fashion tie-ups, lasting 12 years! It was initiated by Marc Jacobs who at the time was the creative director of Louis Vuitton.
Takashi Murakami is a Japanese artist widely recognized for his ability to integrate traditional Japanese art with contrasting contemporary cultures including anime and video games.
Murakami was invited by Jacobs to redesign Louis Vuitton's spring/summer 2003 collection with his signature bright color palette.
The collaboration birthed many designs such as the Monogramouflage Collection and Cherry Blossom Collection which were promptly swept up by fashionistas. But it was the Multicolore Monogram line that rose to an iconic height.
Celebrities upon celebrities have been spotted with a bag from this line such as Madonna, Rihanna, Jessica Simpson, and more. Many years later, it is still a highly sought-after fashion piece, continuing to drive up the price on second-hand sales platforms.
4. The Krupp Diamond Ring
The Krupp diamond ring is iconic for many reasons, first and foremost for its Asscher cut. With four cropped corners, the Asscher cut creates a stunning "Hall of Mirrors" optical illusion when the diamond is viewed from above.
The cut was named after its inventor, Joseph Asscher who is the owner of Amsterdam-based Asscher Diamond Company.
It was made at the start of the Art Deco movement in the early 20th century, influenced by heavy geometric and triangular shapes, zigzags, straight and smooth lines, and exaggerated curves.
Another reason the Krupp diamond ring is iconic is that it was given to Elizabeth Taylor by her fifth and sixth husband, Richard Burton.
The marriages did not last, but the Krupp diamond did and it became known as the Elizabeth Taylor Diamond after her death in 2011.
At 33.19ct, the diamond is extremely impressive, coupled with D color grade, VS1 clarity, and Type IIa. This makes it exceptionally transparent and purer than most diamonds.
Check out similar Asscher cut diamonds from Keyzar and create your very own iconic fashion piece!
5. Space Derby Scarf
The first-generation comic books were straightforward with basic square grids and more dialogues than imagery.
But newer comic books found higher ground in the Pop Art movement, which celebrated items such as magazine ads, product labels, and comics as legitimate art.
When Ugo Bienvenu, a French illustrator and movie director collaborated with Hermes, it was to advance comic art in their line of silk scarves. He drew inspiration from American comics and their superheroes to depict these colorful intergalactic races.
The Space Derby design also adorns bracelets and pendants, but it's the scarves that hold an iconic position in the fashion world with every detail evoking the thrill of the race.
So, there you have it, five of our top iconic fashion products inspired by art movements. Although we adore them all, our favorites are the Krupp diamond ring and Prada poster girl T-shirt. Which ones are your favorite and why? Have we missed a piece that should be on this list?
Let us know in the comments below!