Asia might be far away from where you are, but it just takes one trip to a local store and back to your kitchen to feel you're visiting the continent. Asian cuisine is exotic, flavorful and varied across the countries since it shelters many different cultures. As diverse as its cuisine can be, there are some common features and the highlight is that one dish may have several versions depending not only on the country, but the region within each of them. That's what makes Asian cuisine so interesting.
Malaysian cuisine
So, as you can see, talking about Asian cuisine can get a bit too generic, so let's narrow it down to this particular country. What's to know about it? Malaysian cuisine offers a combination of Chinese, Indian and Malaysian ingredients and recipes and, as you can guess, East and West may provide two different recipes for the same dish. Take Nasi Ulam as an example.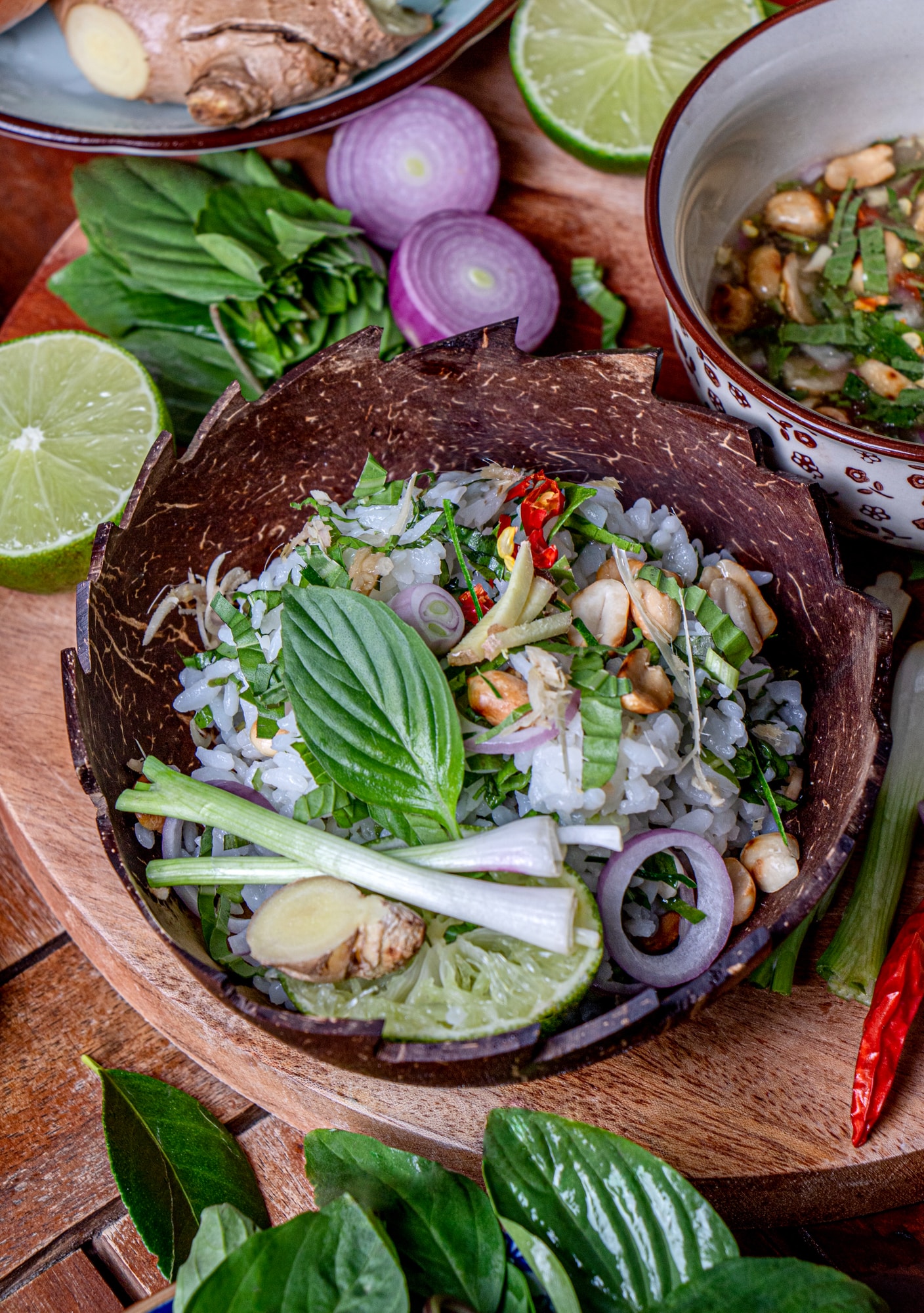 An exotic name for a delicious dish
Nasi Ulam directly translates to rice and salad, and that's pretty much what this typical dish is about. Now, the original ingredients, the ones you'll find in this recipe might be a little hard to find, but you can always visit your local Asian market or stores. It's worth mentioning that, if you're able to get all of them, you'll not only experience a traditional dish, but you'll also find yourself trying a healthy and flavor-packed meal.
As for the rice (of course you need rice!) It's recommended to use a long grain type of rice so Jasmine rice can be quite ideal. Cooking Jasmine rice in advance might be a good move since this is a salad and you might want to serve it cold.
So, all comments and tips made, let's get to the recipe!
Ingredients:
2 cups of jasmine rice.
½ cup of shredded coconut.
2 cups of shrimps.
4 oz of salted fish.
Galangal.
Shallots.
Lemon grass
Ginger torch flower.
Green beans.
Turmeric.
Leaves: turmeric, wild pepper, kaffir lime, basil.
1 tbsp of lime juice.
Salt and pepper to taste.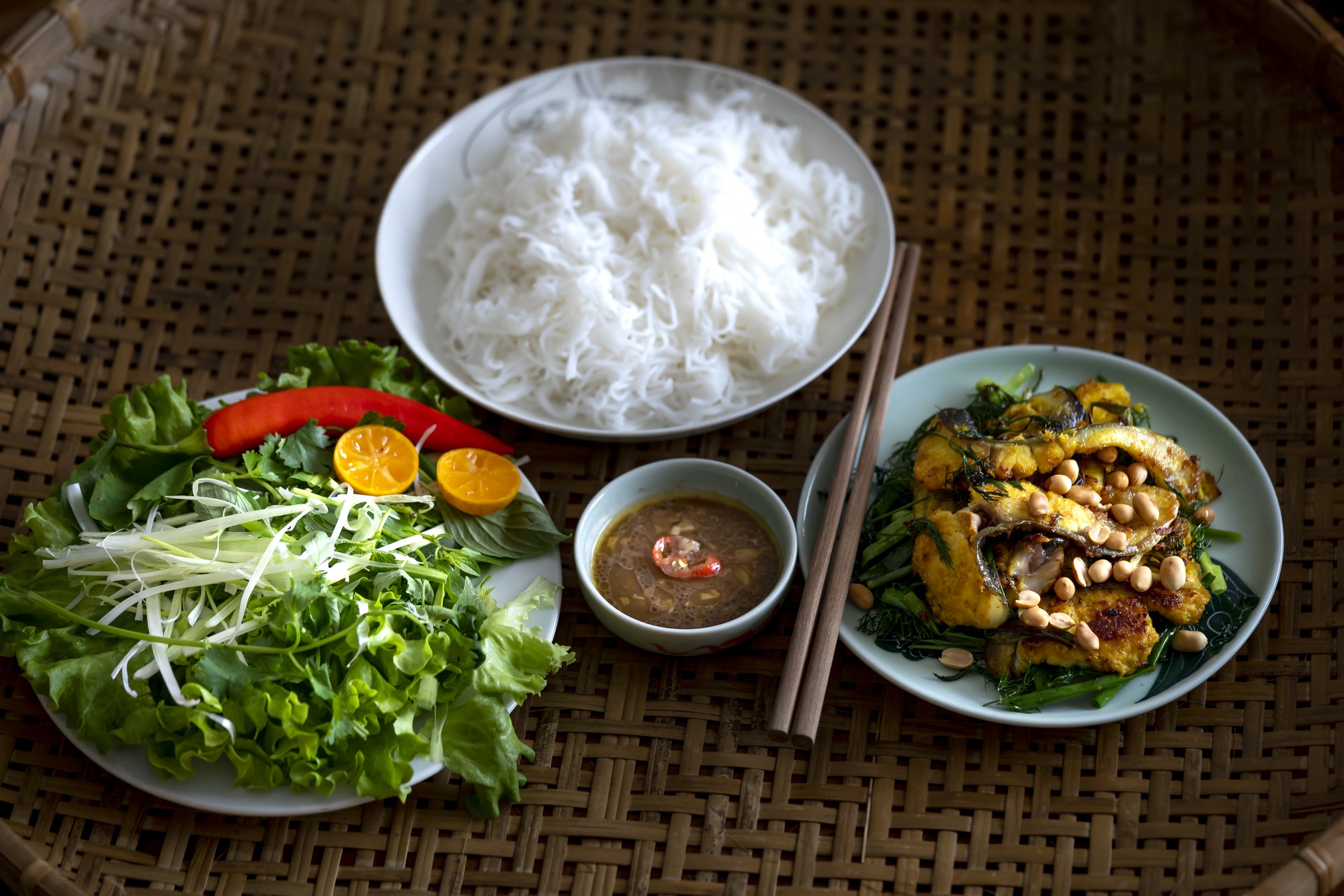 Preparation:
In a medium size pan, pour water and two cups of Jasmine rice. Cook it and let it cool down on the side.
Take a sauce pan and toast the shredded coconut until it turns brown. Cook at medium heat and stir continuously so as not to let it burn. Once it turns brown, take it off the heat and blend it or use a mortar to powder it down. Set aside.
In the same saucepan, pour some oil and saute two cups of shrimps. Once it's done, blend them until they are also powdered down. Set aside.
In the same saucepan, with the same oil, lay the salted fish and repeat the process. Fry until it's browned. Once it's fully browned, remove the skin and shred the flesh. Make sure there are no bones or cartilage and, once again, set aside.
As for the next part, take all the herbs and vegetables and slice them all down. Make sure they are finely sliced and chopped. Do this with the galangal, the shallots, lemongrass, ginger torch flower, turmeric and the green beans.
Now, we'll move on to the leaves. Take wild pepper, kaffir lime and turmeric leaves and make sure to remove the stalks they might have. Add some basil to the mix and finely slice all of them. You can slice them all together, that will make it easier.
Once the rice is cooled down, take a big bowl and start putting the ingredients there. Start with the jasmine rice and add the ingredients as you have cooked and prepared them.
Place the fish, the shrimps, the coconut, all the chopped vegetables and the sliced leaves and mix all the ingredients together.
Season the mix with a tablespoon of lime juice and add salt and pepper to taste.
Extra tip
As this is a salad, remember you can always serve it as the main dish, in which case you may need to double the ingredients. However, you can also accompany this aromatic and delicious dish with some side fish or meat and, why not, a glass of red wine.