First of all, in case you have never heard of orzo, you need to know that it's delicious! Although similar in shape to rice or barley grains, orzo is a type of dry pasta made with wheat flour and it's a very popular ingredient in Mediterranean cuisine, especially used in Greek dishes.
How to cook it
Before starting, you should know that preparing orzo is super easy and quick, because you don't need to rinse it. You can choose two ways to make it perfect, depending on how you prefer working in your kitchen.
If you don't feel so confident when trying new ingredients, you can boil it just like you would boil your penne or fusilli pasta.
But if you like toasty flavors, then this second option is for you: toast your orzo with 2 tablespoons of butter at low or medium heat, until it gets a golden color, then proceed to add some broth or water and bring to a boil as you would do when cooking rice.
Tasty and healthy
Since it contains a lot of fiber, a small portion of orzo will give you a nice sense of fullness and many benefits to your gut flora.
Orzo also helps reduce cholesterol thanks to its considerable ratio of B-complex vitamins, which in turn lowers the risk of developing cardiovascular problems and gallstones.
A world of possibilities
You can have your orzo both hot and cold. Orzo works great in soups and casseroles, but as spring is just around the corner, aren't we all craving some fresh dishes? You can make delicious salads by adding a mix of vegetables to your orzo, and even some chicken or shrimps if you fancy.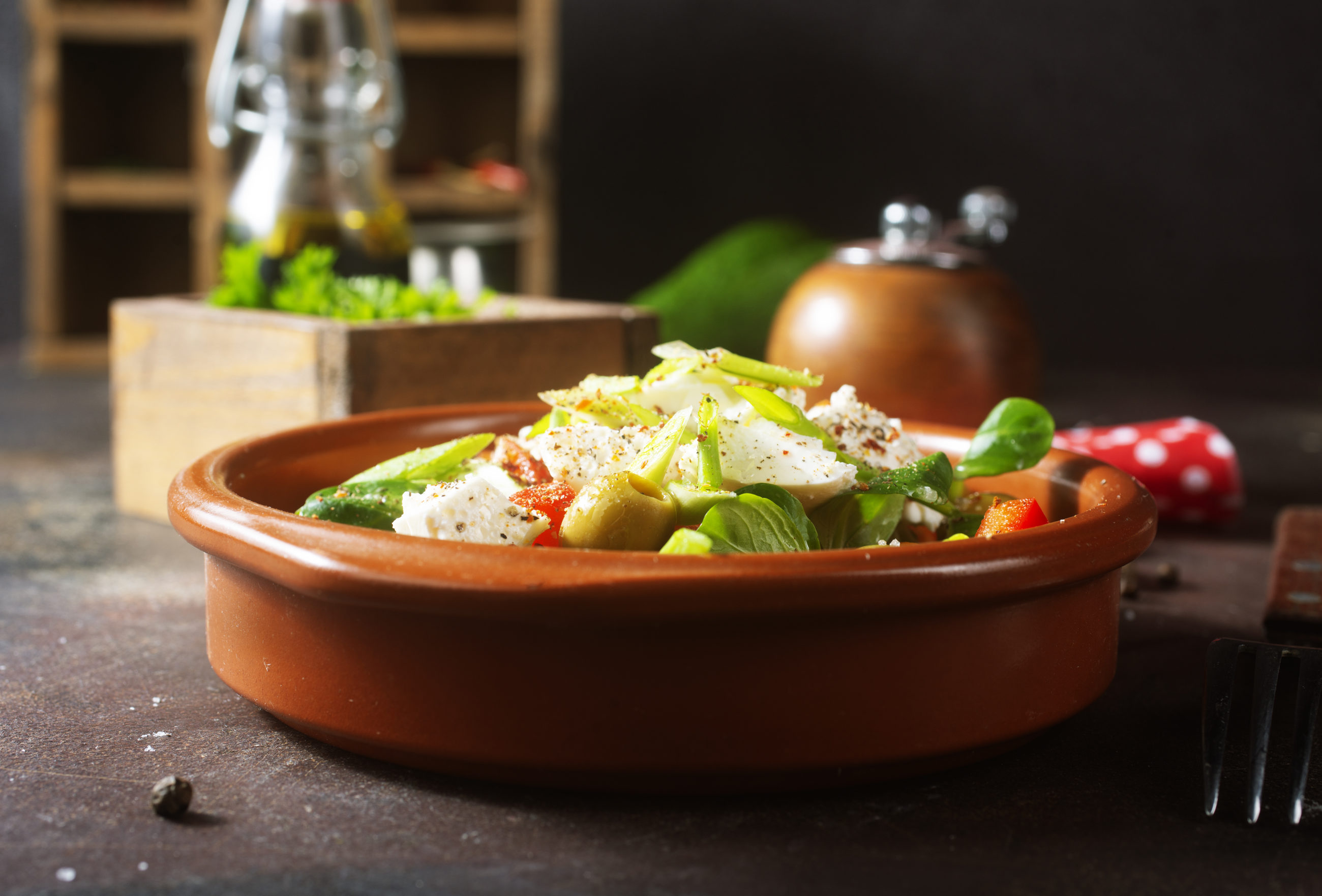 A Greek spirit to your regular salad
Maybe salads aren't your go-to recipe, but you will love this one! It's perfect as a main dish and to have it on the side in a barbecue: it's light, it's fresh and you won't resist the deliciousness of Greek ingredients in your mouth!
Another great thing about this recipe it's that it's meal prep friendly. You can prepare a big bowl in 20 minutes and save it in the fridge for an entire week. Make sure you have extra Greek dressing to add so it feels fresh and special each time!
Welcome the nice weather and learn how to prepare this Greek orzo salad.
Ingredients
1 cup of orzo.
2 tbsp. of butter (if you toast it).
2 cups of water or vegetable broth (in case you choose to boil it like rice).
2 cups of cherry tomatoes.
1 cup of Greek olives or black olives.
½ cucumber.
½ red onion.
Greek cheese (to taste).
Parsley (to taste).
Black pepper (to taste).
Greek salad dressing (to taste).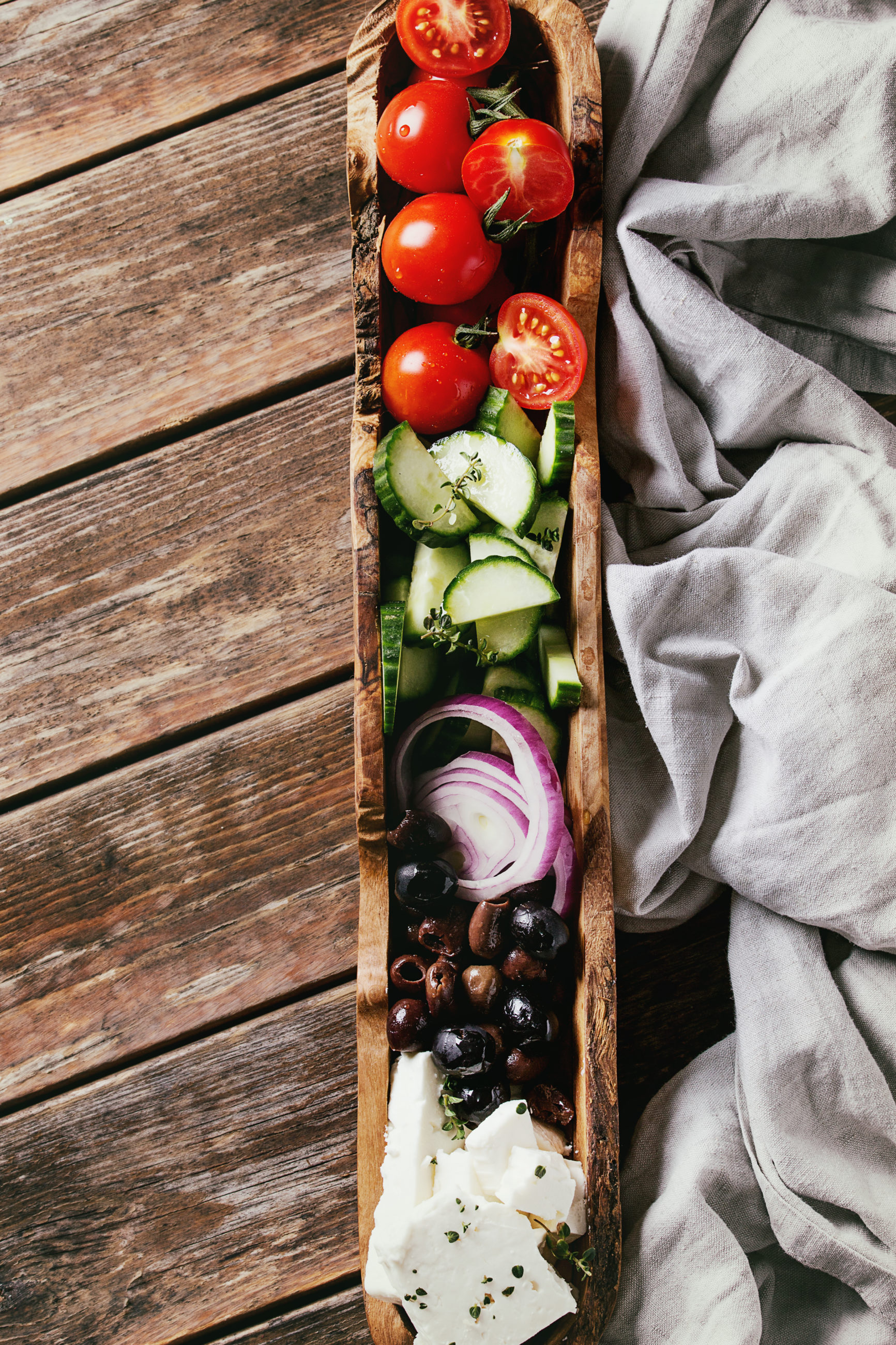 Instructions
Cook your orzo according to your preference (toasted or simply boil) and take it to the fridge: salads are yummier when cold.
To prepare your Greek dressing, mix in a blender some olive oil with freshly squeezed lemon juice, some grated garlic, some dried oregano and a pinch of salt and black pepper (better if freshly ground).
Cut your cherry tomatoes and your olives in half. Chop the cucumber and red onion. You can soak onions in cold water for a couple of minutes before cutting them so that you minimize their pungent flavor.
Add the vegetables to the orzo bowl and thoroughly combine all ingredients. Crumble your feta cheese (a.k.a Greek cheese) and mix again.
Sprinkle your salad with the parsley, spice it up with some black pepper and finally drizzle it with your homemade Greek dressing. Your Greek orzo salad is ready to enjoy!
Note: since both Greek cheese and olives are quite salty, extra salt is not necessary in this recipe.
Like many other dressings, this one can be stored in the fridge for several days. Just take it out some 15 minutes before using it. If the oil has solidified, you can hold the jar under warm water in your sink to accelerate the process.
Interested in another option with some meat?
Try out this easy chicken and Greek pesto orzo salad: cook and mix some orzo and some chicken beforehand and add cherry tomatoes to it. You're almost ready! The magic is in the Greek pesto, and here's how to prepare it:
Greek pesto:
In a blender, mix ½ a cup of olive oil, 4 cup of basil leaves, 1 cup of feta cheese, 8 cloves of garlic and 3 cups of black olives. Add ground black pepper to taste and it's ready to give your salads that Mediterranean touch!