There's something about a waterfall that is so soothing, majestic, and alluring. It's no wonder that waterfalls are some of the most popular tourist destinations in the world. The Firefall is one of Yosemite National Park's most famous waterfalls, and it resides in the park's eastern section. In 1872, hotel embers were spilled from Glacier Point, resulting in this lava-like waterfall. While the original Firefall has been discontinued, you can still see a naturally occurring Firefall each winter in Yosemite. Photographer Dan Zafra recently captured this stunning phenomenon, and we've got the pictures to prove it!
In contrast to the Firefall of the nineteenth century, which was manufactured, nature is the sole actor in this spectacle. Horsetail Fall is an infrequent waterfall that flows from winter and early spring until springtime. If the planets align for a few weeks in February, the sinking sun shows the water to be a fiery orange color. The effect is stunning. It looks like lava flows down the granite slabs when water shoots down them.
To view the Firefall, the sky must be apparent. Even with that, it generally only lasts 10 minutes or so. There also needs to be enough snowmelt to generate a large quantity of water since the waterfall is fed by melting snow. The event does not occur every year. However, Zafra was extraordinarily fortunate and witnessed the fantastic occurrence for himself.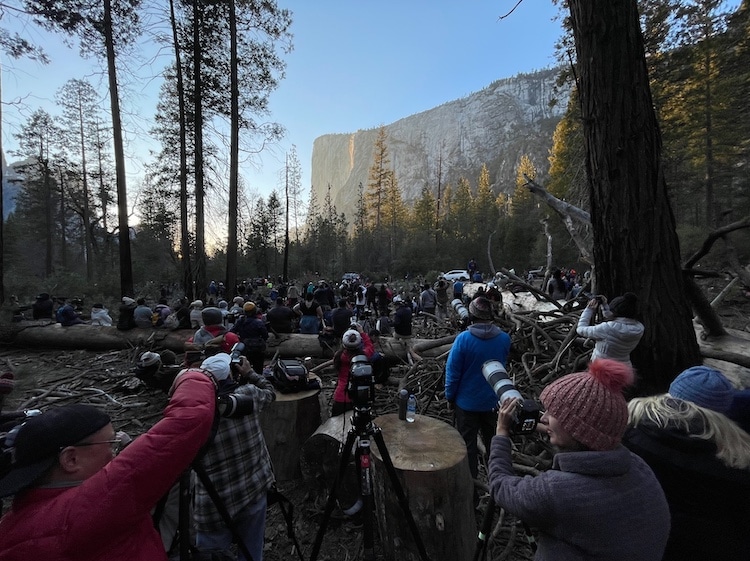 "The most memorable aspect of the event, beyond any photograph, was seeing a genuine display like this with my own eyes," he tells us. "It was simply breathtaking to observe how the hues of the waterfall altered until I could see how it appeared genuine lava cascading down the mountain, either with my naked eye or through my telephoto lens."
Of course, Zafra was not the only one. Many photographers came to the region to capture this magnificent natural occurrence. One of Zafra's favorite aspects was the great camaraderie and overall cheerful atmosphere on site. It's challenging to ensure that what one captures is unique when many others photograph. That, however, is all part of the fun for Zafra.
"It's tough to stand out creatively in such an event, which has been photographed by thousands of photographers and where light conditions and viewing experiences are minimal. However, there's always room to personalize the pictures, whether through the camera equipment or your post-production technique. Aside from the regular Firefall photos, I attempted to produce something unique. Taking a long focal length and centering the viewer's eye in the tiny details of the upper section of the falls was one option."
Zafra used a 600mm lens and an X1.4 lens extender to capture the minute details. The bright reflections on the granite inspired him to create colorful abstract images. "The colors in the wall were fascinating to me because they would alter with every passing second."
Capture the Atlas: Website | Facebook | Instagram