Flowers are an accessory that can turn the most ordinary party into one full of originality and the most important moments of your life into beautiful memories that, in time, will turn into stories for your grandchildren. Flowers were there for the first date with the person standing next to you today; they were welcomed for the moments of professional progress in your life; they were offered for solemn occasions, and they were received for the occasional recollections in which you needed to be reminded how special you are. But flowers have a flaw. Besides their beautiful fragrance and gorgeous colors, they are pretty fragile. For this reason, more and more people in recent years are turning their attention to creating bouquets or other decorations from dried blossoms.
Preserved Caspia, Snowflake, Statice, or Bluebell flowers have gained popularity in recent years due to their similar properties to fresh blooms and affordable prices. Furthermore, increasingly more dried filler flowers are used for our unique decorations each year, sometimes in conjunction with their fresh counterparts. But perhaps you are out of ideas and would like some tips on increasing your creativity. In that case, this article will detail how you can use dried flowers for unique decorations that will bring out your originality.
Why Should You Use Preserved Caspia?
Caspia is a plant that symbolizes success both personally and professionally. This plant's flowers signify important moments in our lives, but its uses don't stop here. Preserved Caspia is a great starting point for individuals willing to experiment with creating unique floral arrangements, as Limonium sinuatum is a hardy flower that retains its color and shapes even in its dried form. What kind of creations could you create? Almost anything you want.
Imagination is the only thing that can limit your craft. Dried Limonium sinuatum can be used to create wreaths or flower crowns that you can hang on your front door or wear when you want to stand out at events. Want to enhance a few elements of your home décor? Preserved Caspia can enrich your picture frames or be used to create personalized bookmarks that you can gift to the loved ones in your life. The same applies to candle decorations or hat accessories. Dried Limonium sinuatum can help you, first and foremost, to utilize your creative side, which at the end of the day, can be a rewarding way to spend your time.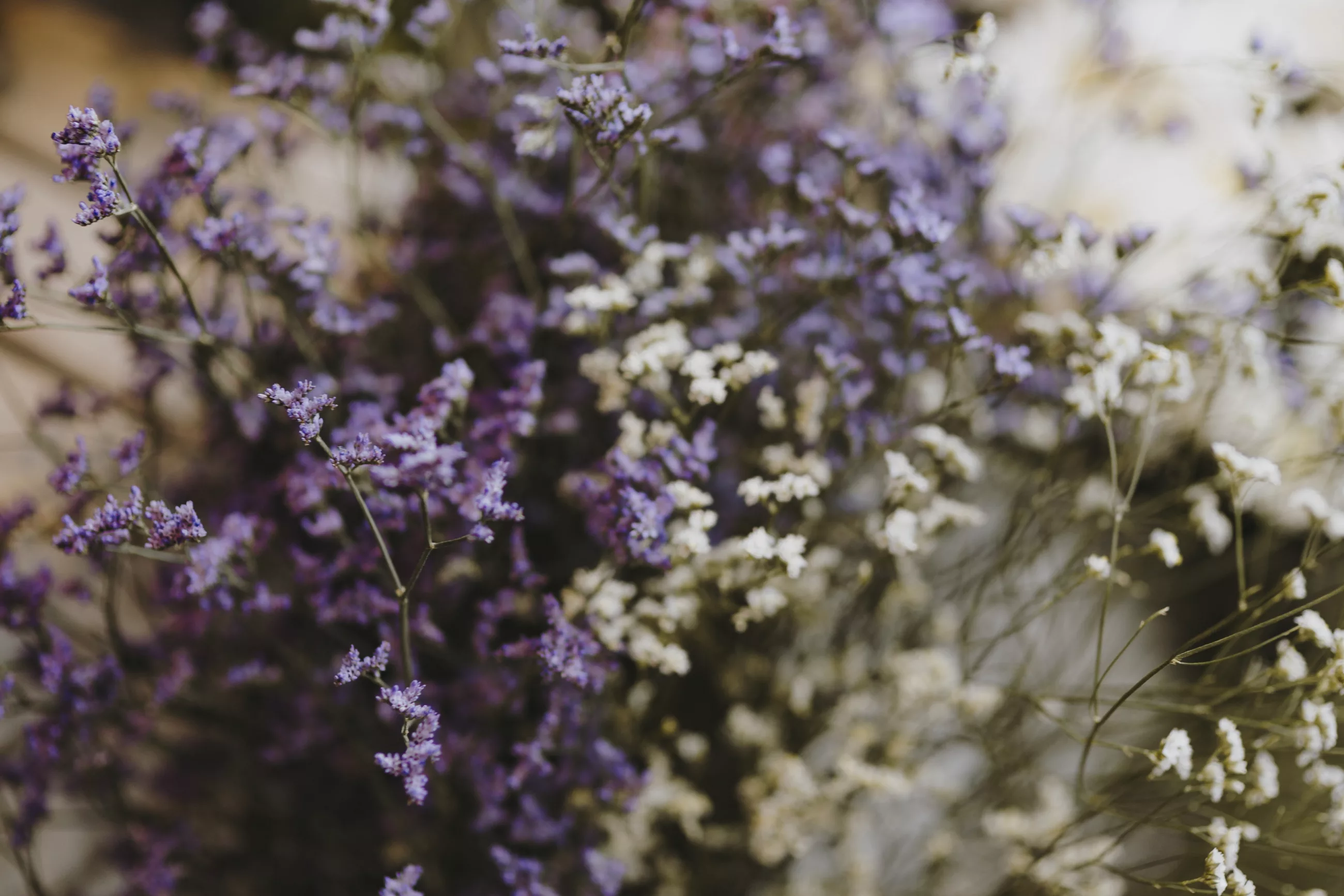 The Perfect Potpourri
Potpourri consists of mixtures of aromatic plants used together to add a pleasant and natural fragrance to the rooms where they are placed. They generally consist of combinations of dried flowers such as Roses and Lavender with aromatic herbs such as coriander. But the beauty of Potpourri is that it can be adapted to suit the plants you have at your disposal and that there is no predefined way to create it.
Would you like your Potpourri, for example, to bring the fragrance we associate with the winter holidays into your home? Then you could combine cinnamon sticks, pine needles, and orange slices with herbs and dried flowers, such as Roses and Lilies, to create a mix that brings the magic of Christmas back into your dwelling. Would you like to make a Potpourri with a strong aroma instead? Then you could combine dried Limonium sinuatum with Lavender, Snowflake, and natural oils, for an extra aromatic mix. The choices are yours, and the final creation will be 100% natural and blend perfectly with your personality and originality.
How to Use Filler Flowers
Throughout history, filler bulbs have been used alongside their fresh counterparts to add texture, color, and personality to floral arrangements. Wedding bouquets, for example, began using filler flowers alongside their fresh counterparts as far back as the Victorian era. Today, they have become a must-have accessory to any floral décor. But filler-dried flowers have more uses beyond bouquets.
Does your artistic vision revolve around a floral centerpiece? Then you could use dried filler Baby's breath flowers or Sage to create wreaths and hanging arrangements to complement your creativity. Want to add a splash of color to the special events in your life? Then you could use dried filler flowers to add hue and shape to floral garlands. Would you like instead to create a centerpiece for your living room? Then you can use dried plants such as Statice or Limonium to fill the gaps between large, fresh flowers like Orchids or Sunflowers and create an ornament that will brighten your home interior.
The Other Uses of Dried Flowers
Dried flowers can be an ideal gift for the loved ones in our lives, but their properties do not stop at their artistic value. Did you know that dried Lavender, for example, is an ideal addition to natural soaps because of the beautiful scent that lingers even after the drying process is complete? Or that certain plants, once dried, can act as natural dyes that change the look of our clothes? For example, Marigold flowers can create a rich yellow hue that can bring life back to your old garments.
As for culinary art, dried flowers have been used since ancient times to enhance the flavor of dishes. Dried Lavender, for example, is still used for various cake mixes, and dried Rose petals are used primarily in Middle Eastern recipes. Turkish delight is traditionally made with Rose petals, while Rose water can be found in Persian or Arabian cooking.
Enhance Your Living Space with Dried Flowers
Perhaps you've used dry filler flowers to create lush decorations that act as centerpieces for your personal space. Or, maybe you've used preserved Caspia flowers to make a Potpourri that brings a pleasant fragrance to the air you breathe. Either way, dried flowers have most likely enhanced your living quarters and allowed you to bring out your creativity and originality.
We live in a time when everything is industrialized, to the point where even how we personalize our homes could be standardized. But dried flowers allow us to give a unique, custom touch to our dwelling. They help us interact directly with new ways to enhance our environment and enable us to try creative activities that can be fun and rewarding.