International agency Reuters is the world's authoritative provider of news and business information. Reuters' reports differ rapidity, accuracy, and independence, making Reuters retains more than a century reputation as a leader in the industry.
Every year the agency summarizes and publishes a summary of the most striking news photos from all over the world. FreeYork offers you to take a look at the most remembered photos of the year 2013.
Scientists gather geological samples for study at the research station Mars Desert, Utah.

Father's reaction to the news of the death of two children who were killed during shelling by forces loyal to Syrian President Bashar al-Assad in Aleppo on January 3.

Nuns at fast-food restaurant, Guatemala.

Student biting police during arrest during riots in Santiago, Chile. Protesters demanded a reform of the education system.

Trunk of broken bat hits face of New York Yankees player Brennan Bosch during the first inning of a baseball game in Bradenton, Florida, March 17.

Passenger airplane on approach to landing at Heathrow airport on a background of a full moon on September 23.

Turkish police fire water cannon to break up protest.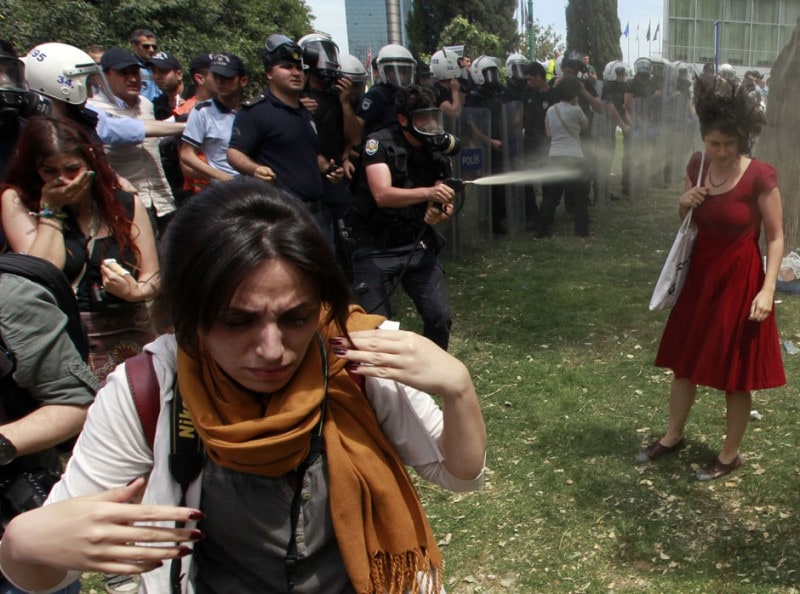 Police and witnesses gathered around the green covered car, which was abandoned in a parking lot more than a year ago, in Chengdu, Sichuan Province, China.

Belgian street police which protesters doused the fire with foam in Brussels on October 7.

One of the participants of religious festival in Malta runs on a slippery log, covered with fat.

Victim of earthquake in magnitude 6.6 in the Chinese hospital, July 23.

Pakistani woman looks at her dead bird in a cage after her house was burnt down during the riots that broke out after the adoption of the country's controversial blasphemy law.

Twenty-five-years old Leslie Kouer at the grave of her brother, who was killed in Afghanistan.

Resident of Bali performs a ritual fire dance in celebration of the New Year.

Partially sunken ship Costa Concordia lies on its side near the island of Giglio, August 26, after the accident, which occurred in January 2012.

Free Syrian Army fighter uses the iPad, to launch a homemade mortar installation.

The members of the bid committee Japan enjoyed hearing that declared the capital Tokyo Summer Olympics in 2020.

90 years old Donald Smiterman kisses his wife Marlene after dancing in Sun City, Arizona, on January 5. Sun City is the first active retirement community of America for people over fifty-five years.

Researcher Werner Freund shared with his Mongolian wolf meal – killed deer.

Ronnie Chambers Jr. looks at his mother, weeping at the funeral of his father, who was killed during an armed clash in Chicago on February 4.

Serbian homeless Bratislav Stojanovic holds a candle in the grave, where he lives. Stojanovic settled on the cemetery of the city of Nis about fifteen years ago.

Children playing on the roof of the entrance to the stadium in Gao.

Hugo Chavez Funeral in Caracas.

Dog and Banksy graffiti in New York.

Firefighters spray water near the burning house in California.

The fly sat on the forehead of Barack Obama during his speech at the White House on January 24.

Gerard Depardieu shows a Russian passport with residence permit in Saransk.

Volunteer saves woman from flood waters, standing on the roof of her car, during heavy rains, a suburb of Athens, February 22.

Mundurucu Indians, many of whom had never flown, get on the plane to fly to the capital of Brazil for talks with the government.

Believers of Brasil meet Pope Francis.