The 21st century is the time of smart thinking and efficiency. With the rapid pace of creativity and innovation home furnishing evolves as fast as everything else. The old days of single use are long gone, and multi-functional units are the future of interior design. Companies like Ikea, constantly push furnishing to the next level and thus open a whole new field for interior design improvisation and creativity.  Here I've gathered a handful of peculiar and inspiring ways to put home furnishing to more use that we're used to.
#1.The Musicians Lair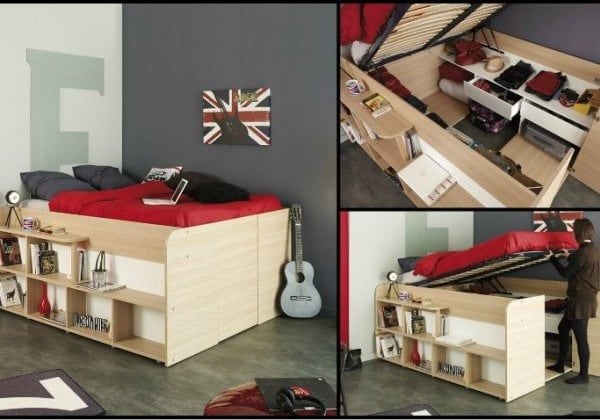 For all those passionate drummers, who always wonder how to fit both furniture and instruments. Use this simple idea for internal and external use of your bed. As RTA unit lover, I would highly advice the flat pack furniture concept, for it's easy to use and vast options for improvisation.
#2. A Cute Idea To Fit Toys In The Bedroom
Children are often crazy and you need proper inventory to somehow gather and keep toys at one place. This is an inspiring furniture hack to help you out. In case you're not the most experienced in the field of furniture assembly, follow the simple do's and don't for any IKEA assembly unit.
#3. DIY Drawers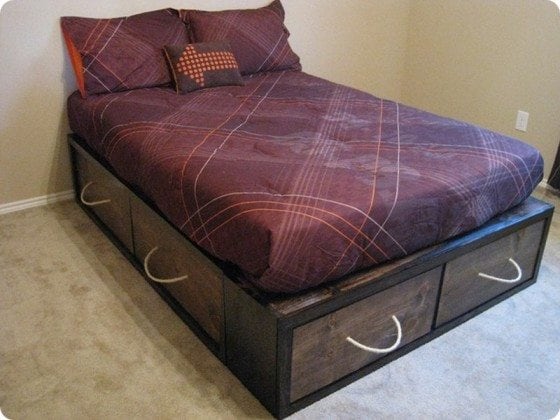 Another take on the original concept of using the space beneath your place of rest. At first sight, there isn't much to differ it from some of the other furnishing combo examples, but when you give it a closer and more detailed look, you will notice the DIY drawers done here. This was made by using a simple Ikea
How about this wonderful furniture assembly? It will not only let you store books, photos, lamps, etc, but it will surely add a dash of coziness to your home. Interior design is quite powerful!
#5. An Awesome Bed Frame Hack.
Now that's how you put space usage to it's maximum! In case, you do not want drawers this is an excellent furnishing improvisation. You can easily have your mattress above and slide it whenever you need to change summer and winter linen for an example. Once again – thank you Ikea flat packs. Don't let assembly scare you – you can always ask help from professional flat assemblers. A proper furniture assemblage will guarantee you years of usage. To learn more on the topic – check what Quora has to say about the average Ikea furniture lifespan.
#6. Simple Yet Effective & Efficient Bed Upgrade.
Here's another take on the most widely spread furnishing combination of bed and storage. The concept here has been put to a more classy bedroom touch to it. Clean yet stylish feeling of wood. No rack or shelving, which some seem to love.
#7. For You Parents Of Two
Another lovely Ikea inspired hack for all parents of two. In my humble opinion it is not the most efficient of flat pack hacks, since the corner could be put to better use.
#8. The Basic Furniture Concept – No Doors, No Dawers
The regular "fit it under your bed" way. A regular Ikea flat pack, fitted under the bed. Reminds me of the DIY Tetris Flat pack Bookcase, which is a project for those a bit more advanced. In case you aren't and you simply do not have the time to assemble, this bedroom hack is the the one for you.
#9. Bed To Sofa to Shelving
Do you want to save the space your furniture uses? You can always put your bed next to the wall and use the stand support as shelving. A really easy to assemble unit.
#10. Bed Storage  – Literally
If you're going after space efficiency, this is the one most efficient way to re-use space the best way possible.
#11. Another Take For all You Passionate Drummers 
In case you love your instruments as much as I do, you will surely love to sleep together.
Final Words:
I hope these will serve to your inspiration and creative potential. Flat pack furniture indeed does offer a wide field for assembly hacking. Just be patient and always stay out of harm.