Our home is our healthy retreat. After completing our daily ventures, we want to come home that is neat, safe, and healthy for us. Our home is our safety haven. Especially when one needs to spend sufficient time in his home office. Every homeowner aspires to ensure a healthy, restful, and inspirational interior environment. For this purpose, he struggles more to search for helpful interior décor tips from the internet platforms and his surroundings.
He spares a considerable size of money to invest in his home décor. Today's man is passionate about brightening up every home section in his own style. There is no standard principle to make an impeccably comfortable and luxurious home.
Every home section has got great significance regarding the function it performs. All the spots require the homeowner's creative imagination, proper planning, and artistic spirit. So, do more research to pick various interior decoration flashes. You will see that some tools have been designed for a particular place. What is best for one spot has nothing to do with another location.
For example, the kitchen utensils are perfect for the kitchen but cannot enhance any other space. So, be creative for the home corner you have selected to deck out. At present, we intend to update the dining room. Tons of ideas lurk in mind while browsing the internet, but we must opt for those that come up to our expectations and aspirations. Keeping in view our budget, we pick the ideas that promise to deck out our dining room without draining funds.
The dining's essential tools are furniture, wool rugs, wall shelves, curtains, and inviting wall décor. In the present blog post, we have brought the best ideas to make your dining room beautiful and fascinating! Let's see what secrets we will unlock to add value and grace to the existing dining room details.
Arrange Sophisticated Furniture for Your Dining
Eating in the kitchen looks better, near the stove's warmth and delicious odors, but there is more room in the dining room to be the family dining center. Here every family member approaches from a little kid to the age-old persons to dine together and enjoy delightful moments with the family. A site that brings the whole family together three times a day is of great importance. It ensures the atmosphere to convivial joy eating, talking, and laughing, gossiping, enjoying family's company.
The requisite furniture elements should be of high-quality, comfortable, and inviting to enjoy the family gatherings in the dining. The dining room table size should be flexible to your family, and its height should be such that even the young, school-going children can dine here easily. As far as the shape is concerned, it should be according to the body and dimensions of the dining room.
Choose the comfy, armless chairs to place around the dining table. Place the whole wooden articles right in the dining room center and enjoy yummy delicious meals with your family and occasionally with your friends and guests!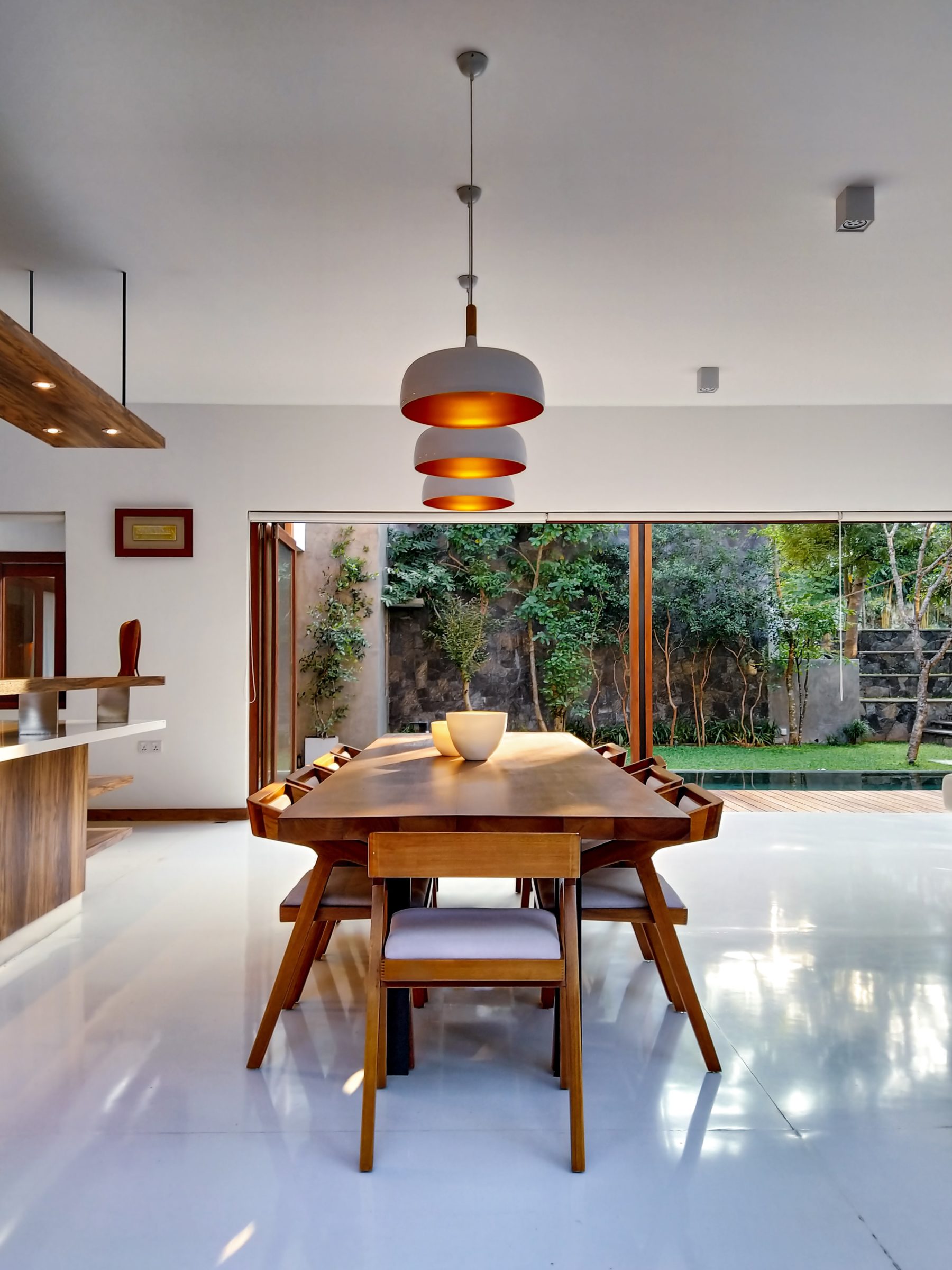 Make Your Dining Room Comfortable with Ikat Rugs
The eating place where we get together many times should be as comfortable as your bedroom or living room. An appropriate size table and soft, comfy, armless chairs erect the structure of your dining room. Add to its comfort by placing the ikat rugs under your feet. The size of the dining room rugs should be somewhat more extensive than the capacity of chairs.
Nothing is more delightful than eating a delicious, hot dinner and warming your feet on the soft, comfortable floral rug under your feet. To add soothing character and elegance to your dining room, do a little homework to choose the right carpet. Pick a floral rug that may tie up all other details and make your room look larger than it actually is!
Only this art piece can add to the texture, color, style, and definition of the dining room. Involve your personal taste and aesthetics to select fantastic shades of the floor rug. Better, keep the hues of the rug in close proximity with the furniture tools and transform the entire look and feel of your dining room. The dining room should exceptionally be stain-resistant as these rugs are more prone to spills and stains. Choose the construction fiber that makes it easy to clean. Also, go for the deep colors of the rug as it will receive numerous get-togethers and parties. The deep shades and bold designs will save the rug from spoiling its neat look and soft texture.
Add a Classic Clock
Beautification of the dining area is integral, like other home sections. Its refreshing atmosphere will make this space more appealing that the family will restlessly wait to get together and enjoy delicious meals in the jocund company. It is the most functional place in your homes, like kitchen and bathroom; so, you should devote your precious time and money to make it an elegant and sophisticated place. You can do it by adding a focal point on the wall.
These focal points are available in a variety of price ranges. The original fine art pieces are overpriced, but you can search for the low-priced artwork through the internet or the art shows. We recommend adding a classic wall clock to the dining as a beautiful art piece. The addition of an elegant, big metallic wall clock will make the space more functional and inviting!
Wall Art
Wall art is an excellent idea to prettify any space. A beautifully-decorated wall instantly catches the visitors' attention, and it doesn't demand so much money. Another great benefit of adding wall art to any room is that it displays dozens of art pieces, family memories, photographs, scenic beauty, and paintings without covering an inch of space on the floor. So, wall art is the best option to update any place in relatively little expenditure without cluttering the inside space. Here are multiple options to magnetize the appearance of your dining room.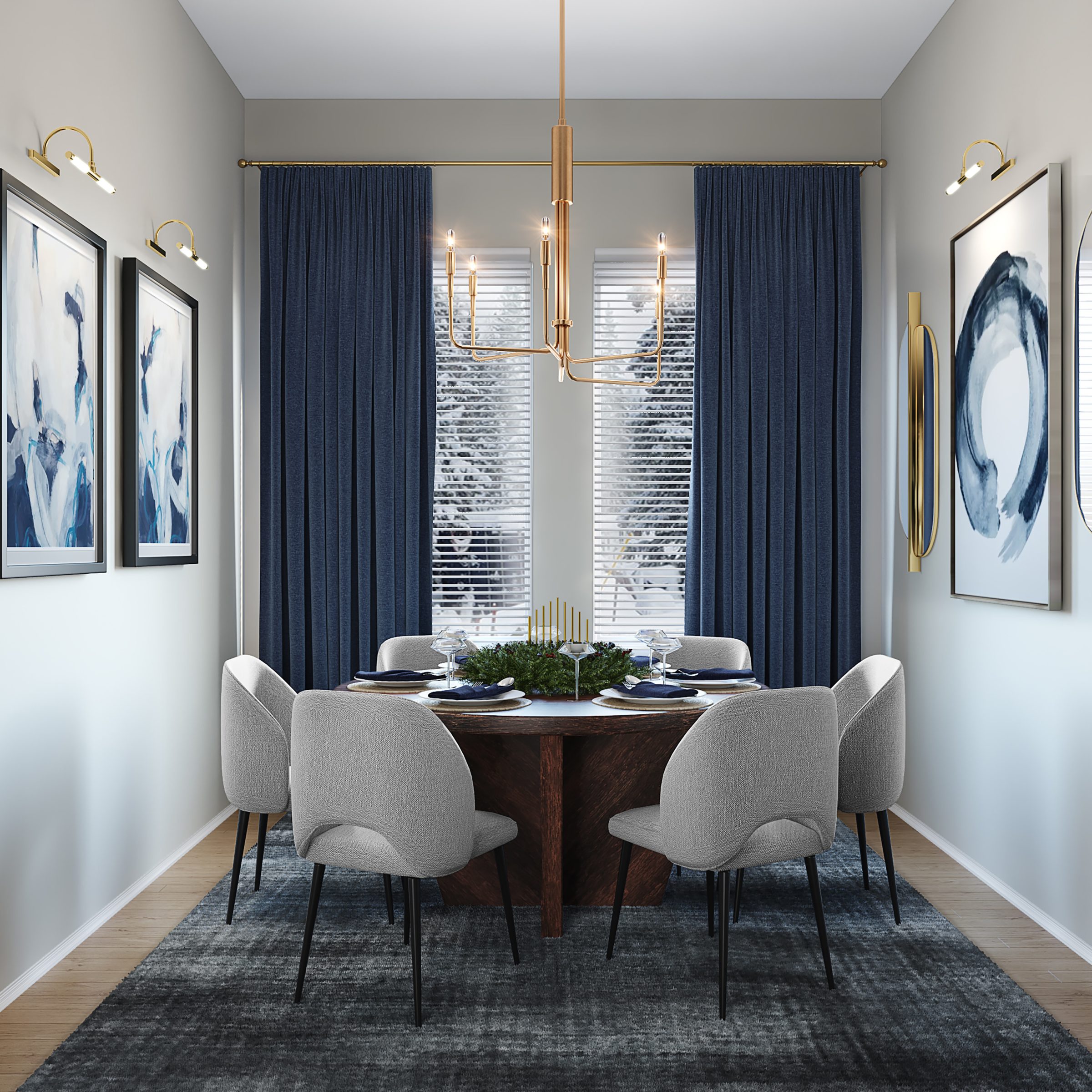 Canvas Art is there to maximize the value and splendor of any space. Hang the canvas art designed by an expert hand on the dining room wall and see the magic!
Shelves are also an essential addition to any room. Different patterns of designer shelves are available in the online market. Take a designer shelf, hang it on the dining room wall, and create a fashion statement in your dining room.
Collage Picture Gallery
The arrangement of a picture gallery in the dining room is the best option as the whole family gathers here many times. Grab your family's attention by picking the best and most memorable photographs of every member and hanging them on the dining room wall in a catching pattern.
Add Mirrors
The addition of mirrors to any area caters to the spacious and clean look and feel. Must arrange a beautiful framed mirror, hang it on the wall, and brighten up the entire dining room space.
In short, wall art options are many. They create a classic look and fantastic feel in the interior drama of decoration without breaking the bank!
Conclusion
Do you want to update your dining room and need a beautiful rug for this purpose? Worry not, RugKnots is an excellent platform offering a great variety of wool rugs to beautify any of your interior space. Come to our online platform, choose the durable and stylish floor mat for your dining space and send an order!