Independent watchmaker Speake-Marin co-operated with a trio of artisans of various specialties to create 'the Kennin-Ji Temple Masters Project' wristwatch. Selected by a collector, the timepiece is a one of a kind creation embellished with relief carving of twin dragons, based on the ceiling mural of the Kennin-Ji temple in Kyoto.
Perhaps the oldest Zen temple in Kyoto, once the imperial capital of Japan during the Tokugawa Shogunate, Kennin-Ji was established in 1202 and celebrated its 800th anniversary in 2002. For that occasion, a monumental ceiling painting covering some 175 square meters was selected for the temple. Artwork by Japanese artist Koizumi Junsaku, the ceiling represents twin dragons, a motif represented on the Kennin-Ji Temple Masters Project.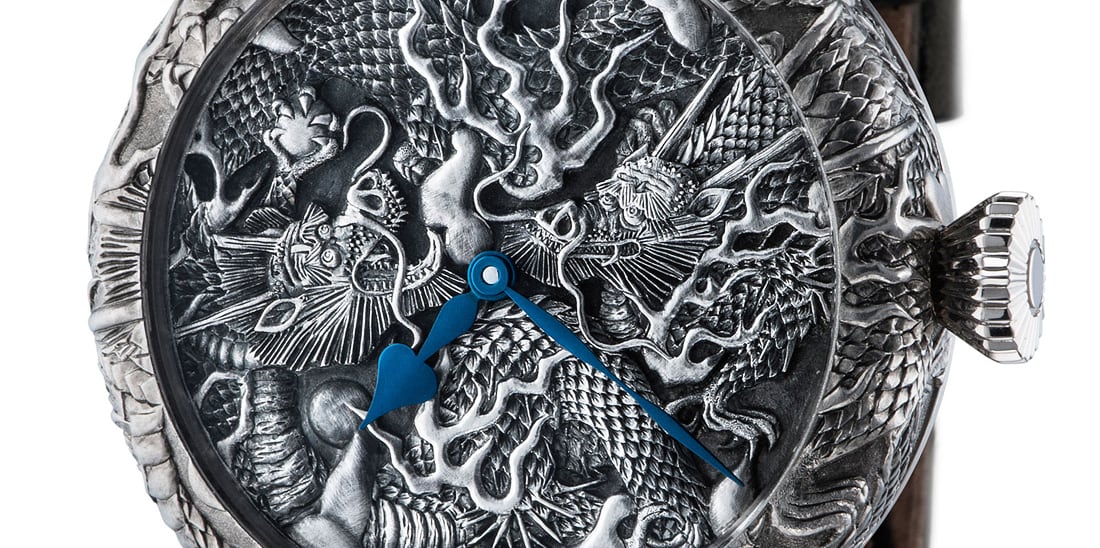 The 42mm case white gold, with the dragon motif on the dial continuing onto the case. Even the lugs shaped like claws of a dragon. Dutch engraver Kees Engelbarts handled the decoration of the case and dial while Eddy Jaquet engraved the movement. The twin dragon motif repeated on the embossed leather of the display case, which was done by Swiss leatherworker Christophe Seewer. And the movement is the calibre SM2, Speake-Marin's top of the in-house line movement that has German silver bridges.