It is no secret that T-shirts are the most popular garment to have ever been created. From the famous plain white tee to the T-shirts with many colorful designs, this top garment has become the must-have piece of clothing in everyone's wardrobe.
When it comes to styling your favorite T-shirt, you have probably mastered dressing up your simple, solid tee for every occasion. However, if you want to step out of your comfort zone of the neat and minimalistic style, you can opt for a graphic tee to add a touch of flair to your overall look.
Ever since many popular fashion houses such as Karl Lagerfeld, Guess or Gucci came out with iconic prints, logos or emblems, the graphic tee is thought of as the best way to add identity to a look. Therefore, if you have a few graphic T-shirts sitting in your wardrobe and you don't know how to style them, here are five ways to look chic with cool and colorful designs.
Casually speaking your mind
The best way to make a statement and speak your mind is by wearing graphic T-shirts. They are very visually appealing especially since they feature colorful designs and witty or motivational slogans. Besides this, they help an individual stand out and express their personality. Therefore, not only will you be able to distinguish yourself from others, but you will also look chic wearing a colorful T-shirt.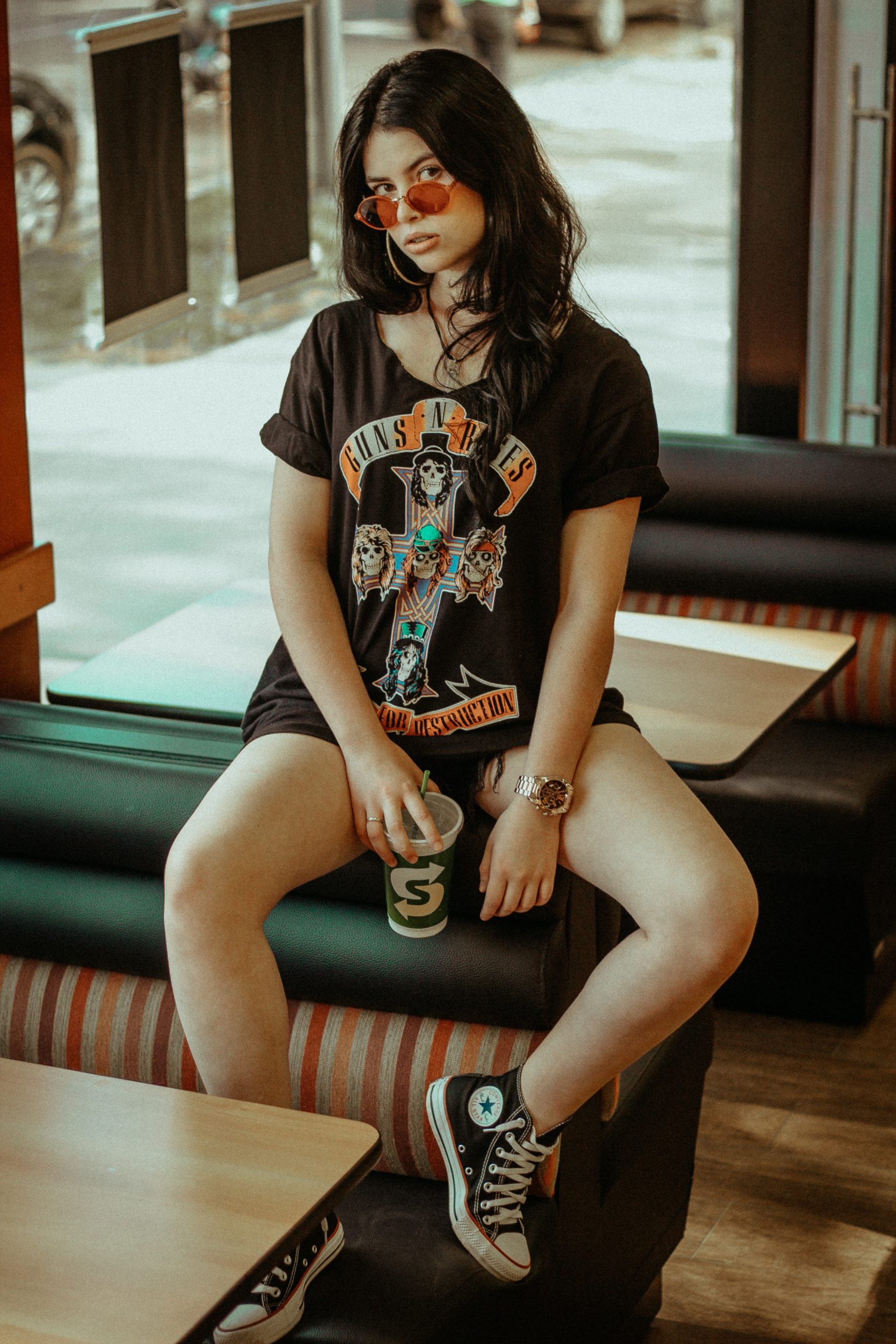 Some of the most popular graphic tees have inspirational quotes on them expressing their beliefs and values. For example, you can opt for trendy Christian apparel for women who want to bring positivity and joy to their look. If you have such a T-shirt with encouraging sayings in your wardrobe, take it out and style it with a denim jacket for a daytime look while running errands or meeting up with friends for a coffee date.
If you want to glam up this outfit, you can add a pair of golden earrings and put on your favorite booties.
Keeping warm with a cardigan
The cardigan has become the perfect outerwear piece for those dreary winter days when people are looking for ways to feel warm and comfortable. So, wearing your cardigan over a graphic tee is another chic look you can try.
In fact, the easiest way to wear this knitted outwear is with straight-leg jeans and a T-shirt featuring cool and colorful designs which you can match with the color of your cardigan. For example, if your cardigan is red, you can style it with a graphic tee with Christmas designs where this warm color is mostly dominant.
Or, if you want, you can opt for faux leather leggings to match your Christmas T-shirt and throw over a long cardigan to keep you warm and comfy. For an even edgier appearance, you can complete your look with shoes that will match the predominant color of your tee.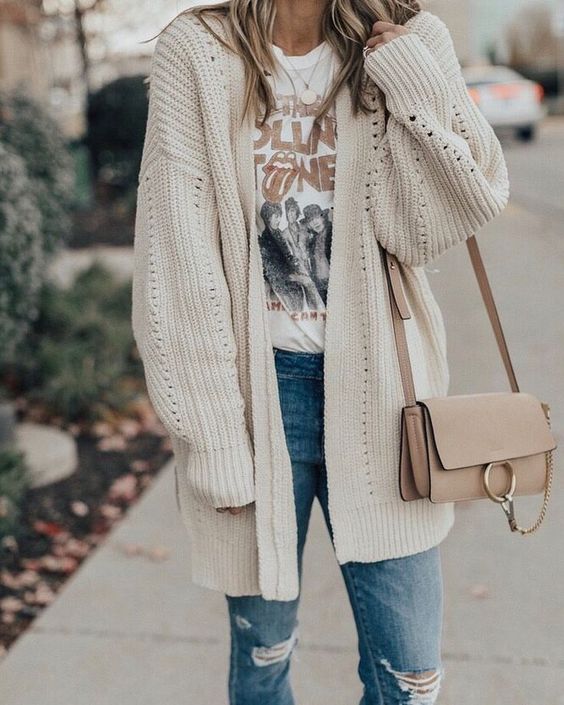 Looking tailored with a blazer
Blazers are no longer reserved to be worn only with office pants. Instead, they can be matched with all kinds of bottom wear including jeans and skirts, and topped off with a cool graphic T-shirt.
For example, if your job doesn't require a strict dress code, you can still look well put-together and elegant wearing a solid color blazer with a graphic tee featuring the color of your outwear. This look is perfect if you have to attend a casual Zoom meeting with your colleagues.
Or, if you are looking for a trendier look when you are running some personal errands, you can style your graphic tee with a patterned blazer. More casual than the original silky ones, patterned blazers look great when your slogan T-shirt is tucked into your tailored pants. You can complete this ensemble with comfortable booties and a cute clutch purse.
Sophisticated with a suit
Unlike blazers which are regarded as semi-formal outwear, suits are definitely the go-to choice if you are looking to create a sophisticated look. However, if you are comfortable with taking a fashion risk when wearing suits, you can certainly go for a graphic T-shirt to top off your outfit.
Monochromatic suits are the best way to combine your graphic tee with. For example, if your top includes the color which is predominant in your suit, you can easily bring a playful vibe to a traditionally powerful look. You can complete your outfit with a pair of black pumps and statement jewelry.
Just remember that when you are wearing any type of T-shirt with a full-on pantsuit, tucking your top inside your pants will create a luxe look that you can wear either in an office setting or on an outing with your friends.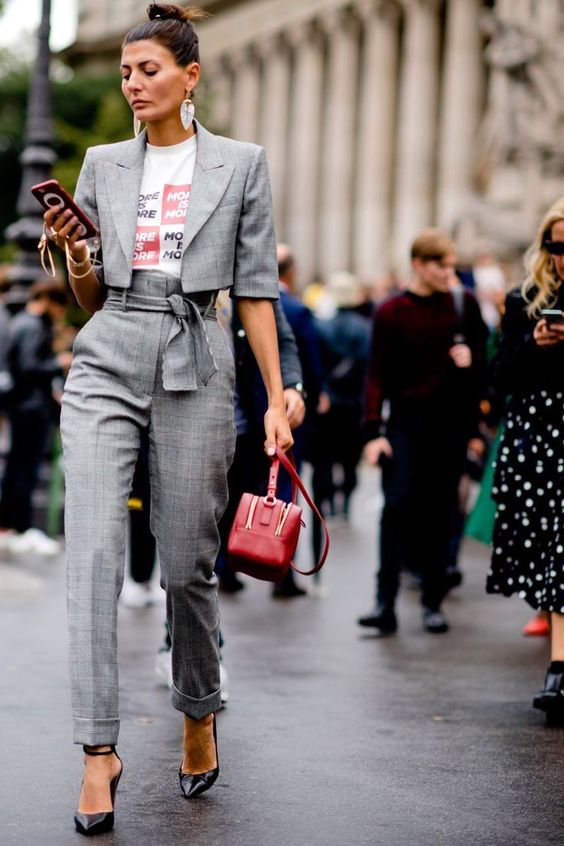 Dressed in a bold skirt
Skirts are the chicest type of bottoms you can dress up your favorite graphic tee with. Besides being very stylish, skirts can be worn when you are looking to find something that would create an effortlessly cool ensemble even on lazy days.
For example, if you have an oversized slogan tee in your wardrobe and don't know how to style it, you can opt for a long, tailored pencil skirt. This way you will create a slimming silhouette by tucking your T-shirt into the skirt to give you an illusion of longer legs.
Also, if you own a graphic T-shirt with a band's logo, you can combine it with a red, leather mini skirt. This way you will undoubtedly add instant rock-and-roll flair to your overall look. You can complete your outfit with a black leather jacket, a pair of hoop earrings and boots while you are at it.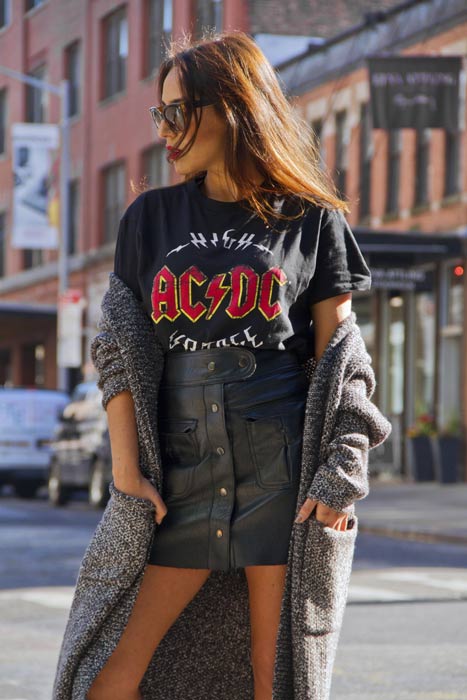 Final thoughts
It seems like graphic T-shirts have taken over the fashion world and put the plain, white tee aside. Depending on the occasion as well as your personal fashion style, there are endless ways to dress them up and look both trendy and sophisticated. Therefore, don't wait any longer and pull out that old concert shirt that's been buried at the bottom of your drawer. Step away from the solid color T-shirts and up your fashion game with inspirational slogans and colorful designs.