It may seem simple to pick out earrings: find a pair you like, buy them, wear them, and that's it. There are obviously many styles of earrings for both pierced and non-pierced ears, but it can be confusing trying to figure out which kind is best for you. Finding the perfect pair of earrings depends on a few factors, including skin tone, face shape, eye color, and of course, personal preference. Here's some general information about the different types of earrings and how to pick the right pair.
Brief History
Did you know that earrings are the oldest form of body decoration? They've remained popular for over 7000 years, but the trend originated in Asia. In fact, earrings were traditionally worn more by men than women and were considered a symbol of wealth, riches, and status. There are even wall carvings that suggest earrings were worn by Persian men in the city of Persepolis around 550 to 330 BCE. Though earrings may have been worn by men back in the day, today, it's women who are the primary wearers of ear jewelry.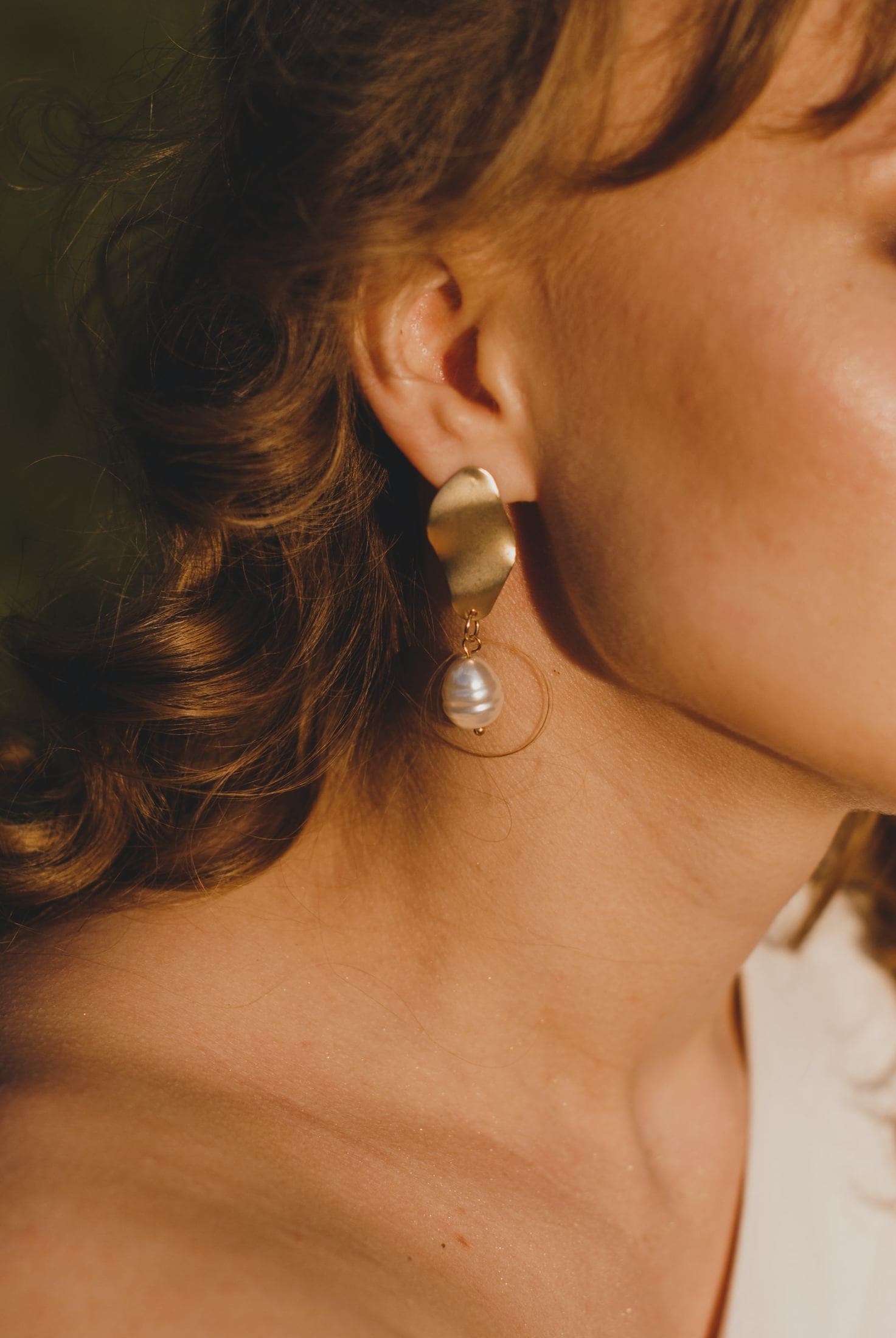 Invest in a Beautiful Pair of Earrings
When buying a beautiful pair of earrings, it's important not to skimp on quality. Cheap metals can cause allergic reactions, irritation, rashes, or even infections. For superior quality, check out the earrings available at Adina's Jewels. Their collections feature some of the most fashion-forward jewelry and earrings that are trendy, stylish, high-quality, and work well with any kind of outfit, whether for a special event or everyday wear.
Different Types of Earrings
1. Hoop Earrings
Hoop earrings are one of the most commonly worn styles, as they generally fit with any type of outfit. Hoop earrings for pierced ears are simple, and they loop around from the front and attach in the back with an earring back or a simple lever closure. The most typical shape is round, but one new trend this season is wearing geometric shapes, like squares or triangles, that make a bold statement. Smaller hoops offer an understated elegance, while large hoops tend to be attention-getters and provide a much more dramatic effect.
2. Stud Earrings
Stud earrings are another popular choice for pierced ears and those who prefer something that is simple or offer a no-maintenance style. The best part about studs is that they offer classic chicness and are extremely comfortable to wear. Typically, they have earring back closures. The only drawback to using earring backs is that they're small and easy to lose. However, stud earrings are the traditional design for wearing diamond earrings, which everybody knows are a girl's best friend.
3. Chandelier Earrings
Since they look just like an intricate chandelier, these earrings are perfect for special occasions or any regular day where you want to feel special. Technically, chandelier earrings are a form of dangle earrings, but they're a more dramatic style and offer some girly-girl luxury.
4. Drop Earrings
Drop earrings hang below the earlobe, but they're different from dangle earrings. Drop earrings tend to be a very secure style, making them perfect for those who lead an active lifestyle. Essentially, they're just a longer variation of the stud earrings. Drop earrings are often designed with a single gemstone, but they come in a large variety of styles and are perfect for both special events or everyday wear.
5. Dangle Earrings
Dangle earrings also drop below the earlobe, but they offer a little more movement or swing than drop earrings. They also offer more intricate design options than drop earrings and are perfect when the mood strikes to wear something fun and bold.
6. Clip-On Earrings
These are relatively self-explanatory, and they're not just for children, either. Clip-on earrings are perfect for people with pierced or non-pierced ears and are available in virtually endless styles. It's a great way to try a style or a piercing without the actual commitment or the pain!
7. Jacket Earrings
Jacket earrings are unique because they have an extra piece that complements the existing earring post or stud. They're designed to wrap around the studs, just like a jacket. While they may be small, they're a great way to upgrade some plain studs or any other favorite earrings.
8. Cluster Earrings
This style consists of a group of gemstones or crystals that are grouped. They've been popular for many years, and this style is usually available as a stud or drops. They sit securely on the earlobe to prevent drooping.
9. Bajoran Earrings
Bajoran earrings were made famous from the TV show Star Trek. They consist of two earring posts, or an earring post, and an ear cuff. There's a hanging chain that connects the two posts, making for a dramatic look. These are definitely on the trendier side, but they're a great way to make a bold statement.
10. Ear Cuffs
Ear cuffs are generally circular but with a gap to allow them to slide on and sit securely on the edge of the ear cartilage. They've become very popular as a trend in 2021, and these earrings can be made for non-pierced ears or in another style for pierced ears. They can have no backing at all, in which case the whole earring just sits right on the edge of the ear like a cuff and can be worn by those with non-pierced ears, or they can come in a hoop style for those with pierced ears.
11. Ear Climbers
Ear climbers, also known as crawlers, are a really fun style that takes the conventional way of wearing earrings and turns it on its head. They can come with a standard earring back or in a bobby pin-like shape made for pierced ears. Once threaded through the ear, the design sits horizontally across the length of the earlobe, taking up the space where a second or third ear piercing would sit. Many popular ear climber styles include rows of gemstones, cute shapes like paw prints or hearts, or even a plain metal bar.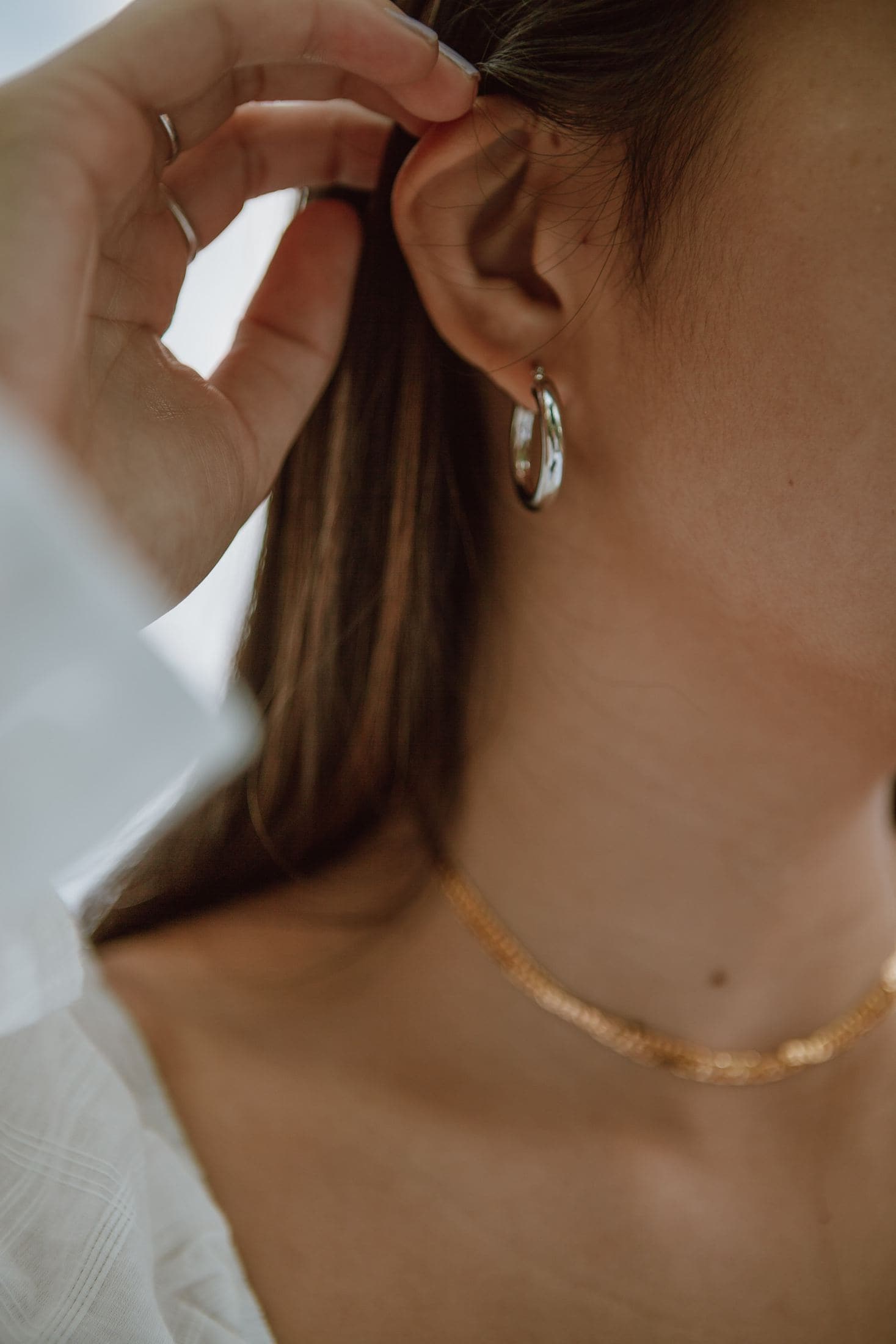 How to Pick the Right Pair of Earrings
Picking the perfect pair of earrings has a lot to do with personal preference and what designs you like best. But, there's more than that to it, just like when shopping for clothes. Your face shape, skin color, eye color, and other factors can influence how to find the right pair of earrings. Here are the most common face shapes and the earrings that work best for them:
1. Oval. Try a pair of chic and elegant diamond studs to show off your amazing cheekbones or triangular hoops for a bold statement.
2. Heart-shaped (wider forehead, narrower jaw/chin). Use chandeliers, drops, or dangle earrings to counteract a narrower chin and jaw, which helps balance out face shape.
3. Narrow. Any earrings sized medium to large will work. Try a big pair of hoops or cluster earrings, even a row of cuffs to add dimension.
4. Inverted triangle. This shape is similar to heart-shaped, but with no widow's peak and a shorter face in general. Try teardrop gemstones, chandeliers, dangle or drop earrings to add some balance and fill out the negative space.
5. Round. Dangle or drop earrings help slim the face and jawline. Avoid big hoops or circular studs, which can make the face look fuller.
6. Square. Avoid any earrings with a square or rectangular shape. Look for dangle, drop, or hoops, anything with softer and rounded edges.
Consider Bone Structure
If you have a delicate bone structure, choose earrings that thin, subtle, or on the smaller side. Wearing big earrings, like a giant pair of hoops or an intricate pair of chandeliers, can sometimes overwhelm and emphasize the smallness of your face. Think of somebody like Kristen Chenowith wearing a pair of large, chunky hoops. That style of earring would be way too much for her gorgeous bone structure and pixie-like face, which is why a dainty style generally works best for people with delicate bones or smaller stature.
Those with medium bone structure should look for medium-to-heavy weight earrings, and those with a larger or heavier bone structure can essentially wear anything. However, don't wear anything too large, as it can really overpower your face or make it look unbalanced. Only those with a larger bone structure can truly pull that off.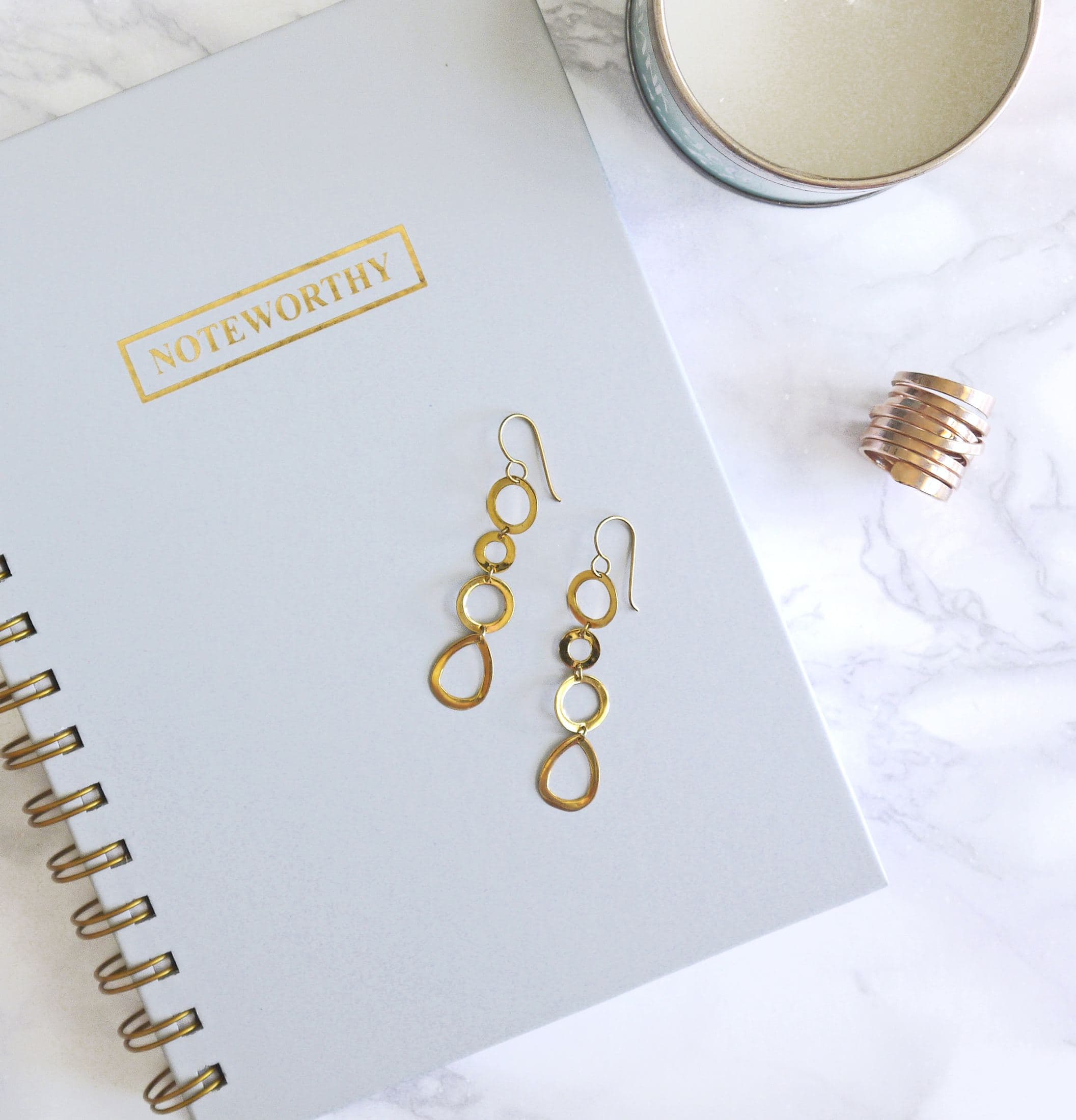 Skin Tone is Important, Too
Skin undertone is a huge consideration when deciding which colors and earrings will look best. For those with warmer undertones like pink, yellow, or peach, gold earrings are a great choice. Neutral or cool undertones include those with beige undertone to olive, tan, and darker skin colors. Sterling silver or white gold looks especially lovely on skin with cooler undertones, although gold works just as well.
Eye Color
Think about how the right shade of eyeshadow can make natural eye colors pop; the same principle applies to earrings. Certain colors accentuate and emphasize the specific skin undertones, which include warm, cool, and neutral. For example, someone with hazel eyes would look fantastic in gold or light green earrings since they will bring out the warm caramel and green shades in their iris. For those with brown eyes, look for a golden or yellow-colored earring. Blue eyes look beautiful with any type of sterling or white gold.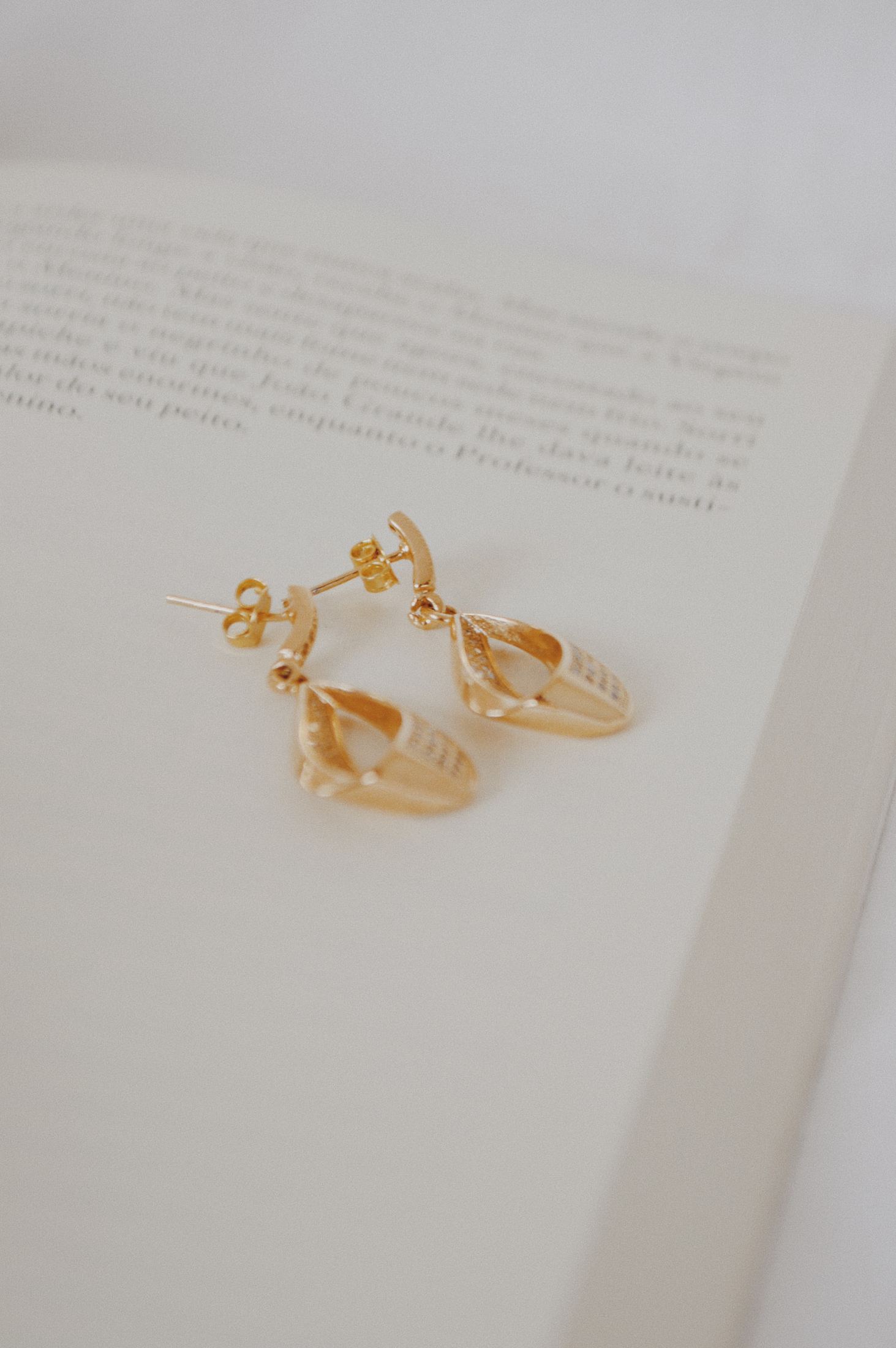 A Pair of Beautiful Earrings Complement Any Style
Earrings are the oldest form of jewelry known to man and have remained popular since their inception 7000 years ago. However, finding the perfect pair involves a little bit more than just pointing at the ones you like and putting them on. While personal preference is the most vital consideration, it's also essential to take things like face shape, skin tone, and eye color into account to find the perfect pair.
It's also a good idea to invest in a pair of earrings that are high quality so they not only look beautiful and complement your face but will last for a long time, too. With the multitude of styles available, it will be easy to find something that looks great and will make you feel great about yourself, too.