Your wedding day is your special day. You may have been planning your wedding for a year, or the event may have crept up on you out of nowhere. In any event, you are going to need to make sure that you are dressed for your part in the festivities. Of course, you'll also need to make sure that your groomsmen are looking good too. Dressing your groomsmen for your wedding can be a tough task. Why is this the case? Well, you'll have to match a large group of individuals into one style of coat, both color and fit, while sticking true to your wedding theme. Sounds tough, right? Fortunately, we have some advice for you.
Selecting The Perfect Groomsmen Coat
Dressing up your groomsmen is important, no doubt. Making sure that the bridal party looks good is incredibly important for your wedding day. If you and your significant other look great, but your groomsmen look dodgy, your wedding photos are going to suffer for it. Selecting the right groomsmen coat is all about knowing your options. You'll want to look at options that are close to your theme, affordable, and approved by your significant other. Additionally, you'll want your coats to match that of the bridesmaids. It might even be a good idea to get your coats while your bride-to-be is shopping for the best formal dresses Melbourne has to offer. In any event, now is the time to prepare. Let's look at a few amazing groomsmen coat options that you can consider for your special day!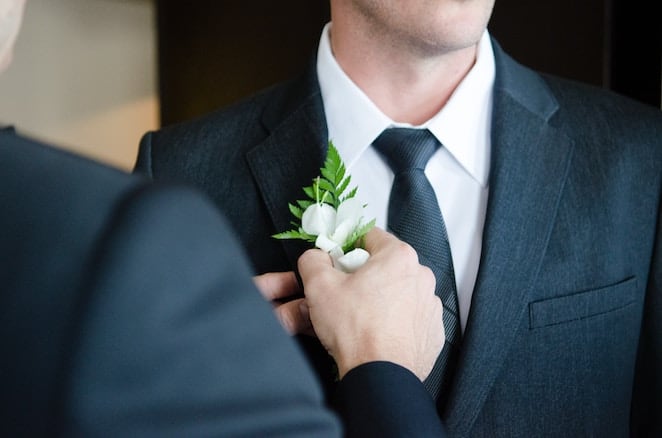 1) Evening Tail Suit – If you want your groomsmen to stand out on your special day, you owe it to yourself to consider the evening tail suit. This special suit, also known as a tailcoat, is the most formal groomsmen coat that you can order. Typically available in black, this tailcoat looks fantastic with nice trousers and leather shoes. Be careful, however, as you'll need to make sure that the rest of your wedding party is appropriately formal. It is easy to make this coat option look like a mistake without proper planning.
2) Wedding Tuxedo – a wedding tuxedo is a classic option for weddings that want to stick to conventional standards. The wedding tuxedo is comprised of a black tie, a white shirt, and a dark coat and trousers combo. If you want to make your groomsmen look more modern and elegant, consider switching to a navy color combination. Tuxedos are always in style, eas to find, and definitely more affordable than some of the other options on our list.
3) Wedding Suit – If you want to roll with a more informal outfit, a wedding suit could be the right choice. What makes a wedding suit such an optimal choice for your groomsmen coat is that it is informal but still fancy. You can wear a wedding suit without a long tie. You can also select your wedding suit in any color or silhouette that you desire. Wedding suits are significantly more affordable than some of the other choices on our list, so definitely consider them if you might have a budgetary challenge on your hands.
4) Dinner Suit – A tailored dinner suit can make your entire bridal party look dashing. Dinner suits showcase fancy breast pockets. You can get a traditional dinner suit which features dark colors, such as black or navy blue. You can also get your dinner suit in something significantly less formal, such as a pastel color. In any event, a tailored dinner suit is a perfect blend of classy and casual.
5) Business Suit – Single or double-breasted? How many buttons do you want? Business suits can serve as both casual and professional options for your wedding. Business suits also have long term utility as they can be repurposed for a variety of different events. If you want to get coats that your groomsmen will use for years in the future, this might be the right option for you.
6) Slim Fit – A slim fit groomsmen's coat is the ideal choice for the fashionable, modern wedding. Slim fitted coats tend to accentuate the natural appearance of your groomsmen. This is a great coat option if you want to really emphasize your style. You can get slim fitted groomsmen coats in a variety of different styles and color combinations. Slim fitted coats won't always work for everyone, so make sure to attend to a fitting before making a purchasing decision.
7) Casual Suit – A relaxed and casual groomsmen's coat can be great for a summer or spring wedding. Casual suits tend to feature open throats without any extra buttons or ties. You'll also find that casual suits are great for dressing down for the after party. Even though you might opt for a casual suit, you are still going to need to keep everyone focused on your core color scheme and theme. Remember, you want to look like a group.
8) Rustic Country – A country-themed groomsmen's coat is going to look significantly more casual than some of the other options on our list. Rustic groomsmen coats are going to be simple in appearance but striking when properly worn and tailored. Rustic themed groomsmen coats are amazing for outdoor weddings and barn weddings. There's nothing like enjoying being a good old boy on your wedding day.
9) Patterned Wedding Suit – This is probably going to be the most controversial selection on our list. Checkered groomsmen suits are growing in popularity, but they are still considered a fringe option. Checkered groomsmen coats utilize different types of patterns in order to emphasize style. Patterned suits can be amazing or awful with very little room in between.
Selecting the coats that your groomsmen will wear can feel like a tough task. Fortunately, you have plenty of options available to you. Take your time looking through the options that we suggested above. With a little bit of effort, you'll end up with the perfect coats for your wedding!