Whether you're getting hitched or you're there to celebrate the nuptials of those you love, if you're at a wedding, you want to look as sharp as possible. Now, most weddings take place when the weather is fine, so standard wedding attire is bright and light. 
But what do you rock at a winter wedding? Because when the temps drop, standard wedding garb is probably not going to keep you warm enough or look appropriate.
According to TheKnot.com, nearly three-quarters of weddings go down between May and October, and only nine percent of couples get hitched during the winter. So, yeah, a winter wedding is indeed uncommon, but it's far from unheard of.
So let's fill up that leather flask with a nip of something that'll keep you warm and get you all set to look as fresh as possible for a winter wedding. Now, these are indeed general recommendations. Be sure to adhere to the particulars of the wedding you're attending. How formal is the event? It's critical that you keep the formality of the wedding in question at the forefront of your mind. 
How Male Guests Should Dress for Winter Weddings
Let's start with gentlemen attendees.
Guys, it's all about wearing heavier fabrics that are right for the condition. So that lightweight suit you'd be rocking to a wedding on a balmy summer day? You can forget about that. Look to wool, flannel, anything heavier. 
Fellas can also get away with adding layers beneath their suits. So if the day is truly cold and you'll likely be exposed to the elements for unpleasantly long stretches, don't hesitate to suit up in some thermals under that formal attire.
Now for the colors. For your standard peak season wedding, you can get away with a wide array of hues, from the splashiest, boldest brights to the more understated. But for a winter wedding, please do go for more muted color selections: charcoal, navy, grey, etc. (Be careful rocking black, though. If the groom is wearing a black suit, you don't want to wear the same.)
If you roll in brightly attired, you'll stand out — and as a wedding guest, you do not want to be the center of attention. But if you truly long for a pop of color, you can get a little snazzy with your tie selection. Nobody will hold that against you.
Sidebar here, guys: If you aren't yet married and your mind starts to wander to your eventual nuptials, know that we are entering the golden age of men's wedding bands. When your knot-tying time comes, you don't need to settle for a basic (and lame) ring. Lucky you.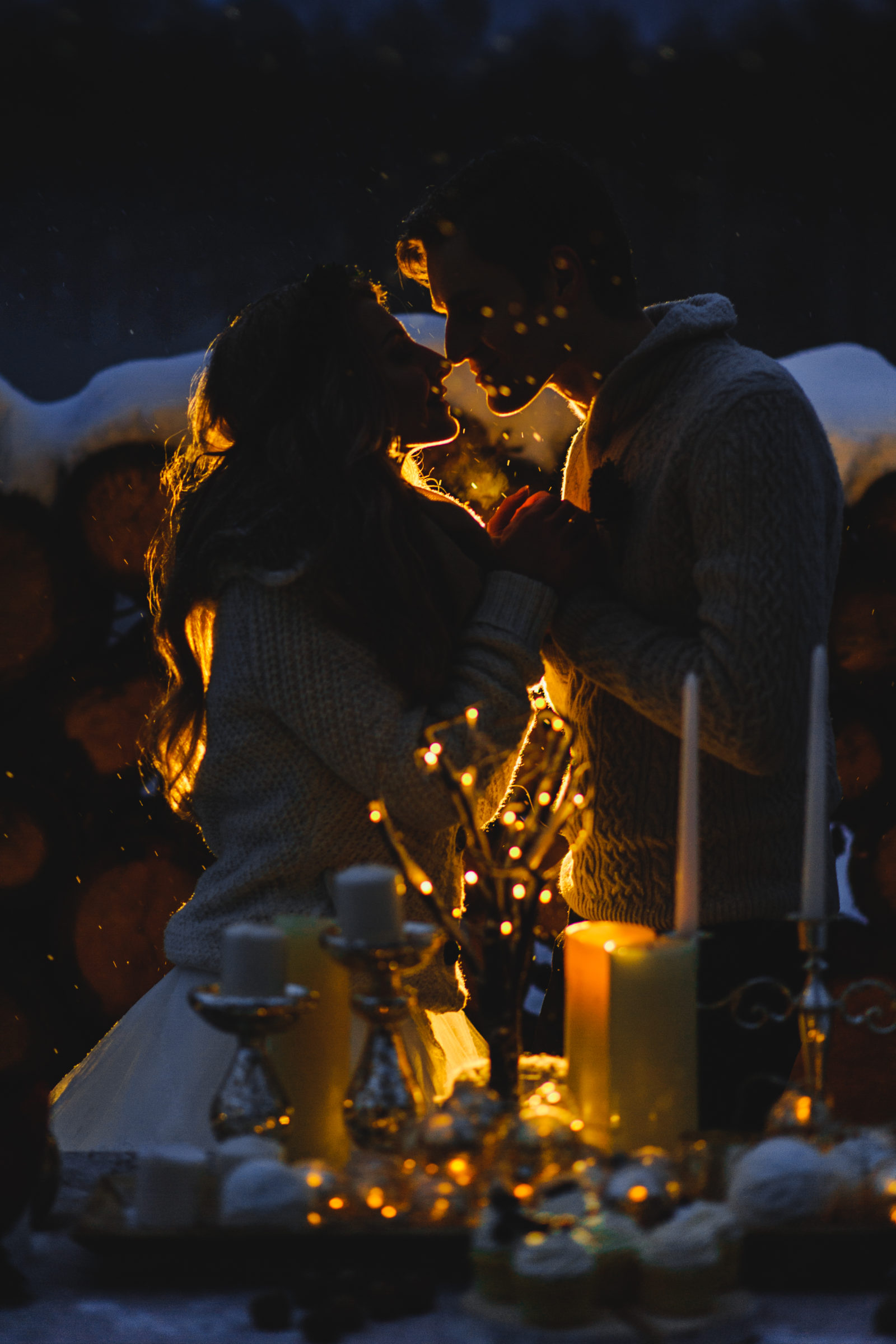 And What About the Ladies?
A critical note for all the ladies out there on their way to winter weddings: YOU DO NOT HAVE TO SUFFER. Women tend to sacrifice comfort for style, but we are here to tell you do not need to do that to yourself.
Go with dresses made from heavier materials. Velvet and satin are solid options. And while it isn't as easy for ladies to layer up as it is for men, don't add to your suffering by giving in to the urge to wear a sleeveless dress. Sleeves are your ally, not your enemy.  
And before we move onto footwear, let us reiterate the plea from above: YOU DON'T HAVE TO SUFFER. For the love of all things cozy, wear close-toed shoes. If you don't, you're setting yourself up for a miserable time. And if you go with some chic boots, you can get away with rocking your warmest wintertime socks underneath.
The fact of the matter is that standard clothing options for guys make it easier for them to look sharp while keeping warm. Ladies, it may not be fair — and don't get us wrong, we encourage you to do whatever you need to do to be comfortable — but you do have one advantage: You can bring itty-bitty blankets along for the ride. We're talking shawls. For a winter wedding, a shawl can be a true saving grace. Don't leave home without one.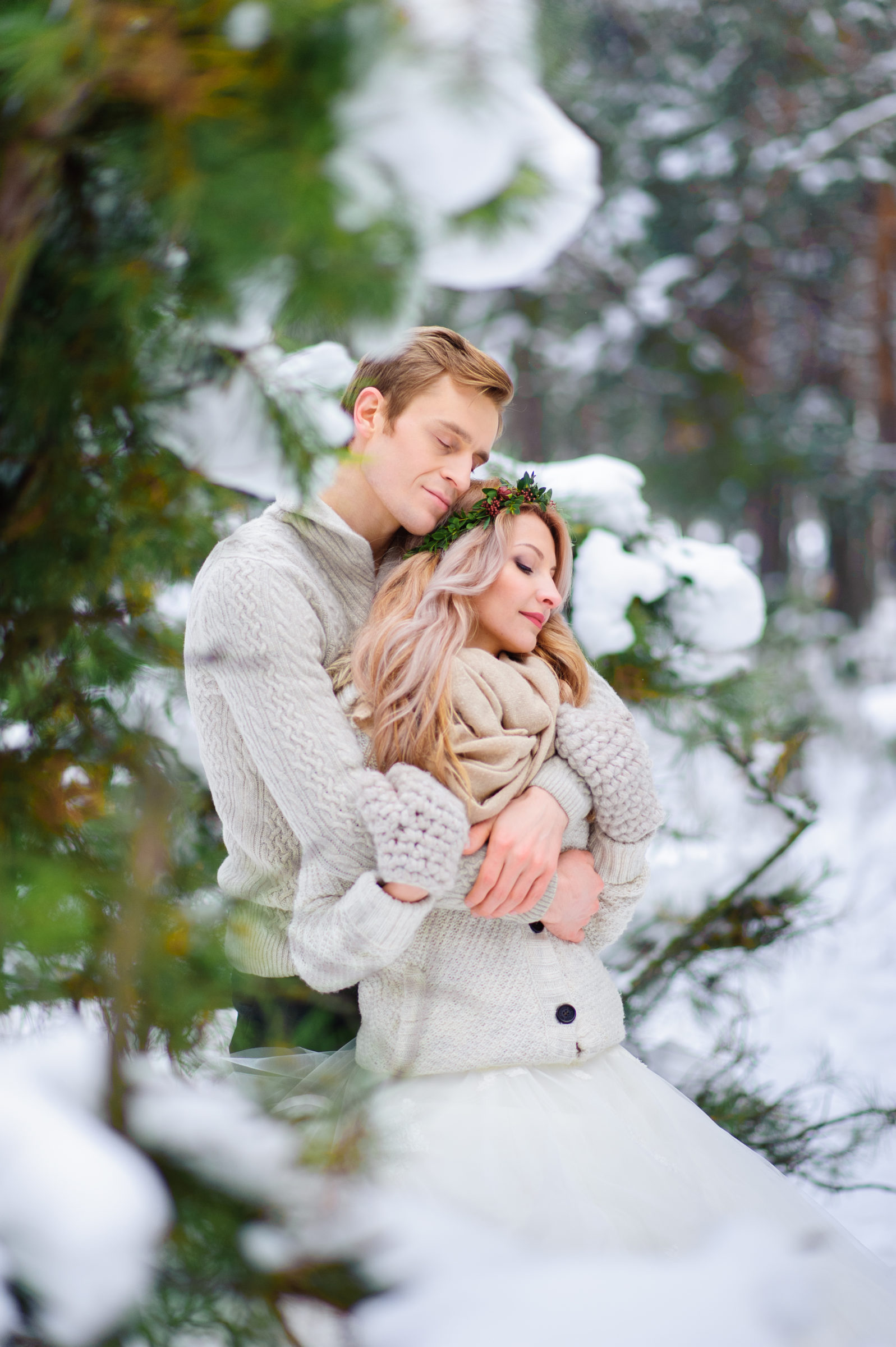 What If the Ceremony Is Outdoors?
Until the pandemic came along and mucked up indoor gatherings, you could be pretty certain that winter weddings would be taking place inside. Getting there might be chilly, but once you've arrived, you can be pretty certain to sink into some warm coziness.
Well, for the last year-plus (and for the foreseeable future), that's not a sure bet. So whether you're a dude or lady, don't feel like there's any shame in doing what you can to stay warm during the ceremony. After all, it's not like you'll be wrecking photos — all cameras will be pointed at the lucky couple.
So rock your fine winter coats and nip from that flask you're packing when you need an extra layer of warmth for your insides.
But, please, for the love of God, no toboggan hats.