Those times when food was just food are long gone. Now chefs from around the world are trying to
turn their masterpieces into art objects. Though some may think that the baked mutton chop looks
much prettier and more appetizing these, but that's a matter of taste.
Red fruits from the garden, Renteria, Spain
It took the Mugaritz restaurant chef several years of experiments to create this bubbly mountain of juicy berries and beets. A few years ago, Mugaritz, awarded two Michelin stars, suffered from fire, but soon reopened.
Wind crystals, Paris, France
In the hands of the famous chef Pierre Gagnaire, meringue turns into a work of art. To make the protein airy, he adds water and sugar and makes crystals from it. This is one of those dishes you need to share with someone to fully understand the chef's idea. If you're looking for a company, try j4l.com
Chiles-en- nogada, Mexico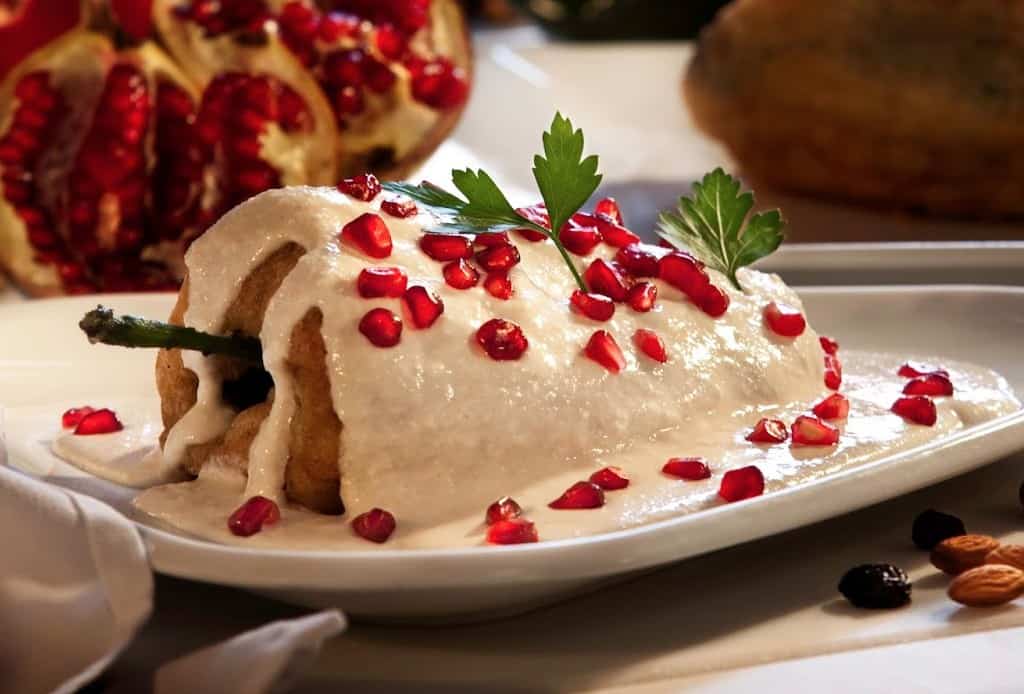 Chili is one of the three elephants of Mexican cuisine. The colors of Mexican sauces are greater than those of the rainbow, and their ingredients are so diverse that it's impossible to remember them all. But chiles-en-nogada is something special. Latin chefs have an amazing ability to combine salty and sweet products in one pan. This dish is a bright example.
Gargouillou, France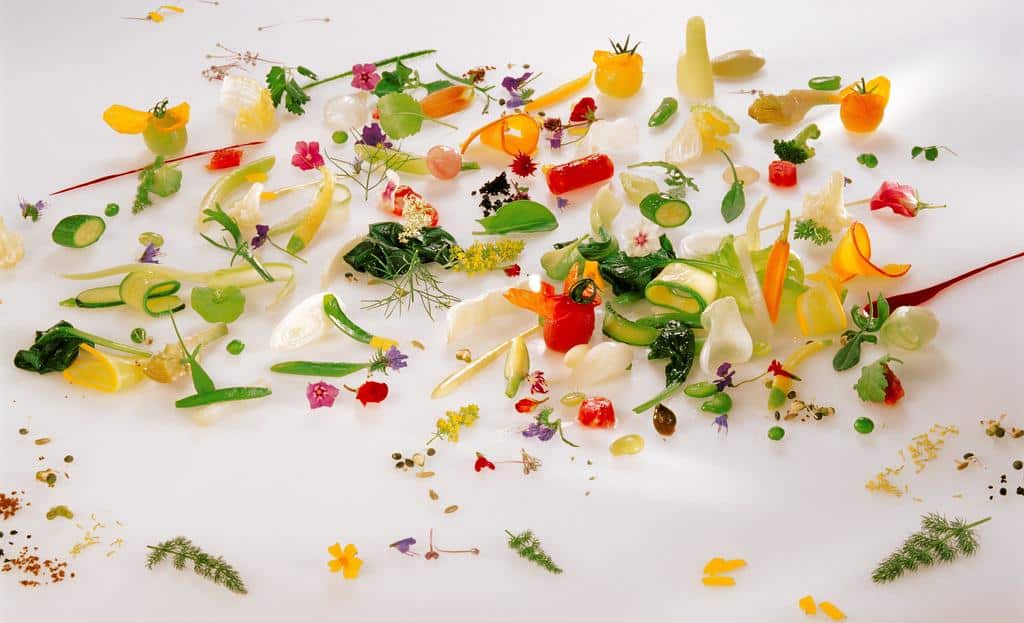 This is a salad by Michel Bras. Depending on the season, the chef selects new combinations of vegetables,
herbs, flowers, and seeds. Therefore, the total amount of ingredients in it reaches 60.
Hearts of palm, Chicago, USA
In the Alinea restaurant Grant Achatz (the best young chef of 2002 according to F&W) serves five hearts of palm stuffed with five different fillings, including vanilla pudding to rye bread.
Peking duck, China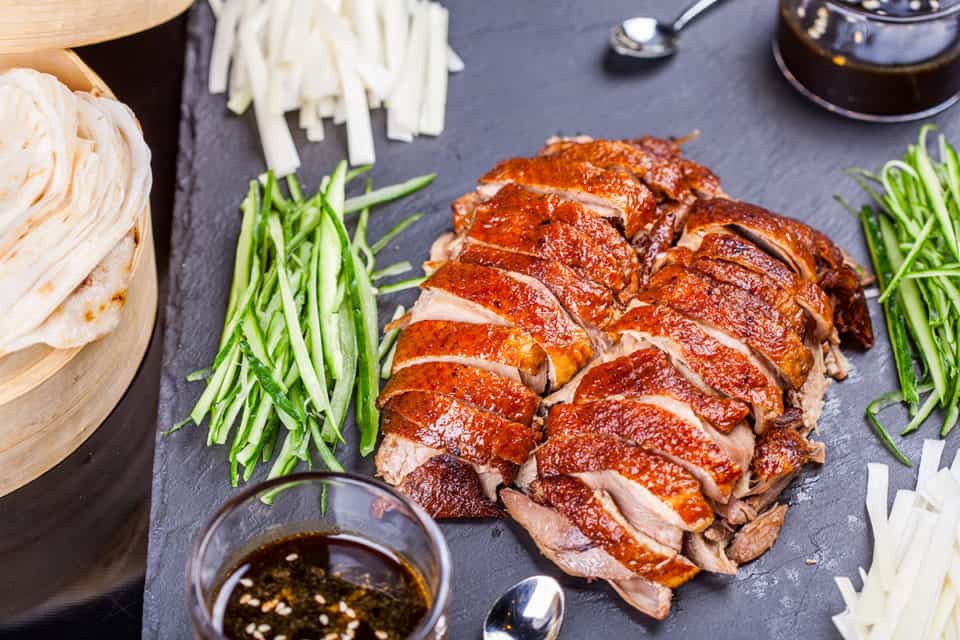 Almost seven hundred years ago, the world learned that the duck from the table of the Chinese emperor wasn't just charmingly beautiful but also beneficial for health. You can say anything about the taste, but it's the glossy shine of a Peking duck that makes it a delicious addition to tables throughout the world. The duck must be served in one piece so that the guests can enjoy its looks. Then the skilled waiter cuts it into 108 pieces.
Short rib with Dashi-braised daikon, pickled carrots and mustard seeds, New York, USA
In the Momofuku restaurant, run by David Chang (the best young chef in 2006 according to F&W), you can taste an incredibly tender rib that takes 48 hours to cook using Sous Vide vacuum technology.
Marinated mussels, Los Angeles, USA
In Jose Andreas's Bazaar restaurant, mussels are marinated in vinegar with a scented pepper flavor and served in a tin can, giving tribute to the traditional Spanish marinated seafood.
Zalivnoe, Russia
Previously, this dish was just a gray jelly, until the French worked on it. The jelly was tinted with lemon zest, saffron, and turmeric. Then the dish was decorated with vegetables, slices of boiled eggs and herbs. After that Zalivnoe found its way to the royal tables and became one of the most popular dishes in Russia.
L'Arpège egg, California, USA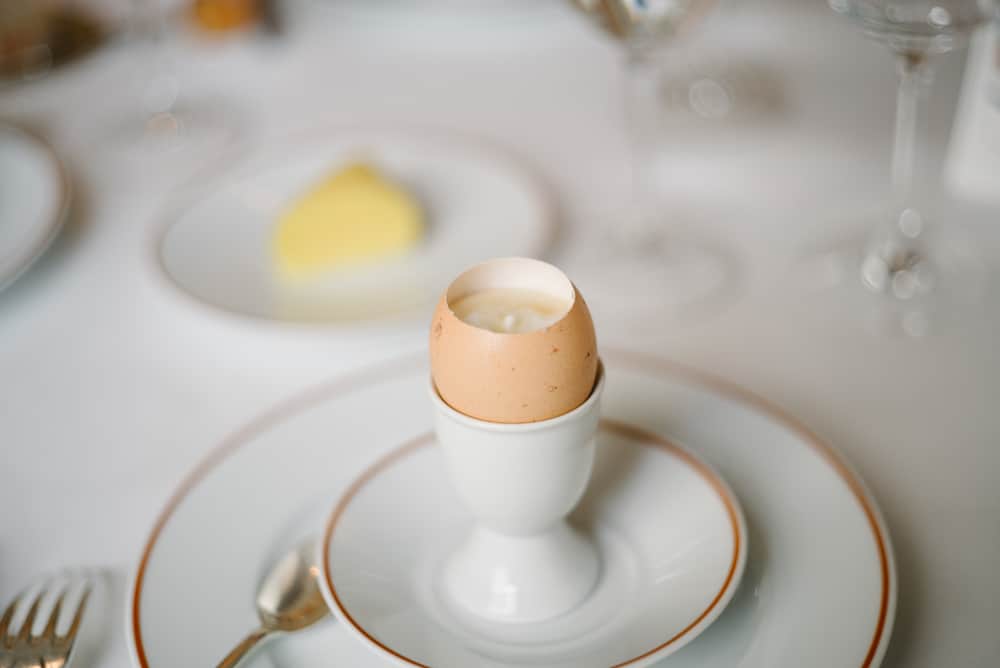 Another famous chef David Kinch has managed to replicate the recipe for the egg by the Parisian restaurant L'Arpège: the egg yolk is cooked in sherry vinegar, cream, and maple syrup. Kinch adds his mark: he adds Tasmanian pepper.
Fish with snow seasoning, Tokyo, Japan
There are only two tables in the restaurant of Yoshiaki Takazawa, but the visitors can enjoy artfully
sophisticated dishes, such as a piece of yellowtail, served with edible bulbs of lilies, mountain vegetables, and seasonings cooled to -200°C. At such temperature, it resembles snow and melts if touched.
Snow crab roast, Tokyo, Japan
The list of incredibly delicious dishes by Chef Seiji Yamamoto, there's also a roast of snow crab (which is brought from the Tajima region). It's a sea ear, cooked for ten hours on steam, and fugu milk in ginger dashi broth. Together with the dish, guests are served with a drawing that shows the entire cooking process.
Cyber-egg, Rivoli, Italy
Chef David Skabin is known for conceptual dishes like his cyber-egg. He serves caviar together with a poached egg in a plastic bladder.
Black Paella, Spain
Maybe it's a coincidence, but the most beautiful dish of Spanish cuisine is served at the most beautiful holiday. Las Fallas is the evening when Valencians burn figures of cardboard and papier-mache. On the eve of Las Fallas, Black paella is cooked in every restaurant, and even on the streets, tinting rice with squid ink and adding Valencian water, without which, according to the inhabitants of this province, the dish becomes tasteless.
Pavlova cake, Australia and New Zealand
There are not that many desserts in the world that are as beautiful as Pavlova cake. Australia and New Zealand are still arguing about which of them invented this cake. In 1926 the great ballerina Anna Pavlova visited both countries with tours and inspired the cooks of the fifth continent and neighboring islands to bold culinary experiments. They needed to create a dessert so beautiful that even the person with the most exquisite taste would like. At the same time, the dessert needed to be so light that even a ballerina could eat it.