He painted one of the most famous pieces of art, but it is likely that you do not even know his name. That is the legacy of Cassius Marcellus Coolidge, the painter of one of the most famous series of art produced in the last 200 years. Because of an odd choice surrounding his career and the fact that most of his works never gained much acclaim, Coolidge was not well-known during his time. Here are some interesting other facts about the painter you may not have known.
His Artwork Is Among the Most Copied
The famous "Dogs Playing Poker" series is one of the most duplicated pieces of artwork ever produced. Because of its humorous depiction and amusing concept, it has been used in a wide variety of locations and genres. This includes a 2018 depiction of the artwork on the north tower of the Plaza Hotel & Casino in Las Vegas. This was part of a multilayered reference to the casino culture and including Coolidge's piece seemed only logical.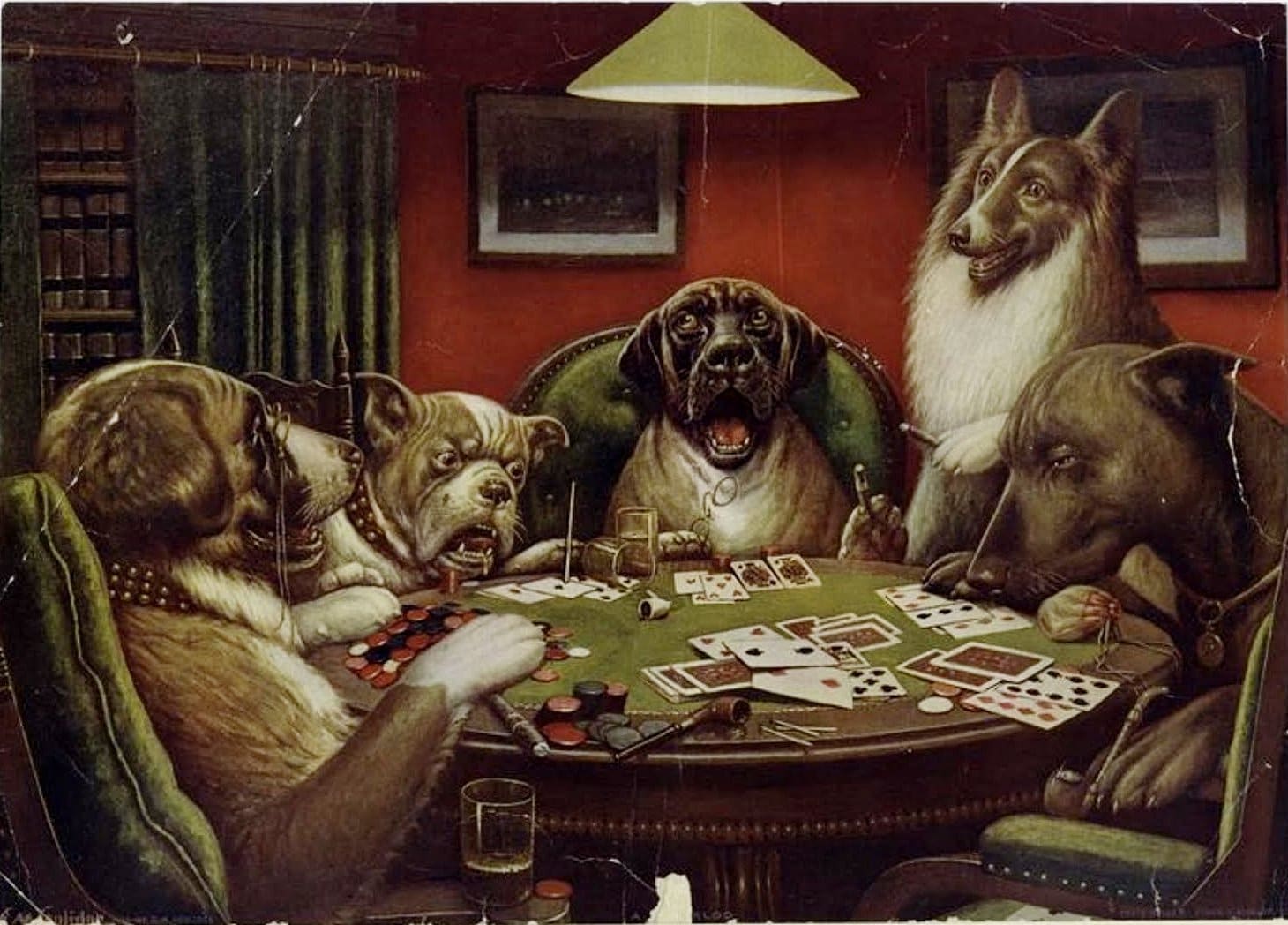 He Liked to Play with His Name
You would think that an artist trying to build a reputation would do his best to identify his work, but Coolidge was a bit of an eccentric. Many of his art pieces were identified simply by signing it as Kash or as Kash Coolidge. In doing so, he was highlighting his quirky sense of humor. However, he may have also been limiting his potential for success.
Coolidge Invented the Dogs Playing Poker Motif
While Coolidge's signature art piece is probably the most famous, Poker Game, there were actually dozens of paintings in his time depicting canines involved in the casino-based activity. It became so popular that many were looking for the roots of how it developed, and Coolidge was quick to take credit for inventing the motif. He may very well be correct in his assertion, but no authoritative source has given him credit for starting the series. At least no one other than Coolidge himself.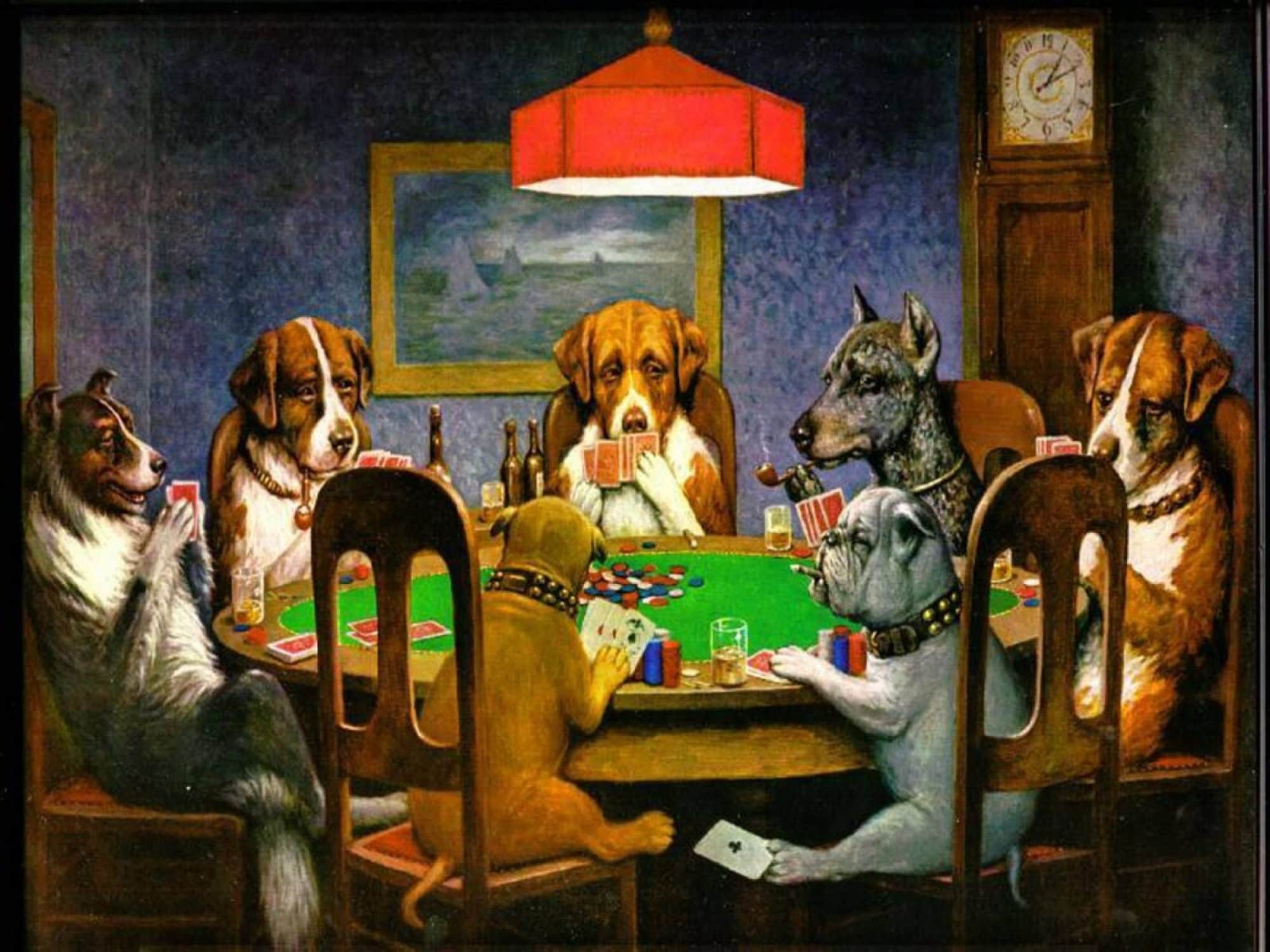 Coolidge's Ideas Began as an Advertising Campaign
When most of us think of signature art pieces, we think of an artist working tirelessly to create or capture a work that presents a commentary upon society. However, this is not how Coolidge got started. In fact, his signature piece was actually part of an advertising campaign for the firm Brown & Bigelow.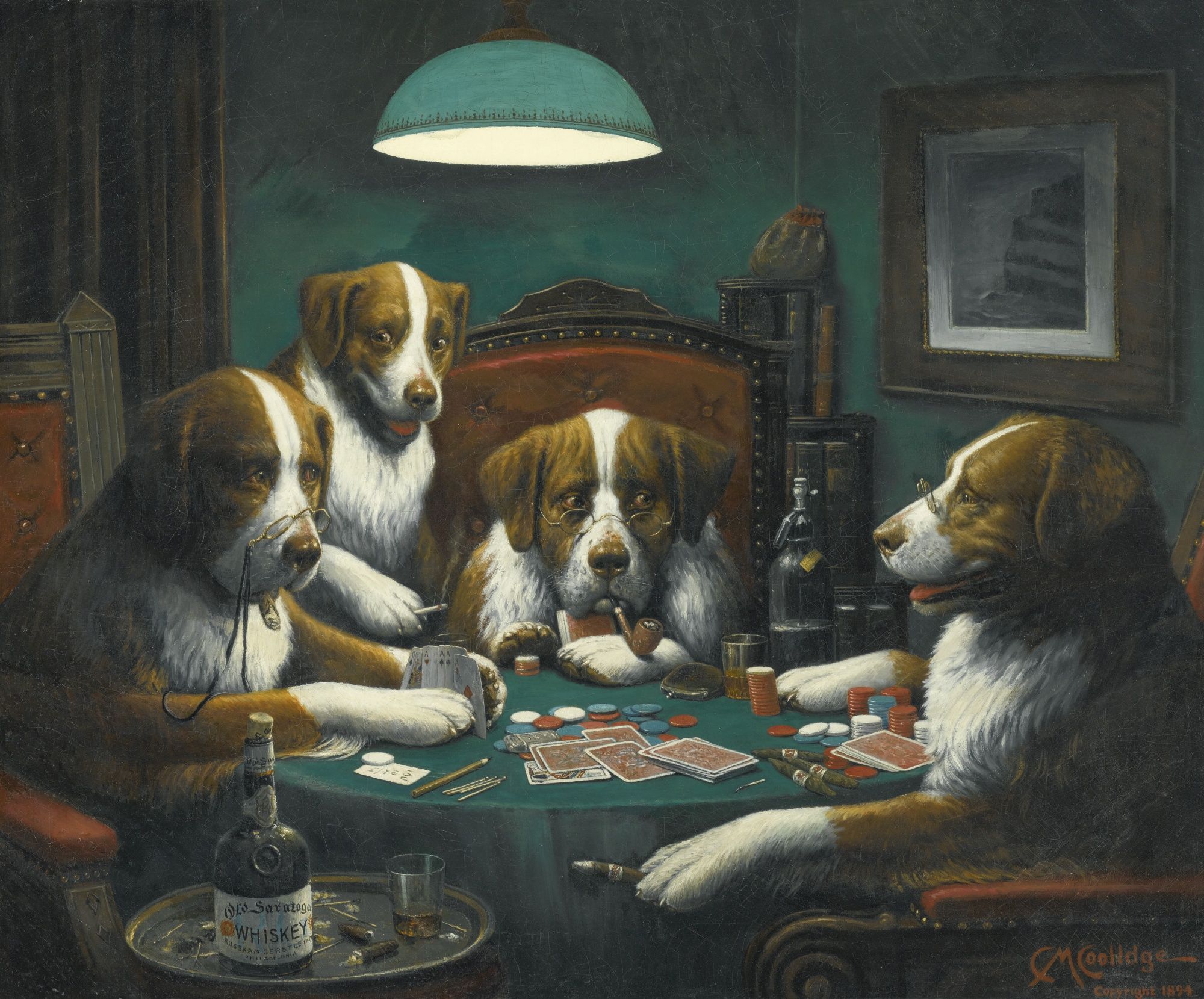 The advertising firm commissioned Coolidge to create 16 paintings for their advertising calendar. He came up with the anthropomorphic dogs as a humorous basis for his series. Included in the series were:
● A Bachelor's Dog – reading the mail
● A Bold Bluff – poker
● A Friend in Need – poker, cheating
● Breach of Promise Suit – testifying in court
● His Station and Four Aces – poker
● New Year's Eve in Dogville – ballroom dancing
● One to Tie Two to Win – baseball
● Pinched with Four Aces – poker, illegal gambling
● Poker Sympathy – poker
● Post Mortem – poker, camaraderie
● Riding the Goat – Masonic initiation
● Sitting up with a Sick Friend – poker, gender relations
● Stranger in Camp – poker, camping
● Ten Miles to a Garage – travel, car trouble, teamwork
● The Reunion – smoking and drinking, camaraderie
● Waterloo – poker
Coolidge Only Hit with One Other Piece
It is ironic that Coolidge's career is rooted in one major advertising campaign as he only ever had one other piece that garnered any kind of significant media claim while he was alive. That was the 1909 work, Kelly Pool.
After his success with the Dogs Playing Poker series, Coolidge became nearly oblivious in the art world. Few recognized his name, but his legacy has lived on. In 2006, two other pieces of work that he created for Brown & Bigelow, A Bold Bluff and Waterloo, sold at auction for nearly $600,000. It was expected that the two pieces would combine earned somewhere around $80,000. The haul was the most for a Coolidge work at that time. A previous piece sold for $74,000.
That record was broken in 2015 when Poker Game sold for $658,000.
Like most artists, often they are not recognized for their brilliance until long after they are gone. While the "Dogs Playing Poker" series may have been a cute idea a hundred years ago, it became one of the most historic and recognizable pieces of art on the planet today.