The phrase "instead of thousand words" invented American newspaper editor Arthur Brisbane in 1911. It is a simple combination of words that is suitable to many aspects of our lives – but especially to the iconic black and white photos. Sometimes a simple picture can tell a lot more about the past than long articles and chronicles. I am presenting you with the best historic black and white photos of all time
A woman with a baby carriage, equipped against gas attacks. England, 1938.

Elvis in the Army, 1958.

Animals as therapy, 1956.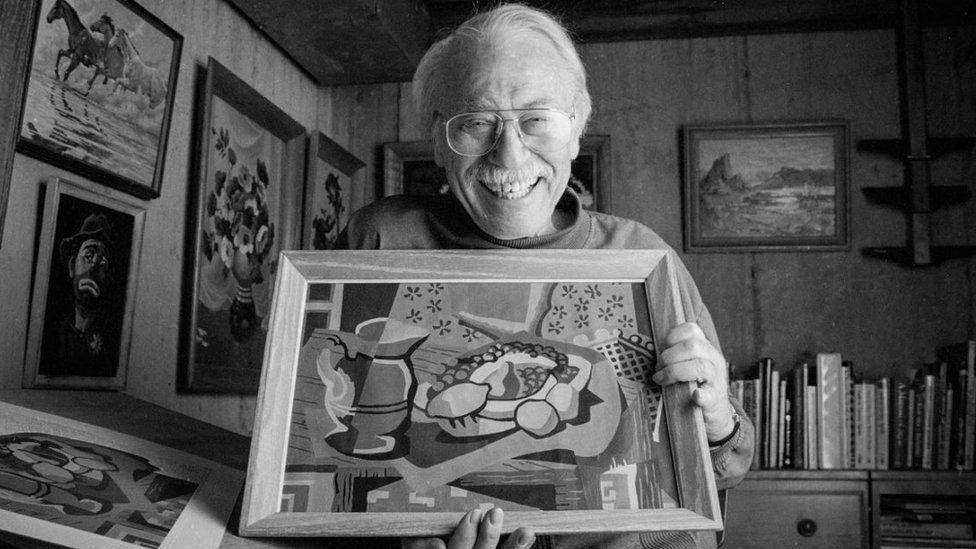 The last photo of the famous inventor Dan Robbins who invented the first paint by numbers kit in the 1940s. Thanks to him nowadays you can even get your own personalized paint by number. You can turn your photo into a paint by numbers and make your own painting.

Testing new bullet proof vests, 1923.

Charlie Chaplin at age 27, in 1916.

The Hindenburg Tragedy, May 6, 1937.

Circus hippo, harnessed to a cart, 1924.

Annette Kellerman's action for women to wear tight-fitting swimsuit piecework in 1907. Then she was arrested for obscenity.

Annie Edson Taylor – the first one who survived, breaking the Niagara Falls in a barrel, in 1901 (she was 63 years old!).

106-year-old Armenian woman guards the house in 1990.

Children's cells to a child living in an apartment, getting enough sunlight and fresh air, 1937.

The first Ronald McDonald, 1963.

Disneyland workers in Cafeteria, 1961.

Atabrine advertisement – antimalarial drugs – in Papua – New Guinea during the Second World War. The inscription on the sign: "These men didn't take their atabrine."

Soldier shares banana with a goat in the war on Saipan, 1944.

Girl with a doll in the ruins of her home after the bombing of London, 1940.

The unknown soldier in Vietnam, 1965. "War is hell".

Bookshops in London, which was destroyed by bombardment, 1940.

Walter Io – first person to undergo plastic surgery and skin grafts, 1917.

Sunbathing maschine, 1949.

Measuring the length of a bathing suit – if it is too short a woman will be fined, 1920.

Martin Luther King Jr. and his son taking away the burnt cross from the lawn of home, 1960.

The hotel owner pours acid into the pool, to disregard african's ethnic persuasion, 1964.

Lifeguard on the beach, 1920.

Prostheses, UK, 1890.

Mother and son looking at the mushroom cloud after a nuclear test in Las Vegas, 1953.

A penniless mother hides her face in shame after putting her children up for sale. Chicago, 1948.

Austrian boy just got new shoes as a gift. The picture was taken during the Second World War.

The officers and cadets from the army of Hitler celebrating Christmas, 1941.

Christmas dinner in the Great Depression: turnip and cabbage.

This Winnie the Pooh and Christopher Robin, 1927.

Last prisoners depart from Alcatraz Island, 1963.

Melted and damaged pieces after a fire at Madame Tussauds in London, 1930.

Chimpanzees after a successful flight into space, 1961.

Poured illegal alcohol during Prohibition in Detroit, 1929.

Princeton students after a Freshman / Sophomore snowball fight, 1893.

A beautiful suicide – 23 year-old Evelyn McHale jumped from the 83rd floor of the Empire State Building and landed on a United Nations limousine, 1947.

The first morning after Sweden traffic flow switched from left-side driving to right-side driving, 1967.