In Yvette Mayorga's "Surveillance Locket" series, the artist reflects on her childhood in the 1990s. She recalls a time before smartphones and social media when life was simpler. However, she also critiques consumerism and gendered labor in her work. Born and raised in Chicago, the artist applies paint in peaks, curls, and scalloped edges reminiscent of a richly adorned cake using tools like piping bags and tips. She creates each relief layer one step by mixing methods she picks up from baking shows and Instagram tutorials. "Cake decoration is a genuine craft that is very time-consuming," she adds.
The sense of labor that pervades Mayorga's work, as well as a theoretical framework that is as provocative as it is joyful: "The color pink has such significance to fragility and femme gender stereotypes that it weighs heavily. The perceived notion of labor that is assigned to piping and baking is also extremely gendered," she adds. "I'm implying that pink and baking work is intense. The hyper femme has a lot of power.
The artist uses tactile to create labyrinth-like playhouses allude to tiny, plastic clamshells known as Polly Pockets. At the same time, fields of elaborate textures define playhouses with intricate shapes. "It's a toy I've always desired," she explains to Freeyork. "For me, it symbolizes achieving an Americanness that as an immigrant's kid is frequently compelled to fit in." She reminisced about her childhood home and ornate rooms, stairwells, and Rococo flourishes that she appreciated while spending her summers in west-central Jalisco and Zacatecas, Mexico. The beautiful mansions, which include contemporary emblems like cartoon-style people and the televisions she watched MTV and Looney Tunes on, as well as frames displaying art historical works and selfies, are all part of her legendary style.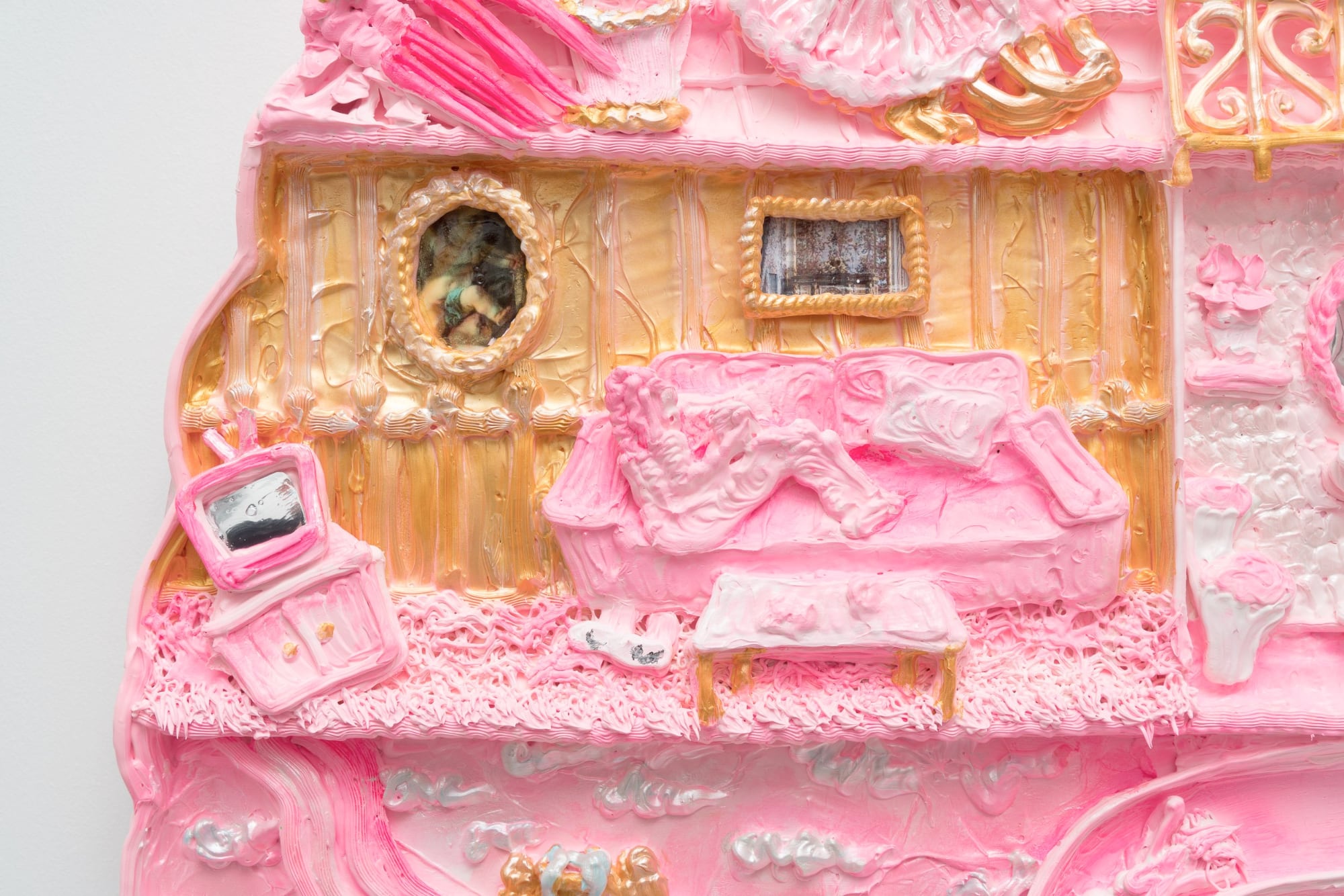 Mayorga's paintings, on the other hand, are considerably more severe. Beyond their quirky and amusing interpretations, his paintings contain heavier meanings. Toy soldiers are strategically placed at doors and beneath stairwells, creating an air of impending doom by concealing the works with "a sense of an approaching catastrophe" as the hidden characters observe the events about patrols along the United States-Mexico border. "I create surrealist worlds that are about the pink, decadent, playful, real-time, historic, surveillance, and consumerism when these two realms converge in my work. For me, the decadence becomes a surrealist in-between place that signifies my individuality because it is imagined and an ambition," she adds.
This year, you have several opportunities to view Mayorga's dioramas in person: she'll be at EXPO Chicago in April, a group show in Hong Kong this fall. She will debut her exhibition at Crystal Bridges The Momentary in October. At the end of this year, a commissioned work will be erected at O'Hare's Terminal Five. You can find out more about her other works on her website and Instagram.