You're starting to make summer plans. You're planting seeds and reapplying mulch and dreaming of barbecues and hammock naps. What better way to make the most of these lazy days than on your perfectly built and personally styled deck?
If you're beginning to plan a deck build for 2021, we've got some helpful tips – everything from under deck ideas to pergolas and patio seating. Building a deck or porch can enhance the exterior appearance of your home and add value, and with careful planning will last longer and ensure you enjoy it more fully.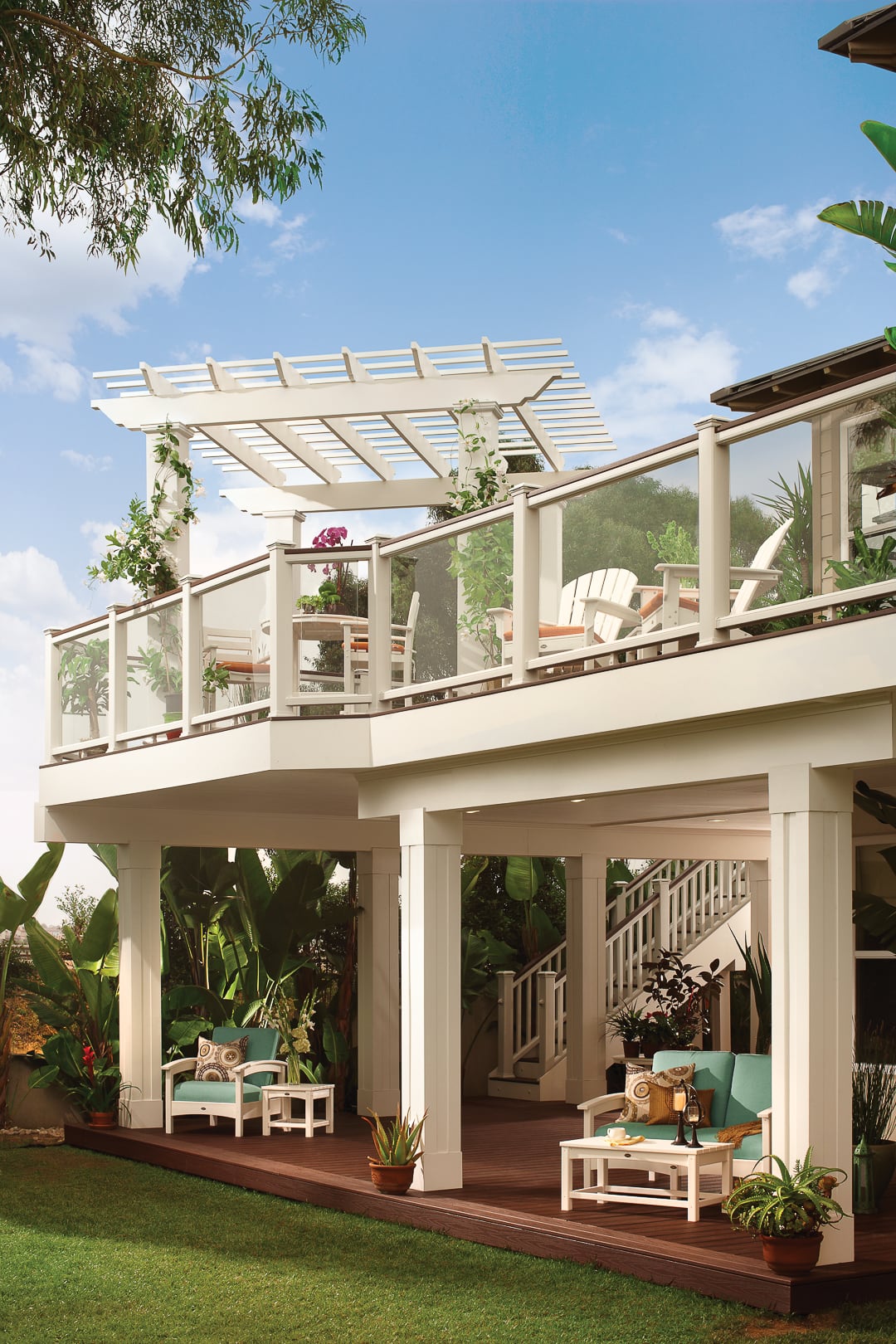 Consider your needs and desires
Think about how you might use your deck and your personal style. Answer the following questions to get started:
How often do I entertain? Will the deck become my go-to spot for friends and family?
How many people do I host at one time?
How is my house situated? What's the best position for my deck to create shade or catch all the sunrays?
Is there a natural entry for my deck?
Do I need a two-story deck or will it be more ground level?
Do I prefer a more inexpensive wood option that will require sealing every couple of years or a more expensive composite deck that is virtually maintenance free?
Do I want something basic for dining al fresco or something elevated that includes amenities?
As you begin to dream, visit different online galleries for inspiration. Save photos that illustrate your style. Use those to talk to builders to get pricing and to select materials. 
Do not forget to leave some space for your little guests as well. It's all too easy to forget about the little guests when planning to spend summer with friends. Including some entertainment when restyling your yard would be a great idea. Inflatables of any size and shape in form of bouncy houses and slides, or a playing space with several toys and chairs will attract your guests. So adding some touch of kid-friendliness will make your adult guests entertained when the little ones will enjoy their part of the excitement.
Compare your options
As mentioned above, one of the first decisions you'll need to make is concerning materials. Should you go for composite deck boards or an all-wood deck? Composite boards are made of recycled plastics and often come with a guarantee up to 25 years. If you choose wood, select treated boards and consider varieties that are more weather and insect-resistant.
Today's railings come in a variety of materials, including metal and vinyl, as well as plexiglass panels. Consider what materials will best complement your home and the environment around it. Many urban decks use mixed materials, especially wood, metal and stone. Keep in mind that multi-platforms and raised decks will cost more than single level or ground-level decks.
Know your budget, which will aid in defining what you can include and what you should leave out. Use an online calculator to get a ballpark idea of what materials will cost. While it's always less expensive to DIY a home improvement, consider whether you have the skills and knowledge to take on building a deck. If you're hiring a pro, get a couple of estimates.
Once you have a plan, consult with your local authorities. Raised decks and many ground level decks require a building permit.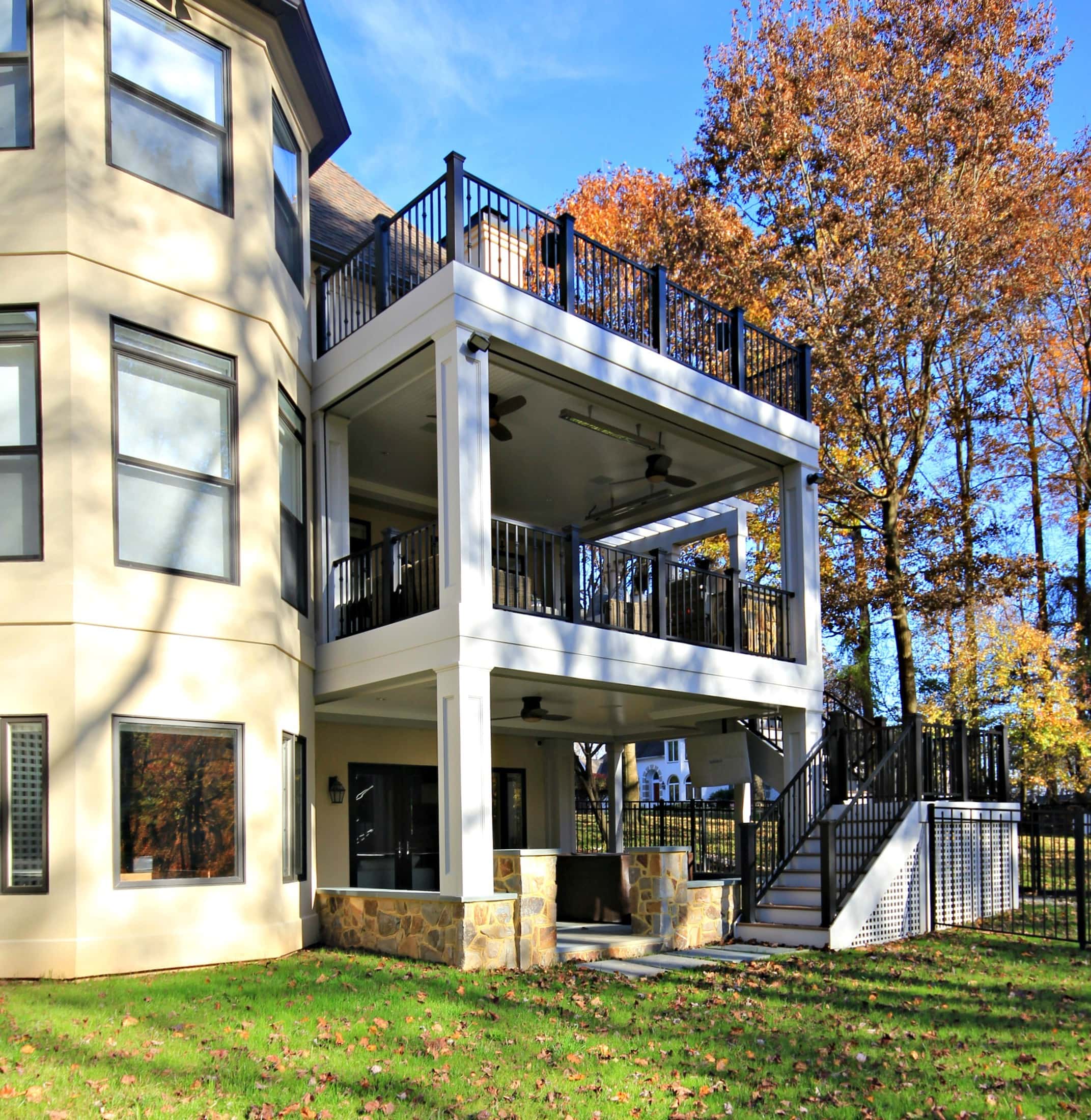 Consider amenities
Look up. Add a canopy, trellis, pergola, awning or umbrellas to offer shade and beauty. If you live in warmer climates, curating a shady spot for dining and reading will make your space more pleasant and accessible. If you have the option, add a roof, which makes it easier to install ceiling fans and lighting.
Look down. With a two-story deck, meaning your deck is elevated enough to create a room beneath, you might add a drainage system to create dry space under your deck. An under-deck drainage system uses a network of gutters and troughs to keep rain, spills and snowmelt from dripping through your deck boards. Once you've created a dry space, you can install a host of fun features for entertaining, relaxing or storage!
Light it up. The right lighting can take your outdoor living experience to the next level with beauty and ambiance. Your deck will also be safer, more enjoyable and more usable year-round.
Eat outdoors. Consider adding a full outdoor kitchen or simply roll out a portable cart for your next dinner party. Go as simple or luxurious as you like — with a basic propane grill or a fancy prep station and full refrigerator. Make sure you plan for seating and a table large enough to fit all of your guests.
Entertain al fresco. Install an outdoor TV and set up comfortable seating and your friends will never leave. Don't forget the sound system!
Style it up. Paint or stain the wood deck boards in a fun design or buy composite decking in different complementary hues. Decorate with pops of color and comfy couches. Add an outdoor rug and pretty accents such as lanterns or succulents. Planter boxes give your garden room to grow. Many designs can be built in a day or less. Be sure to provide good drainage in your planters by filling them with rocks and drilling holes in the bottom. If you use containers, set them on risers rather than on your deck boards to avoid moisture damage.
The average cost of building a 200-500 square foot deck is about $7,000. Make the most of your investment with a bit of planning. Dream about what you could build and then go for it!