Multidisciplinary creative studio Atmos located in London was commissioned to design and produce the exuberant centerpiece stairs that weave between the three levels of experience in HIDE bar on Piccadilly Road, London. The stair's design delivers a plant-like structure which grows like an irrepressible life-force from beneath, bursting out of the shadows of their cellar towards the daylight above. 'stairstalk' unfurls in the 1st-floor level, as if reuniting using its vast household of arboreal brethren in green park nestling just past the full-height scenic glazing fronting Piccadilly.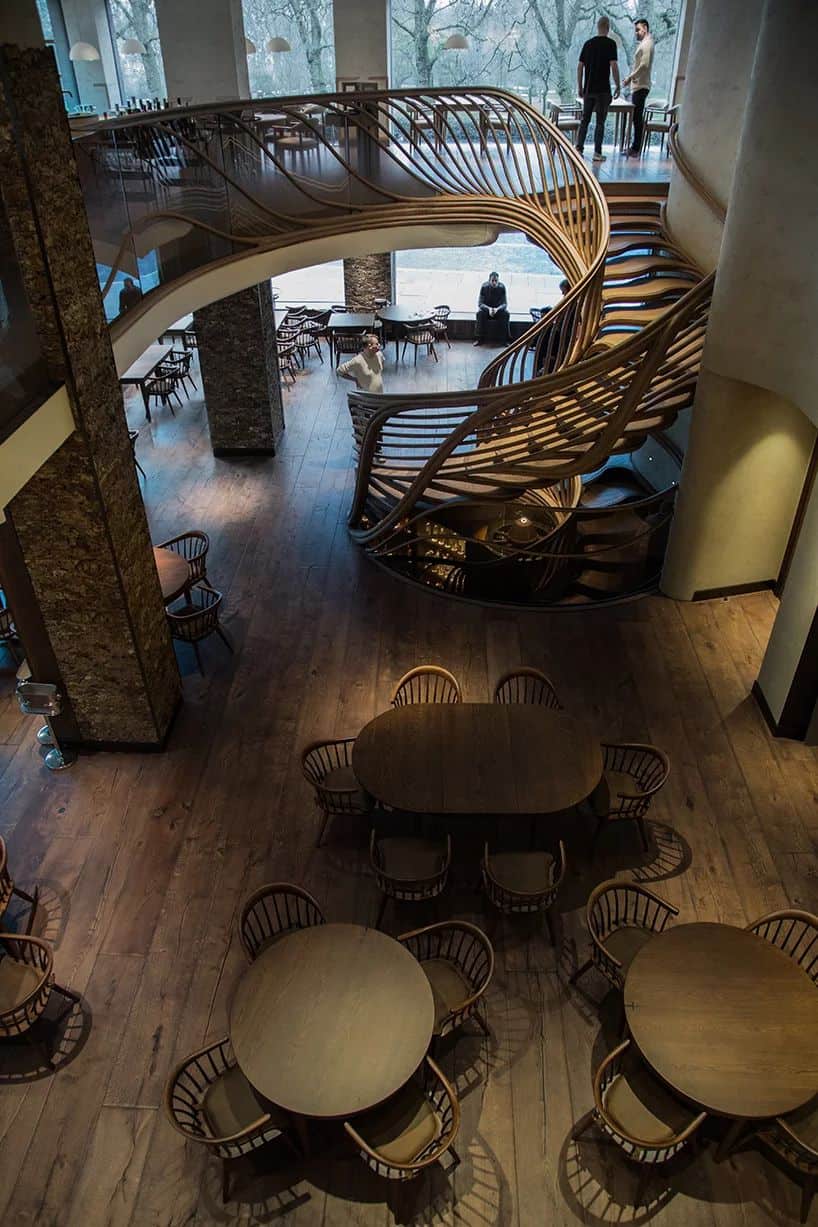 Stairstalk's whole surface is made of European walnut; the most critical structure has been layered from glued pieces of thin oak veneer, laid and laminated together against curved molds then hand-sanded into shape to shape an elaborately-curving lumber structure whose visible grain lovingly communicates its route. Atmos' evolving layout took its cue from the natural palette, playful imagination, and keen aesthetic developed by the interior designer and the project customer.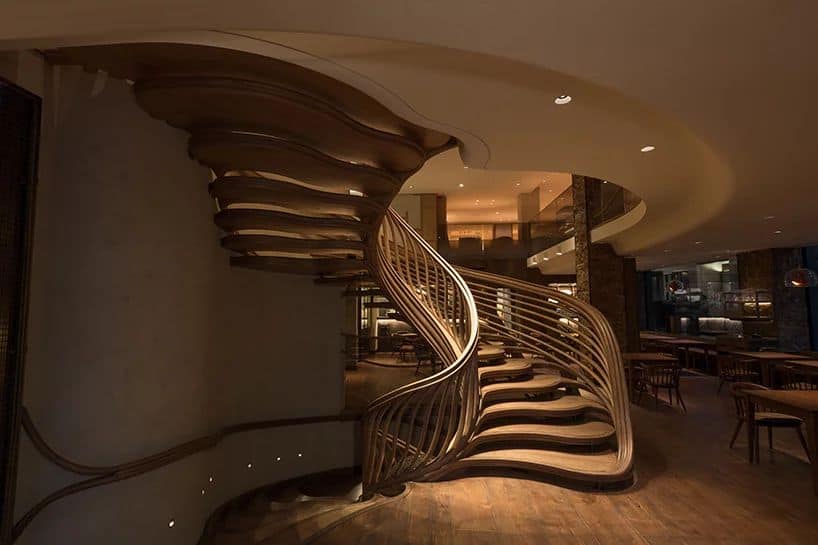 The stair slides along a smooth bar wall to its left before this cedes in the coil's center into a circular glass-domed beer-hop rummager, especially referred to as a hand-turned cast-iron set of cogs that mention the distilling process — and permit the barman to rotate and access the bottles inside. On its other side, the wall flanking the hidden elevator undulated and protruded to inflect the stair geometry, just as both ceiling borders meeting the stair also undulated to meet it.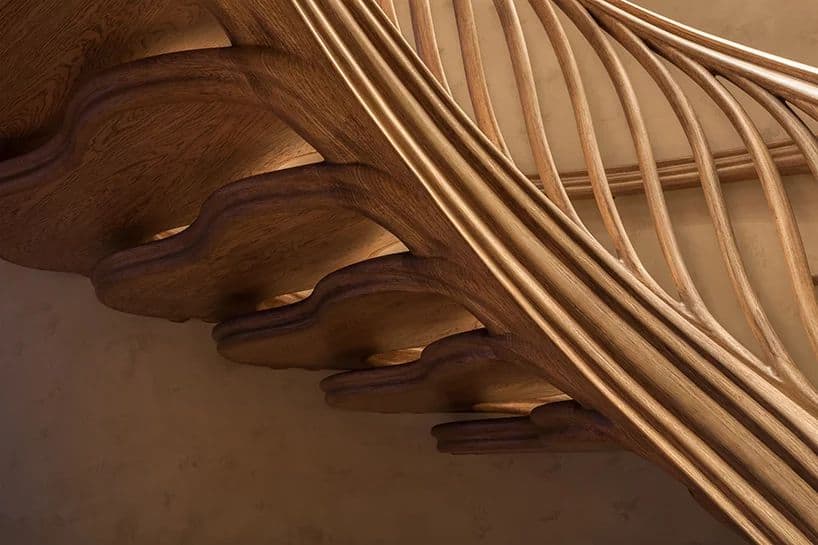 The inner balustrade split where it strikes the ground level to form a fibrous offshoot that encircles the stair void, bifurcating to continue upwards as the major stair stem, but additionally unwrapping to form front nosing of the tread only 1 step upward, which subsequently further bifurcates to not only wrap around the border of the 1st floating tread (eventually mixing back into the stringer where it sprung, its fibers invisibly flawlessly together with the ridges of its underside), but also then climbing as a robust thick strand which eventually forms the outer handrail, gliding up before wrap around the wall to the lift. The tread geometries were assembled from pure arcs, conjoined tangentially and effortlessly in their tips, for simplicity of transcribing drawings into fabricated elements.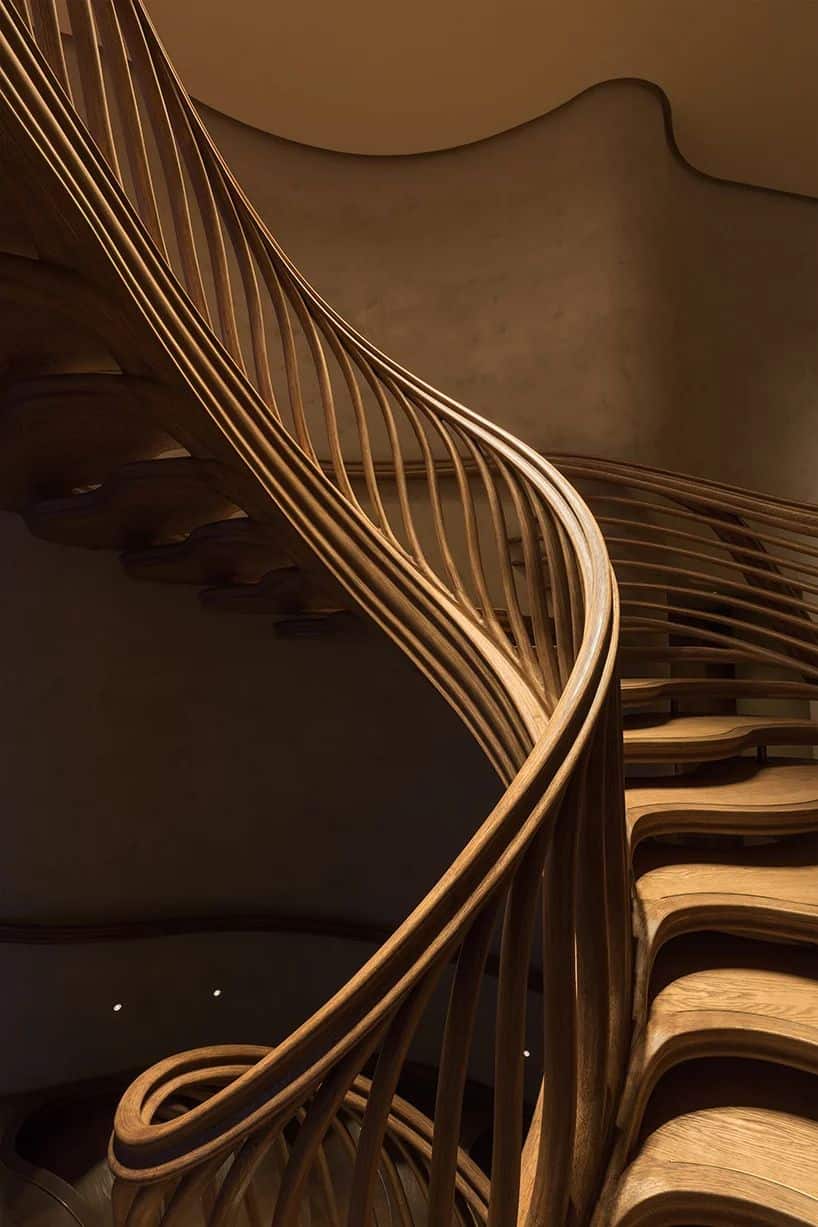 The oak was slightly darkened with natural stains and oils to help reveal its grain, brushed on thicker and more densely in regions of desirable contrast, which also helps ease optical navigation of the stairs' heady forms. The concealed metal center, structurally required to permit the stair to float upward free from constraint at the walls, is permitted to shimmer through briefly at front nosings. All floating cantilevering treads above floor level were fortified with 10-15 mm layers of stainless steel plate, which were further sheathed in plywood and interconnected with short, thin steel stubs — reinvigorating the structural principle under which cantilevered stone treads were traditionally reinforced.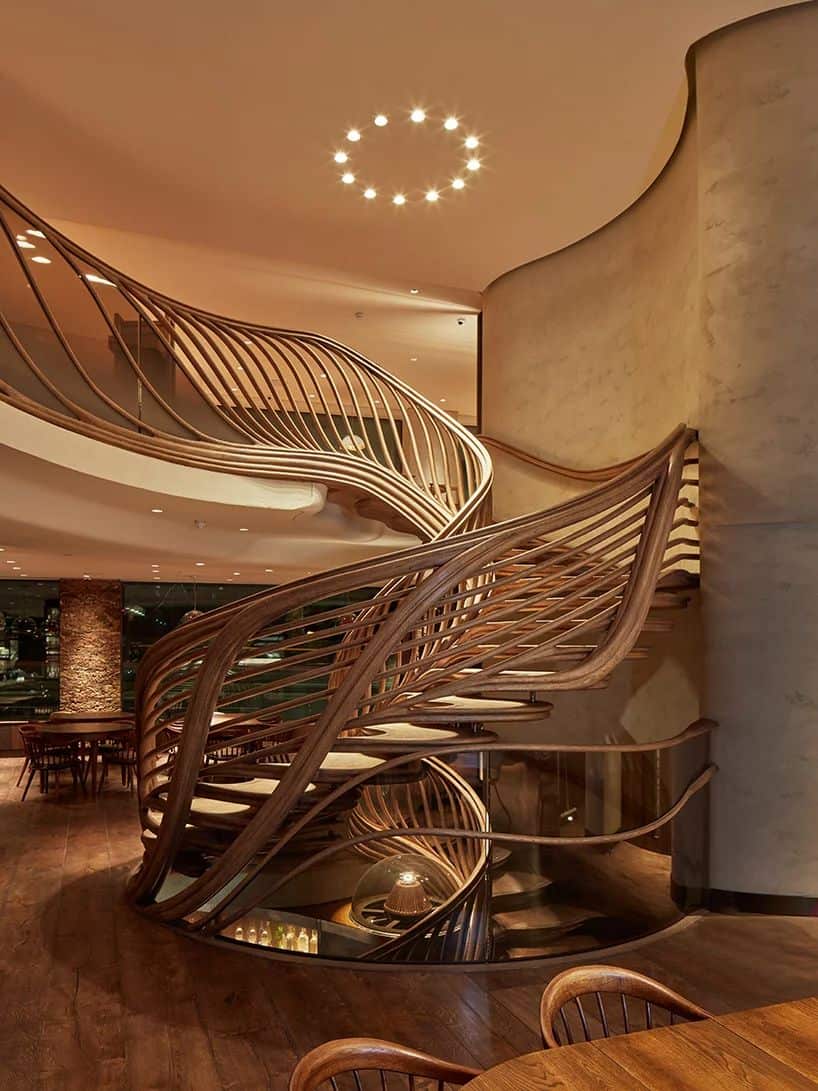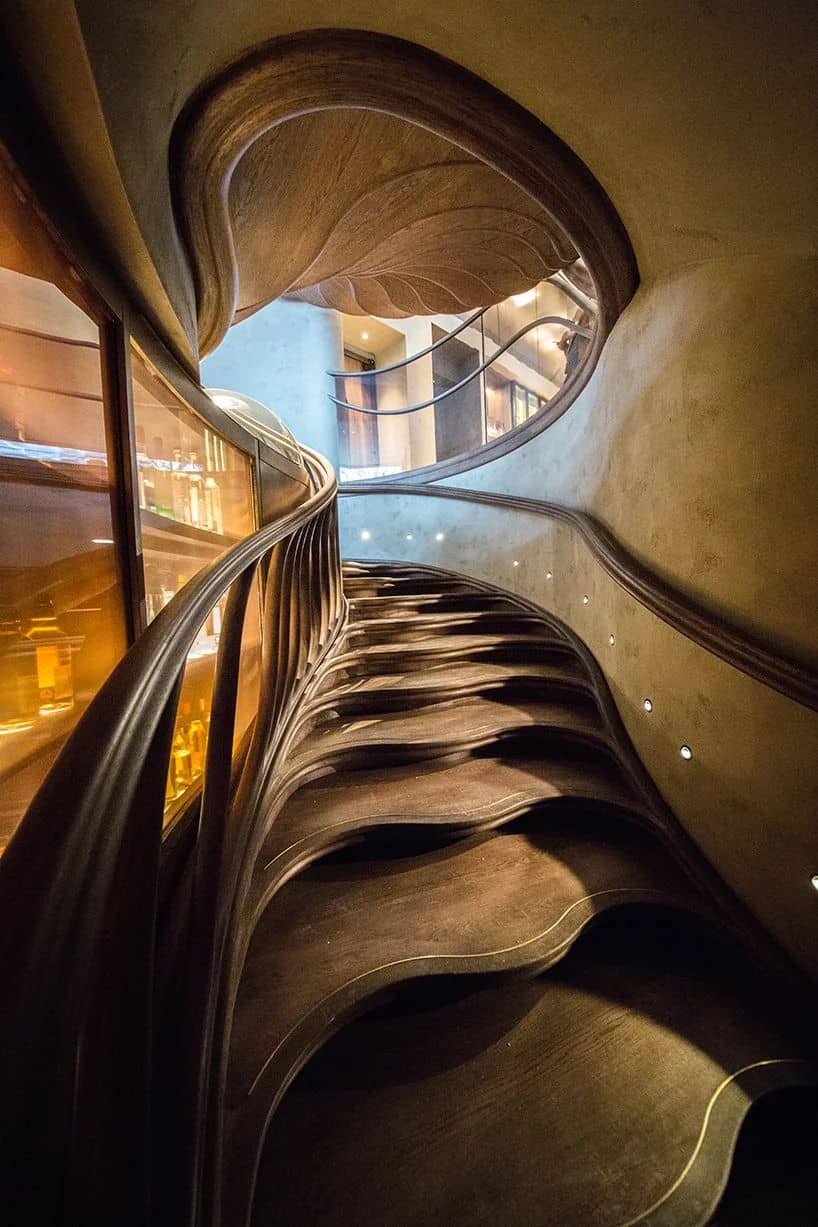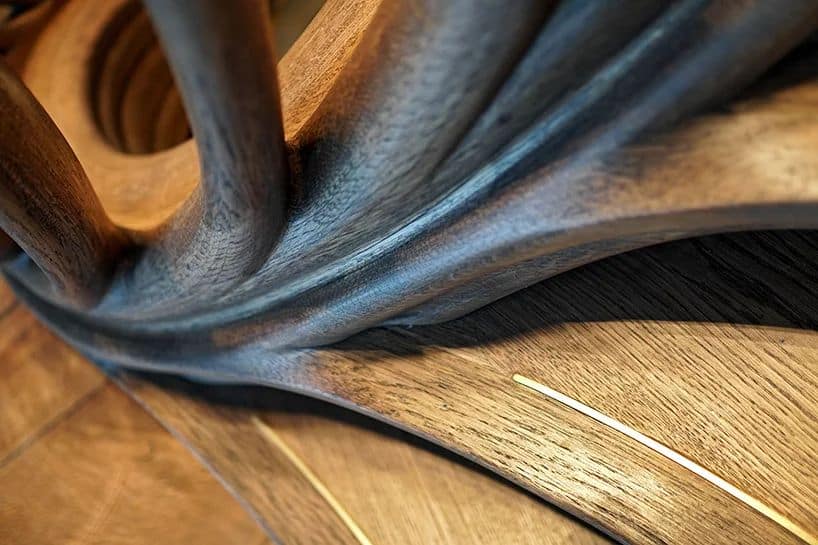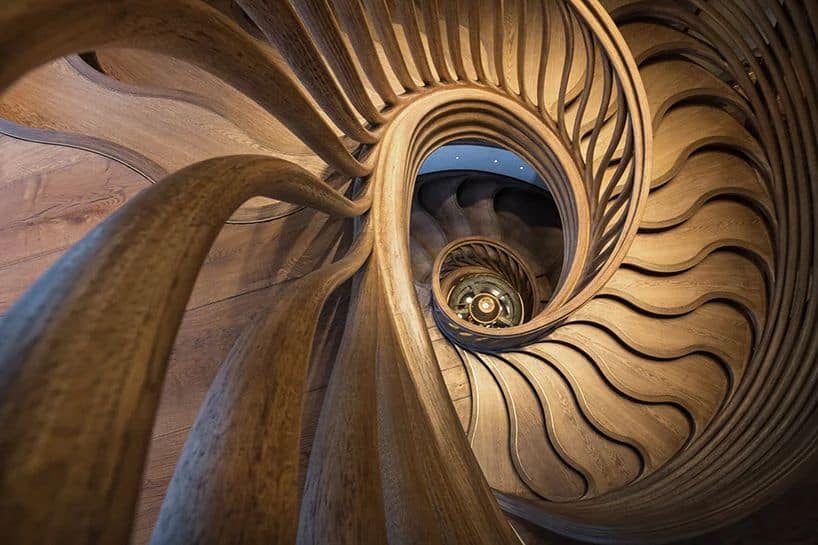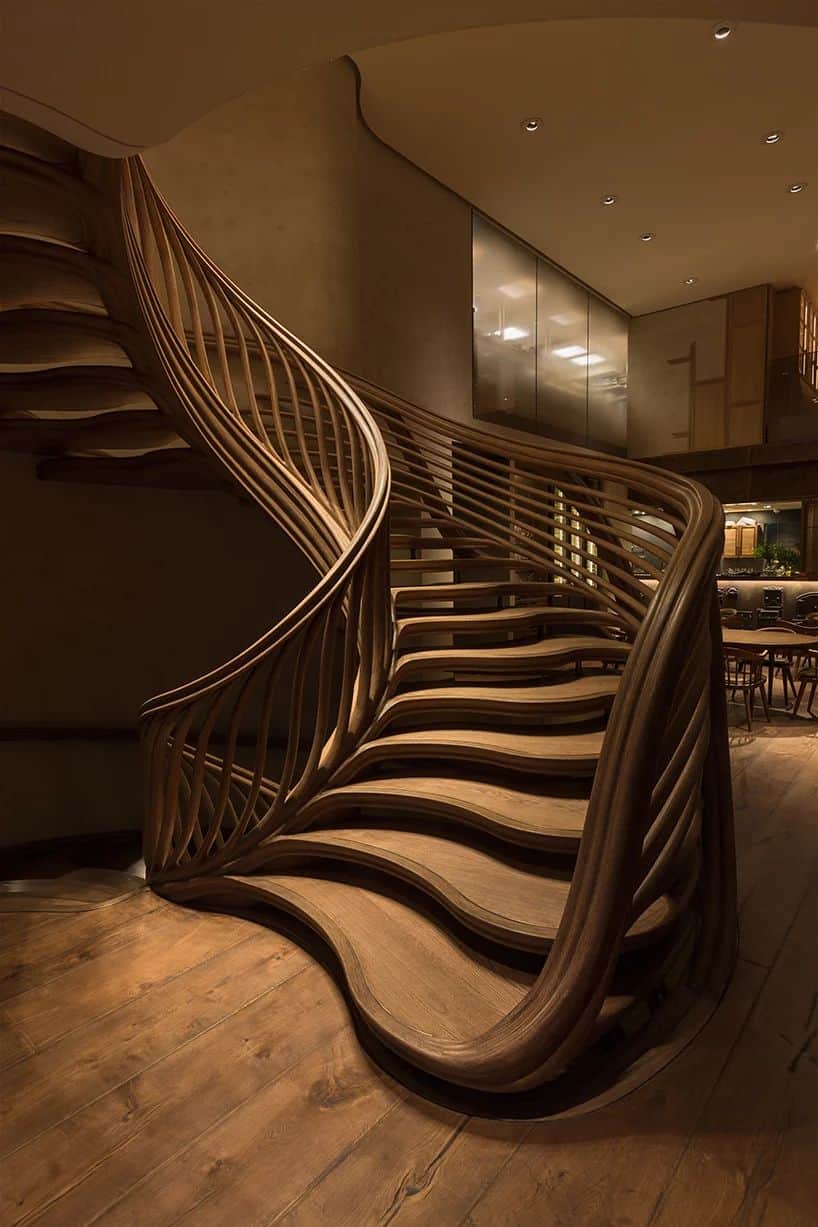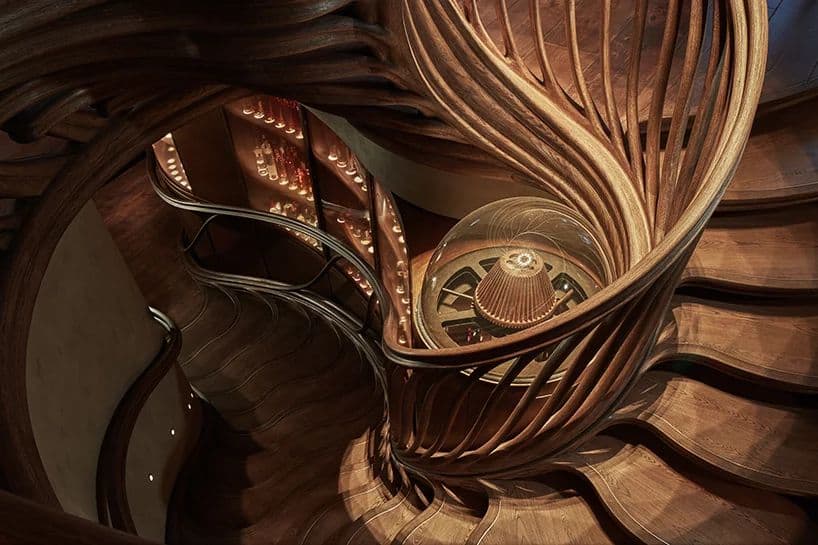 h/t designboom