1. Iron Man
A woman kisses Iron Man at a booth during the 2013 International CES at the Las Vegas Convention Center on Jan. 10, 2013 in Las Vegas.

via mashable.com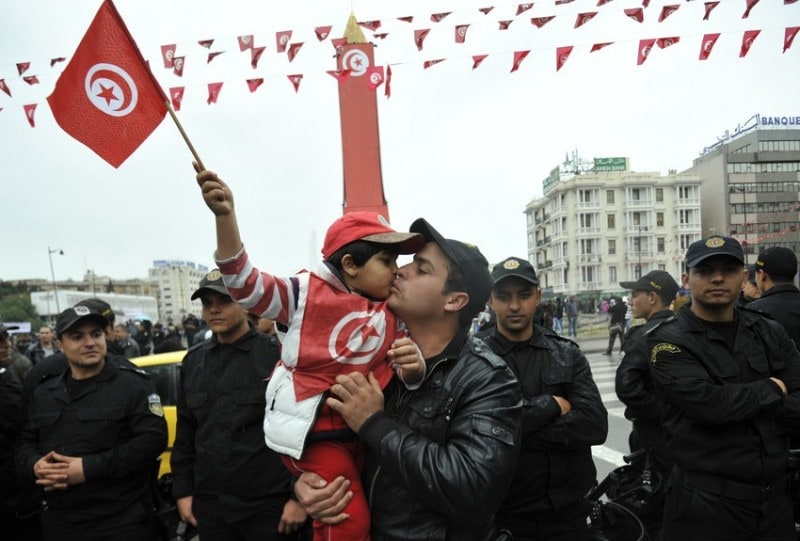 2. Celebration
A Tunisian kisses a boy holding a national flag during a gathering as part of the festivities marking the second anniversary of the uprising that ousted long-time dictator Zine El Abidine Ben Ali on Jan. 14, 2013 in Tunis.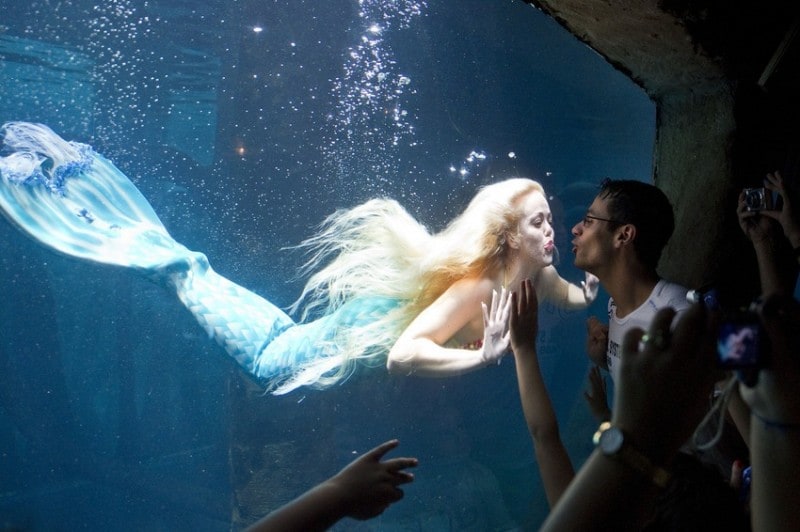 3. Mermaid
Visitors watch Mirella Ferraz, known as Brazilian mermaid, as she swims with fish in a giant tank during a show at an aquarium in Sao Paulo, Brazil, on Feb. 10, 2013.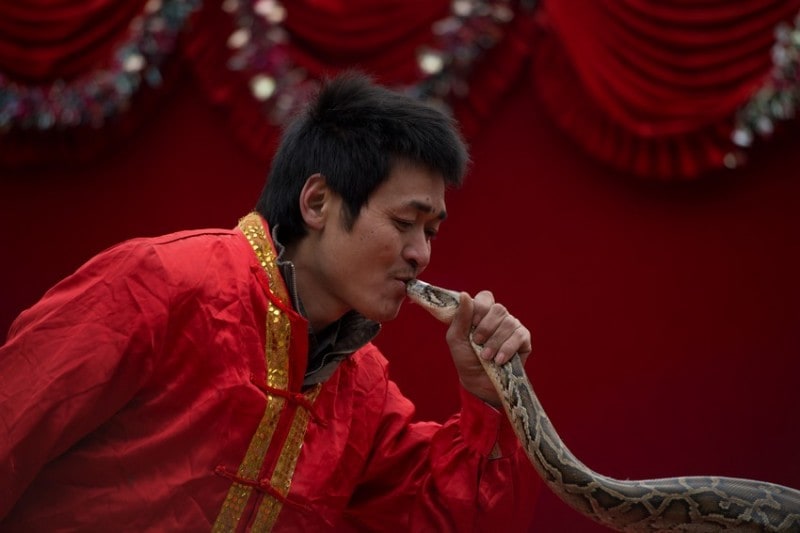 4. Chinese New Year
A performer kisses a snake during a show at a fair as part of lunar new year festivities at the Temple of Earth park in Beijing on Feb. 11, 2013.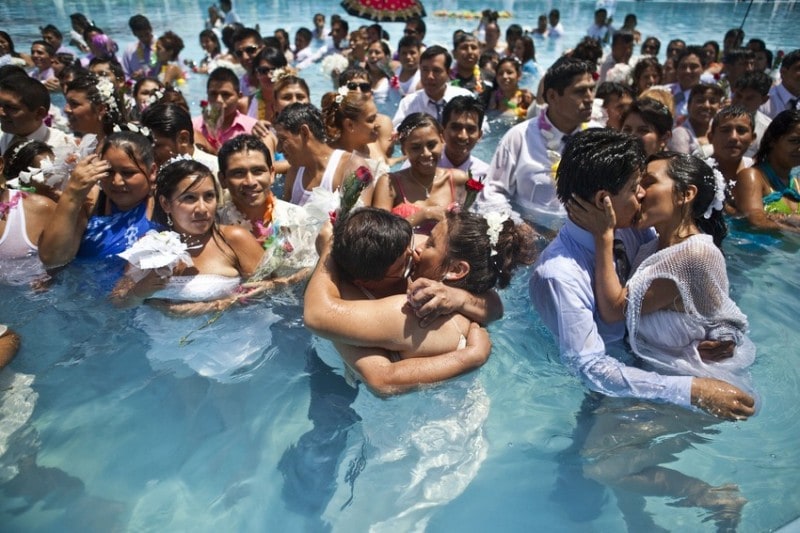 5. Mass wedding
Couples kiss inside a public pool during a mass wedding on Valentine's Day in Lima on Feb. 14, 2013. Over 200 couples participated in a community civil marriage organized by the municipality of Comas, northeast of Lima.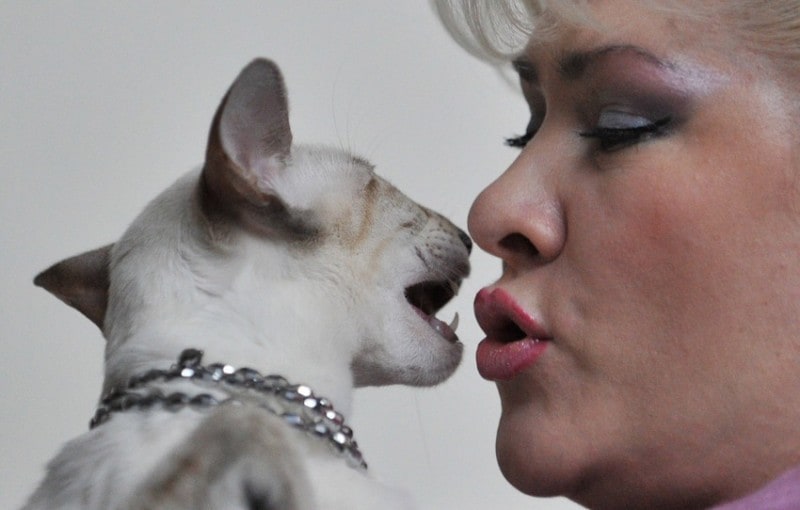 6. Catty Kiss
A woman kisses her Sphynx cat during a cat exhibition in the Kyrgyzstan's capital Bishkek on Feb. 16, 2013. Cats owners from Kyrgyzstan, Kazakhstan and Uzbekistan gathered today in Bishkek to show off their pets.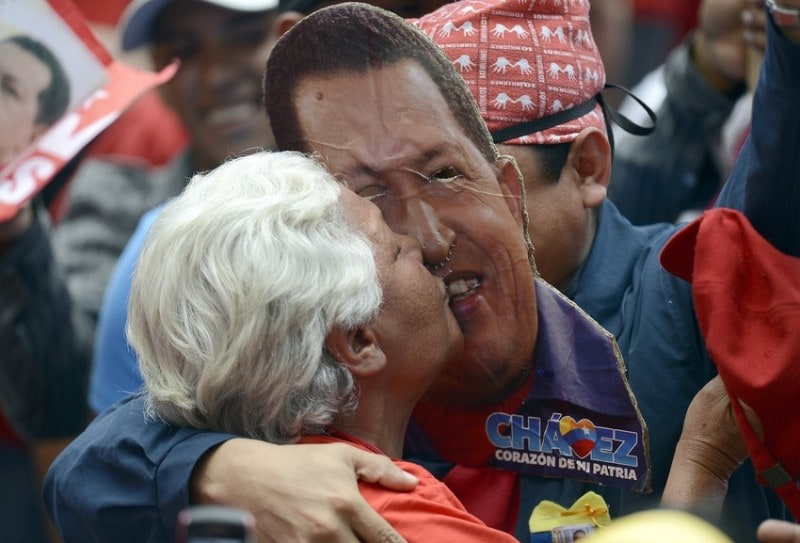 7. Commemoration
A woman kisses a supporter with a mask of Venezuelan President Hugo Chavez during a rally in Caracas on Feb. 27, 2013, to commemorate 24 years of the Patriotic Rebellion of 1989.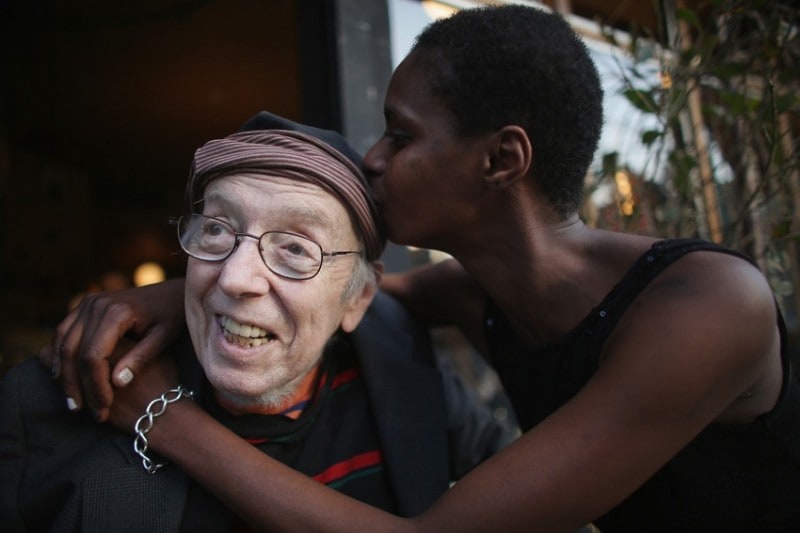 8. Moving out
Kadia Sy kisses Taylor Mead, an iconic Beat generation poet and star of films by Andy Warhol and others, while posing at a gathering of friends on the day Mead moved out of his longtime apartment on April 9, 2013 in New York City. Mead had lived in the $380/month apartment for 34 years and was battling with a developer who is converting the rest of the building's apartments into market rate apartments.

9. Spanish Couple
A couple kiss in the Ramblas in Barcelona during Saint George's day on April 23, 2013. Traditionally men give women roses and women give men a book to celebrate the Catalan holiday also know as "The Day of the Rose" or "The Day of the Book."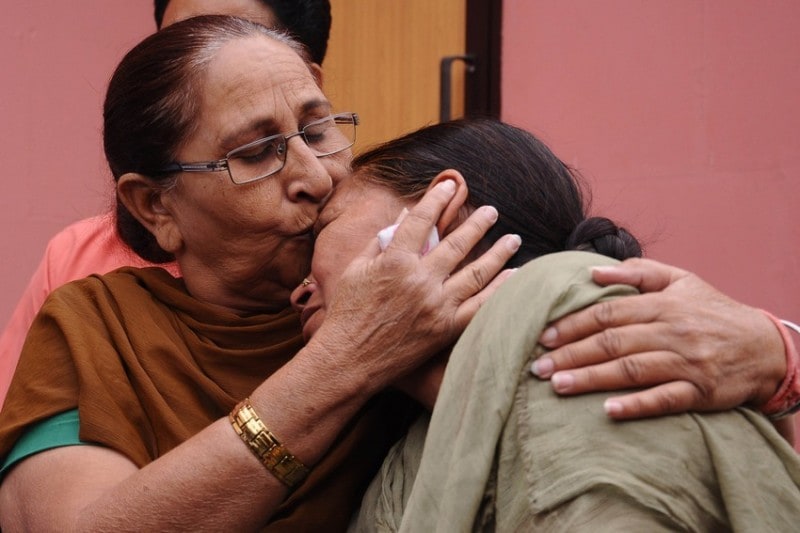 10. Comfort
Dalbir Kaur, sister of Sarabjit Singh, an Indian prisoner held in Pakistan, kisses Singh's wife Sukhpreet Kaur during a press conference in Amritsar on April 27, 2013. Sarabjit Singh is facing the death penalty in Pakistan on espionage charges.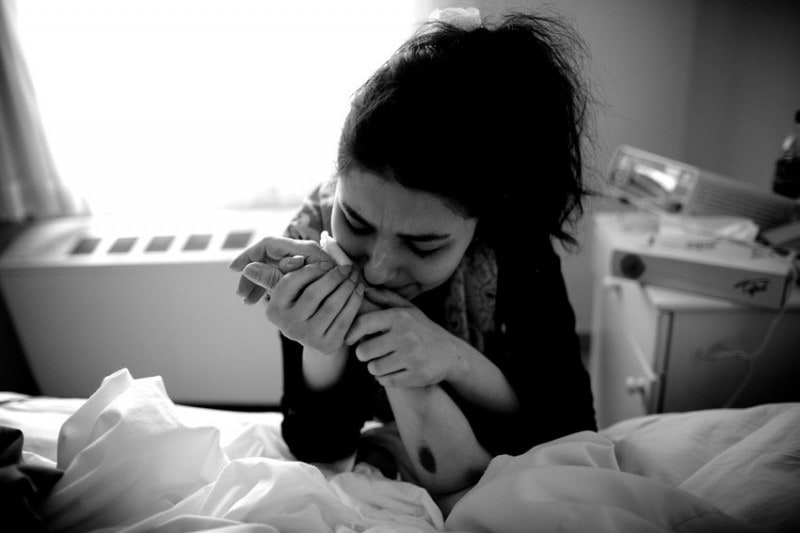 11. Final moments
Iranian Sara cries as she kisses the hand of her mother Soheila Mehri, who suffers from breast cancer, in a hospital in Tehran on April 11, 2013.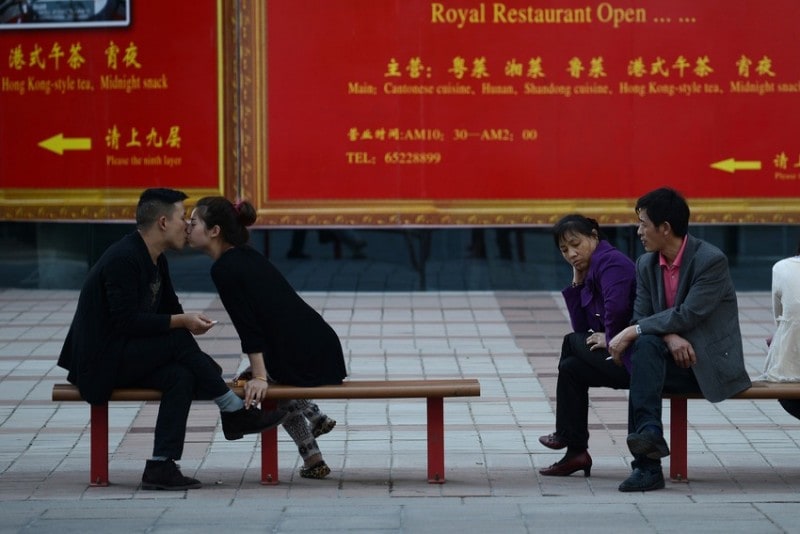 12. Chinese Couple
A couple kiss as they sit on a bench by a road in Beijing on May 10, 2013.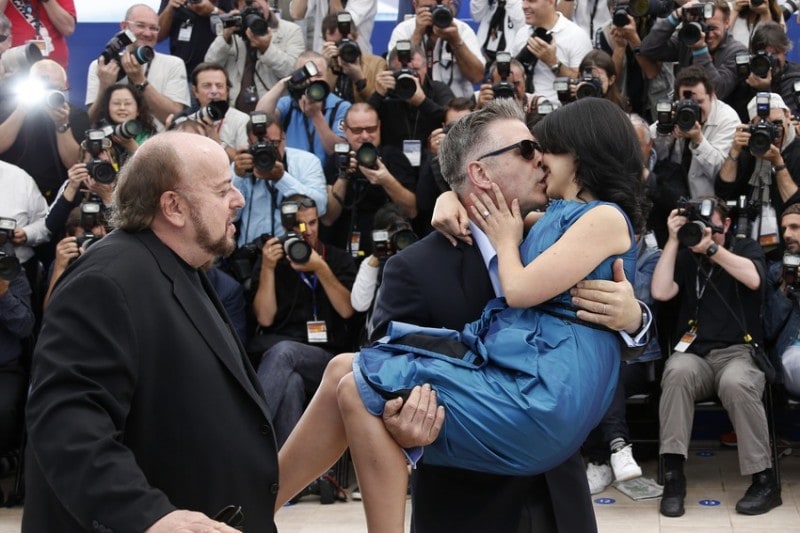 13. Celebrity Love
Alec Baldwin kisses his wife Hilaria Thomas on May 21, 2013 during a photocall for the film 'Seduced and Abandoned' presented Out of Competition at the 66th edition of the Cannes Film Festival in Cannes, France.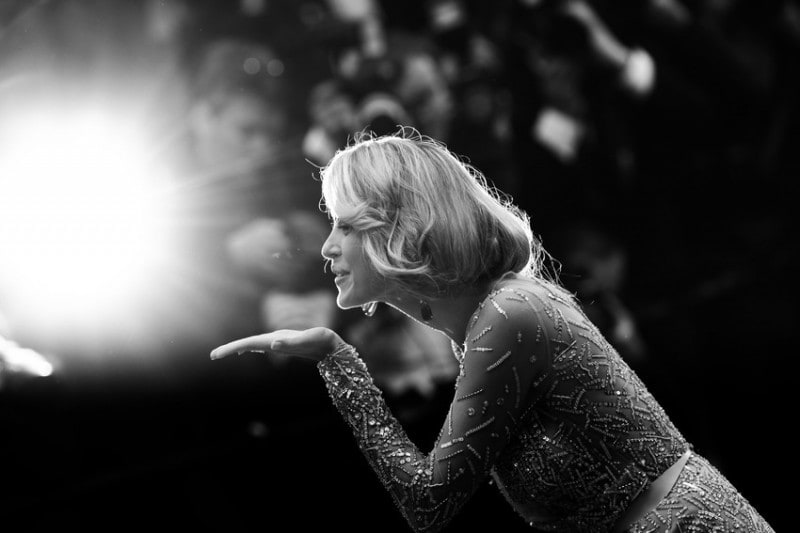 14. Alternative view
Petra Nemcova attends the 'All Is Lost' Premiere during the 66th Annual Cannes Film Festival on May 22, 2013 in Cannes, France.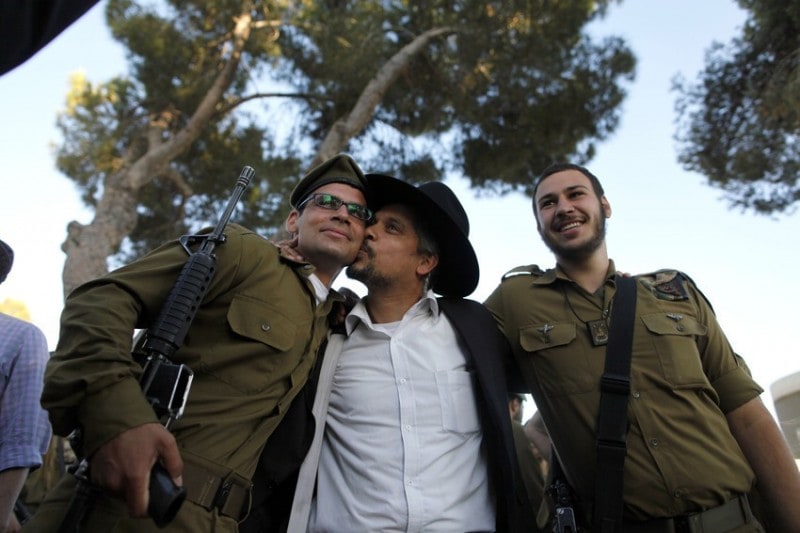 15. Graduation Day
An ultra-Orthodox Israeli jew kisses an ultra-Orthodox soldier after a military graduation ceremony on May 26, 2013 in Jerusalem, Israel.

16. France's First Official Gay Marriage
Vincent Autin and Bruno Boileau kiss on a balcony in front of the crowd after their marriage, France's first official gay marriage, in the city hall in Montpellier on May 29, 2013. France is the 14th country to legalise same-sex marriage, an issue that has also divided opinion in many other nations.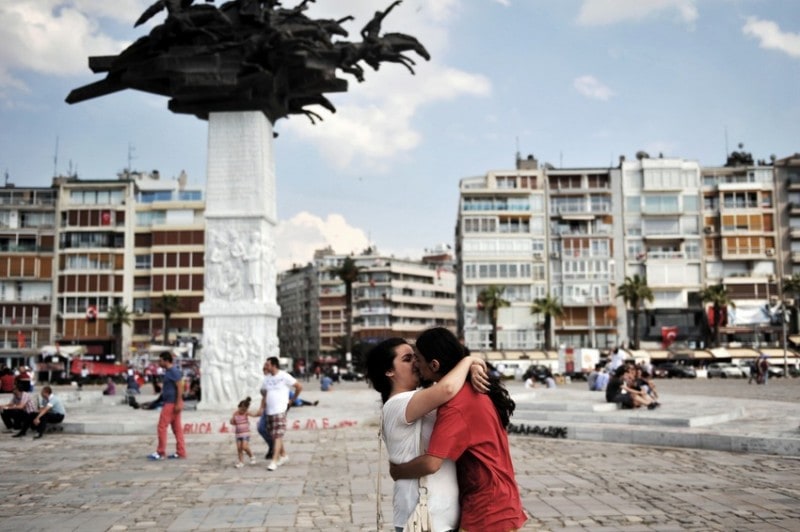 17. Protesters
A couple kisses in Gundogdu square in Izmir on June 9, 2013 where demonstrators have been camping out as part of anti-government protests across Turkey.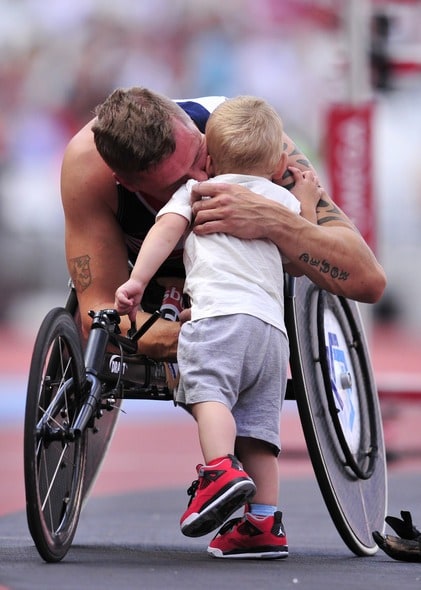 18. Paralympics
David Wier of Great Britain embraces his son Mason after he won the mens T54 mile event during the International Para Challenge in the London Anniversary Games at the Olympic Stadium in London on July 28, 2013.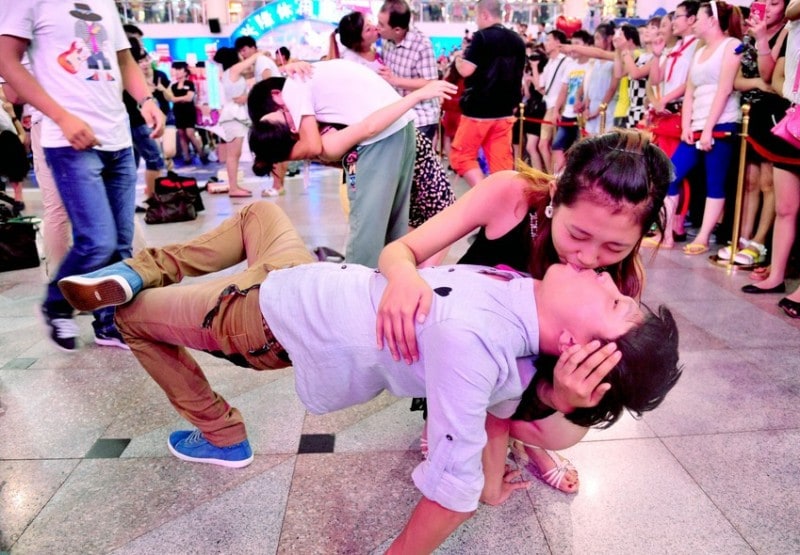 19. Kissing Contest
This picture taken on Aug. 13, 2013 shows couples attending a kissing contest during the traditional Qixi festival in Shenyang, northeast China's Liaoning province. The Qixi Festival, or Chinese Valentine's Day, falls on the seventh day of the seventh lunar month and dates back over 2,600 years and is a popular and auspicious wedding date for Chinese couples.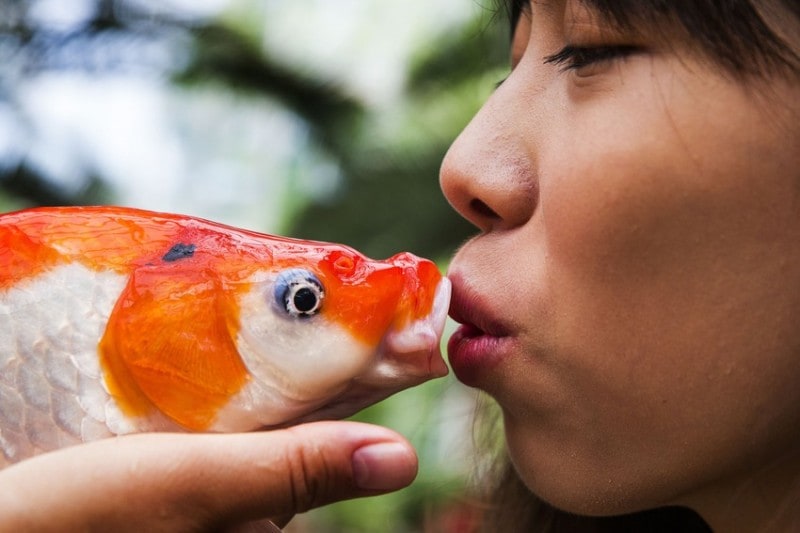 20. Something's fishy
Taiwan's Evelyn Chu kisses a koi before it is placed in the water of a pond of Kasteeltuinen, an estate in Arcen, The Netherlands, on Aug. 14 , 2013. The gift of the Taiwanese government marks the start of the Holland Koi Show, the largest koi and pond event in the world, held from Aug. 16 to 18.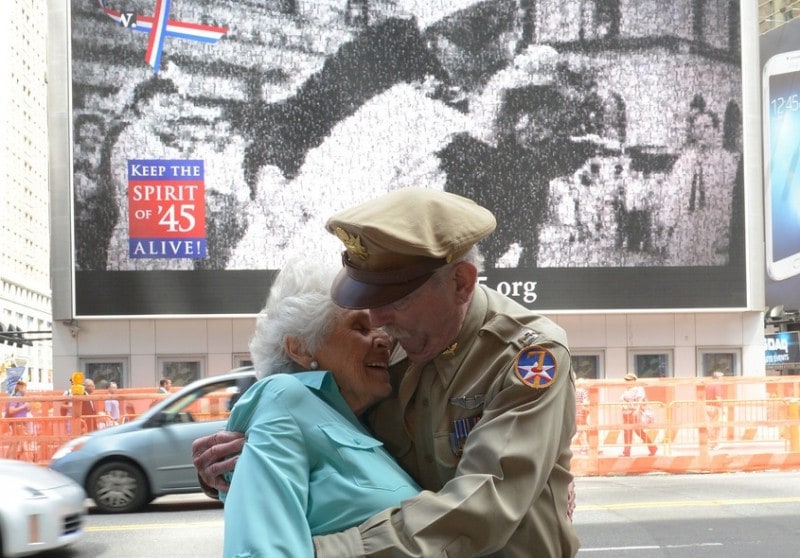 21. History Reennacted
World War II fighter pilot Jerry Yellin and WWII veteran nurse Gloria Bullard reenact the famous "Times Square Kiss" image to celebrate the anniversary of Victory over Japan Day (V-J Day), in New York, Aug. 14, 2013.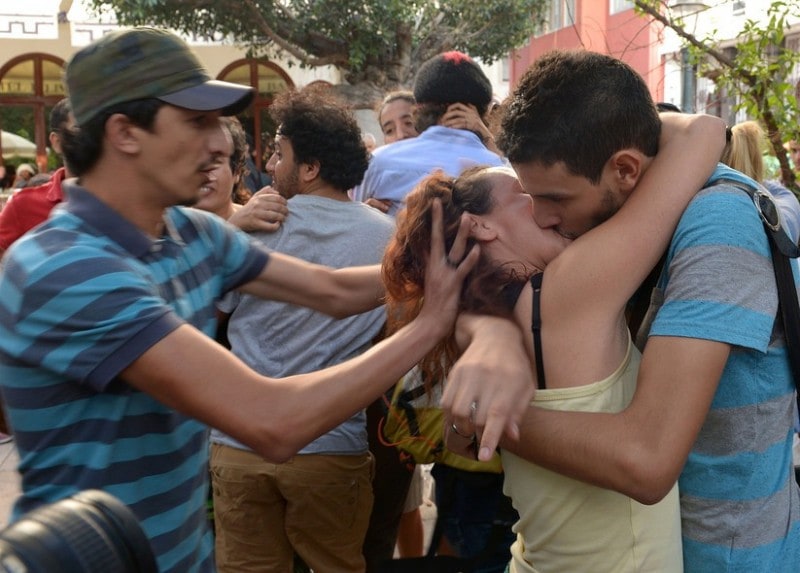 22. Kiss-In Protest
A man tries to stop a couple from taking part in a 'kiss-in' outside the parliament in the Moroccan capital Rabat on Oct. 12, 2013. The event was organized by Moroccan activists in protest at the arrest and trial of three teenagers for 'violating public decency' after posting photos of two of them kissing on Facebook.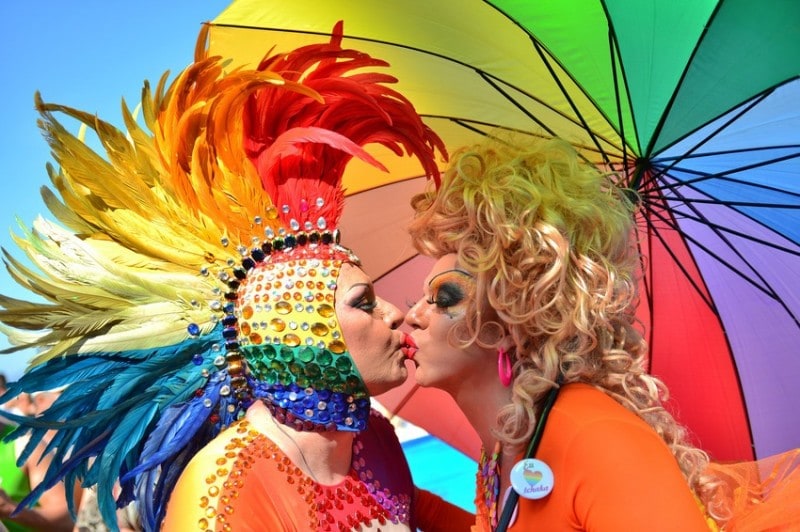 23. Gay Pride
Two transvestites kiss during the gay pride parade at Copacabana beach in Rio de Janeiro, Brazil on Oct. 13, 2013.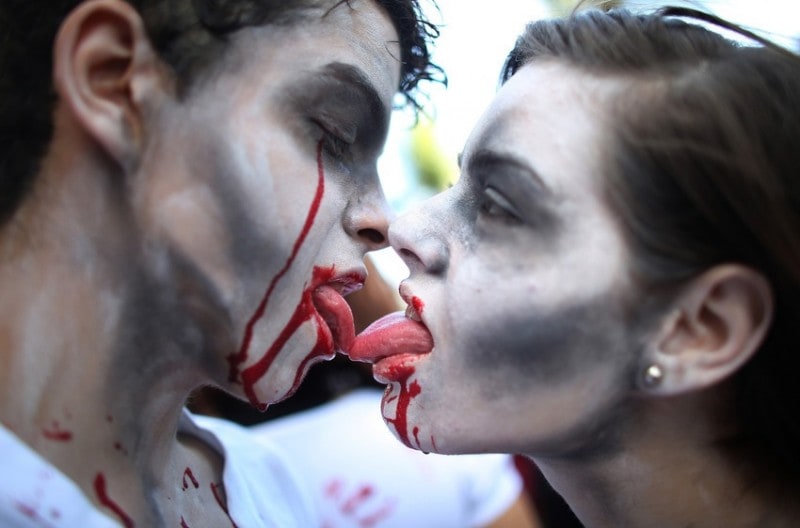 24. Day of The Dead
People dressed as vampires kiss while posing before a 'Zombie Walk' along Copacabana Beach during Day of the Dead festivities on Nov. 2, 2013 in Rio de Janeiro, Brazil. Brazilians often mark the traditional Latin American holiday by visiting loved ones' graves while the Zombie Walk offers a modern twist.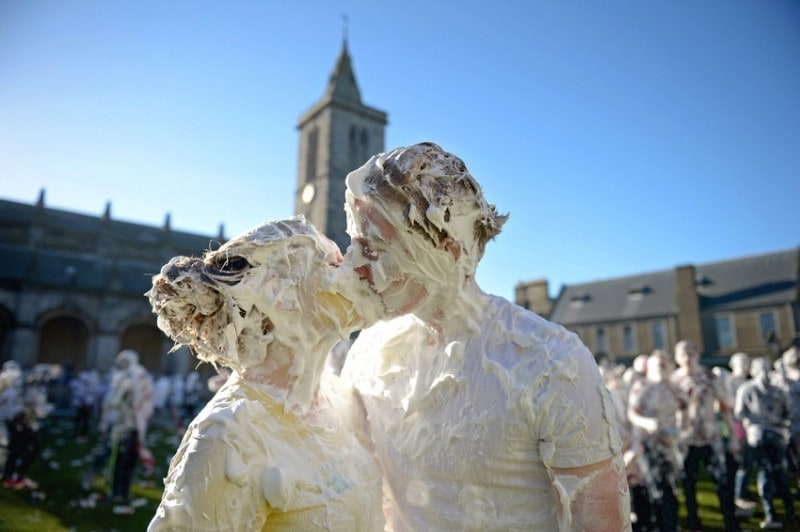 25. Raisin Monday
Students from St Andrew's University indulge in a tradition of covering themselves with foam to honor the 'academic family' on Nov. 4, 2013, in St Andrews, Scotland.