Interior Design is not simply about fashion, it could really be a form of art. But don't limit your understandings of interior design just to house and office. There is much more into it. Have you ever been in a restaurant so beautiful, that you just left a big tip, because of the atmosphere? Here is a list of some of the best restaurant and bar interior designs in the world.
Silencio, Paris
This bar is probably most famous for its creator. David Lynch, the world-known film maker, is the original designer of the place. It's a bar like no other. There is live music, private cinema and a cocktail bar. The difference here is that it's a private bar. If you go before midnight, they won't let you in, because it's only for club members. After midnight, you have to wait a queue and hope they will let you in.
It's very stylish and top designers from around the world like to visit the bar when they are staying in Paris. Mirrors on the ceiling, custom furniture, unique wall textures, there is even a private stage down there.
Ozone Bar – Hong Kong
It's one of the highest bars in the world. We are not speaking like in the mountains, but high as it's on the 118th floor of the Ritz Carlton Hotel in Hong Kong.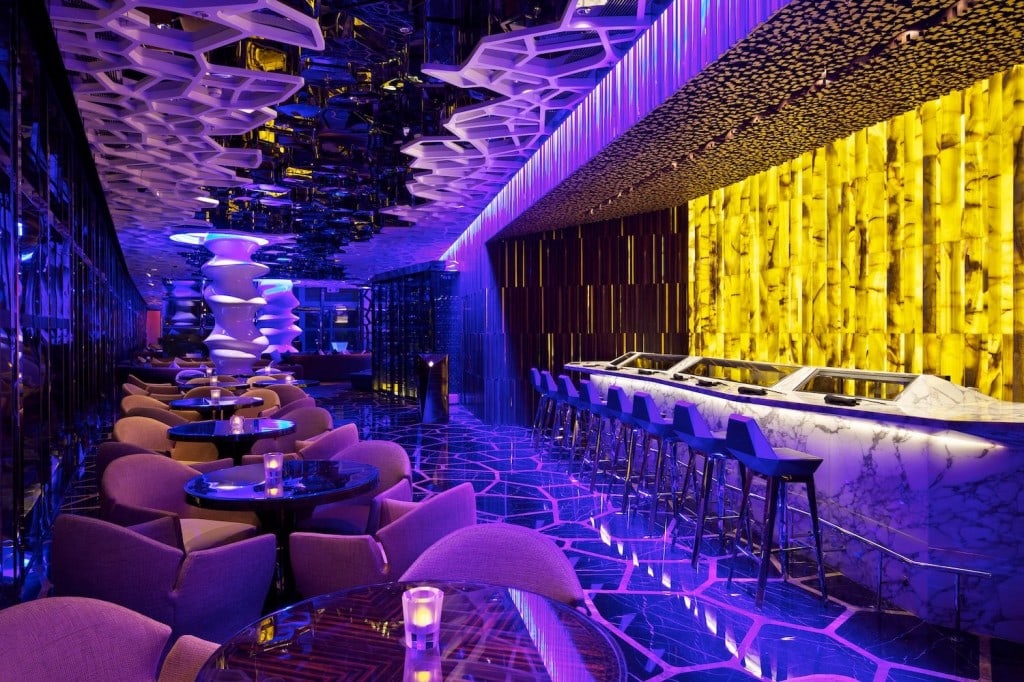 The interior is kind of sci-fi orientated. It reminds you of the atmosphere of Star Trek or Mass Effect (video game) for those of you who have seen them. With neon lights, unique design, amazing shapes, this is one the best bars in the world. The design is made by Wonderwall, a company specialised in interior design and cool spaces. But let's not forget the main reason people go there – the view. From so high in the sky you have an astonishing view over Hong Kong.
Also, the cocktails are really tasty and the food is quite delicious.
Rocambolesc Cafe – Girona, Spain: designed by Sandra Tarruella
The first thing that comes in mind when you enter the store is Willy Wonka's factory. Everything is incredibly colourful and gives you an appetite for ice cream and candy. It just feels so quaint inside and you turn to a little kid when you enter.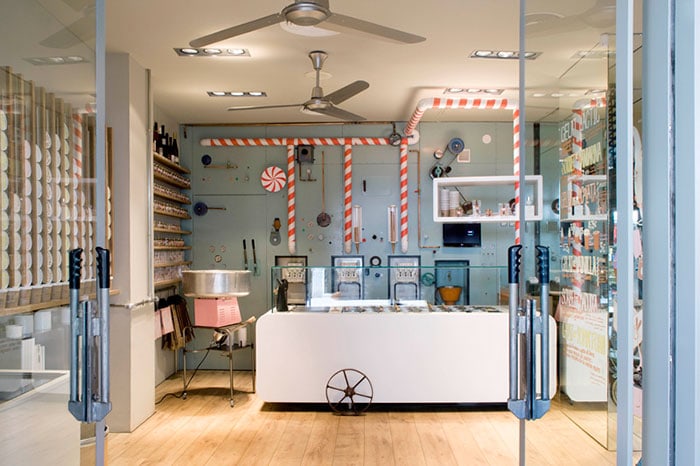 Jordi Roca wanted create something unique and traditional. So he did. You can eat 100% pure ice cream in here. It's not watered down, everything is prepared there, each day. The prices are a but higher (a lot) than usual, but you are paying for quality and the wonderful experience. There are only 6 flavours, but many toppings you can choose from. It's guaranteed that this would be one of the best ice creams you ever had in your life.
Electric Bar – Paris, France: designed by Mathieu Lehanneur
Whether you want to have a fancy dinner, listen to some electrifying music or simply want a nice view of Paris, while sitting in a luxurious room, this 1055 sqm penthouse is the place for you. World-famous DJs throw the noisiest parties here, celebrities (like Daft Punk) use it as a décor for their photoshoots, designers call the whole building a piece of art. This place doesn't need more selling.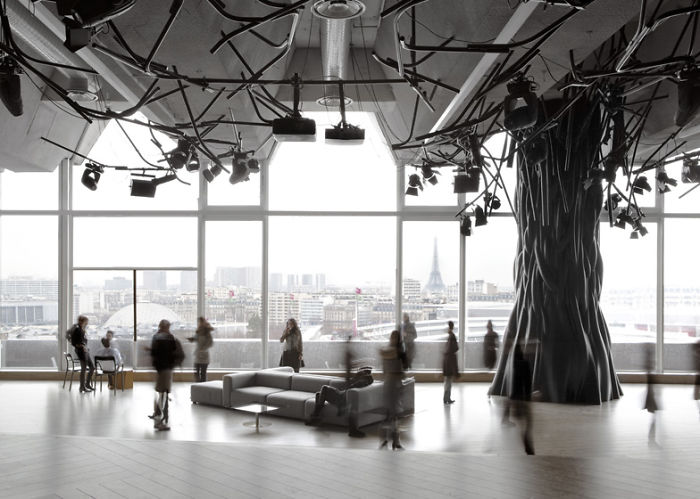 There are hundreds of lights from the ceiling, acting as branches of the many fibreglass trees. It's all filled with many different shapes, all covered with various materials like PVC and wood. And if you are not grabbed by the artistic design, you would surely be impressed by the enormous terrace. It has a brilliant panoramic view and it definitely adds a finishing touch.
Le Pain Frances Restaurant – Gothenburg, Sweden: designed by Stylt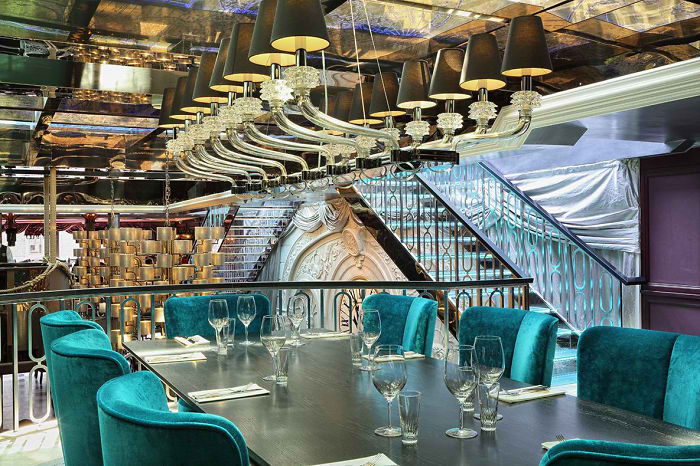 You are visiting Sweden, but you are eating in one of the most French restaurants in the world. It's colourful, luxurious and quite fancy. The designers have paid extra attention to details and you feel like you are entering an art museum. But not only you are feeding your eyes with pleasurable sights, you can fill your belly with amazingly good cuisine.
Ammo Restaurant – Hong Kong, China: designed by Joyce Wang
This used to be an old British explosive magazine compound. This is where the name comes from and what inspires the designer to create this artistic restaurant. The design is inspired from the 1965 motion picture Alphaville. There is a very noir feeling when you enter. The copper staircases from the ceiling (actually all the copper elements), the neon sign above the door, the enormous windows.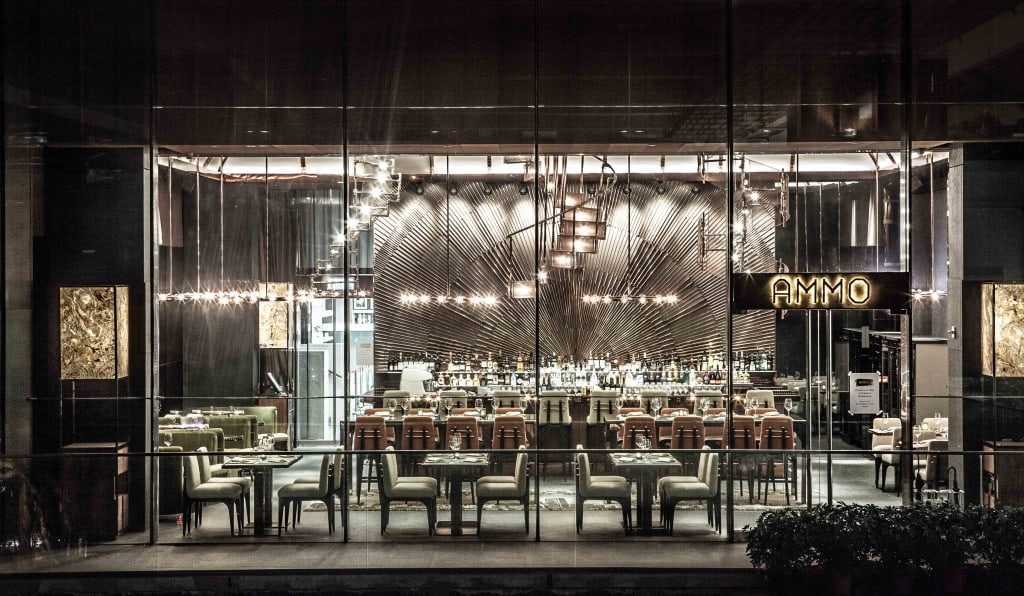 And even if this is a world-famous restaurant and people have to pre-book, the prices are affordable. This is one of the main policies for the restaurant – good food on good price, unlike the other arty places.
Bangalore Express Restaurant – London, Great Britain: designed by Outline
Who doesn't love Indian cuisine? Yogesh Datta the chef of the restaurant is one of the best Indian food cooks in London and has won many awards. So the quality of the food is guaranteed. But is this the only reason Bangalore Express is famous for?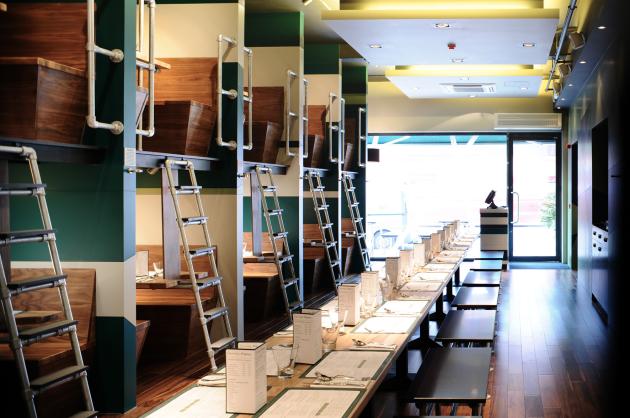 The name might be misinforming, because "express" restaurants usually give you cheap take-out home. Yes, they have take-out option, but why not stay in the restaurant and enjoy the atmosphere? One of the best parts of the design are the bunk booths. You have to climb a latter to get to the second floor of the booth, just like with bunk beds. This is not for everyone, but it sure gives you a fun experience.
Sadly, the restaurant is closed now.
The Library Restaurant – Norwich, United Kingdom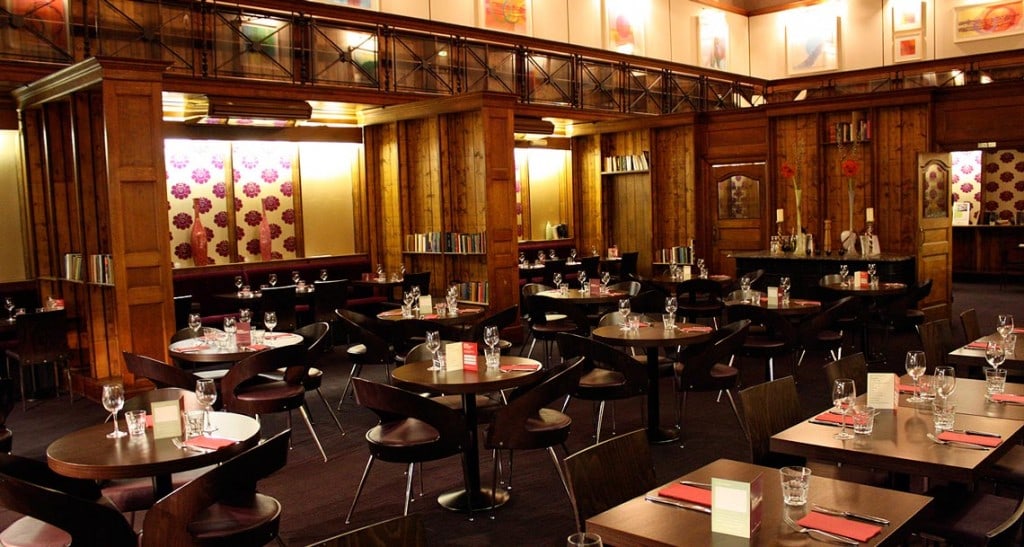 Who else would make a library restaurant than the Brits. It's an unique idea to merge two different facilities – a restaurant and a library, in to one. And it's not some modern design library like the people in 9 Unique Bookshelf Designs use, but the classic library style. People say the food is delightful and the atmosphere is good for romantic dinners.
H.R. Giger Museum Bar – Gruyères, Switzerland: designed by H.R. Giger
If you are a fan of the Alien franchise, you are probably a bit of a fan of H.R. Giger. He was a modern artist with very weird view of the world. Practically the whole bar is a big museum of his work. Every corner, every spot is designed by him. You have to realize that Giger's work could be disturbing, so the place is not for everyone. Yet, even if you are not a fan, you should go just for fun.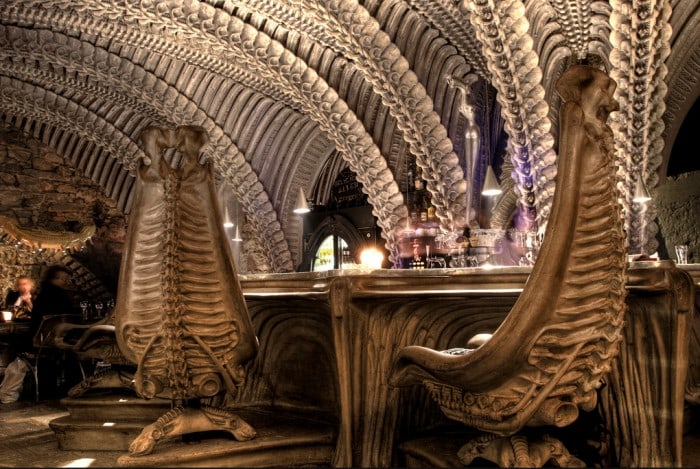 His style is bio-mechanic. There is a lot of eroticism, too.
Truth Cafe – Cape Town, South Africa: designed by Haldane Martin
It's said to be the best coffee shop in the world. Do you need more information?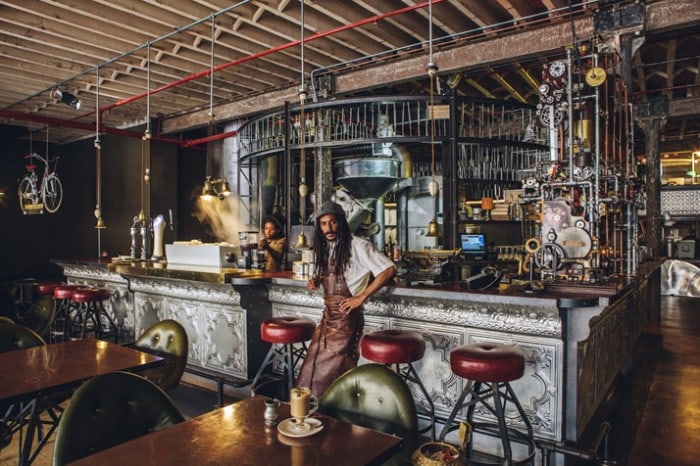 The interior is very steampunk-y and it fits to the whole idea. You see old machinery, like a vintage roaster drum, metal pipes, equipped with modern computers make the coffee taste better than ever. The metal piping, the naked wood, the rust, the ornaments, all bring to create this magical atmosphere. It's like you are living in the game Dishonored, during the industrial revolution, but in the good part of town.
Source: